This is an archived article and the information in the article may be outdated. Please look at the time stamp on the story to see when it was last updated.
VISTA, Calif.  — Former NFL tight end Kellen Winslow Jr. has been jailed without bail after pleading not guilty to multiple counts of kidnapping, rape and other charges.
The 34-year-old Winslow entered his plea Friday in San Diego County Superior Court.
He was ordered to return June 25 for a preliminary hearing.
If convicted, Winslow could face a maximum sentence of life in prison.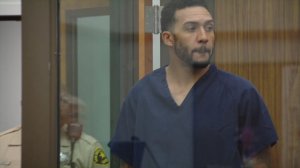 Prosecutors say he kidnapped and raped a 59-year-old woman last March and a 54-year-old woman in May. He also is charged with two counts of burglary and one count of indecent exposure in unrelated cases.
His attorney, Brian Watkins, was in court Friday and could not immediately be reached for comment.
A family statement from Kellen Winslow Jr.'s wife, Janelle, and Kellen Winslow Sr. says:
"On behalf of our son and my husband, we want to reiterate our love, support and affection for him during this difficult process. We will always be there for him and we know the true facts will come out."
The son of Hall of Fame tight end Kellen Winslow, the younger Winslow spent 10 seasons in the NFL from 2004-13 with Cleveland, Tampa Bay, New England and the New York Jets. The former University of Miami star had 469 catches for 5,236 yards and 25 touchdowns in 105 games.
Once NFL's highest-paid tight end, he was suspended in 2013 with the Jets for violating the league's performance-enhancing drug policy. In November 2013, he was arrested after a woman told police she saw him masturbating in a parked car outside of a New Jersey department store. Winslow was arrested for possession of synthetic marijuana, and the charge was dropped after he completed court-ordered terms.
Drafted No. 6 overall by Cleveland, he broke his right leg in his rookie season, then sustained a serious right knee injury in a motorcycle accident that off-season.