This is an archived article and the information in the article may be outdated. Please look at the time stamp on the story to see when it was last updated.
CLEVELAND– A Cleveland organization is celebrating 30 years of changing and uplifting lives in the Hispanic community through education.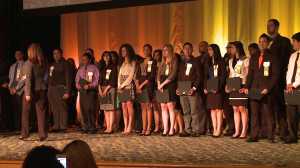 The Esperanza organization held their annual Fiesta of Hope luncheon Friday afternoon to hand out 82 scholarships to students looking for higher learning.
"My family is very proud of me going to school and I'm gonna be a nurse," said Toni Powers of Cleveland.
One by one, students came up to the stage to receive their  scholarships at the Renaissance Hotel in downtown Cleveland.
The scholarships range from $1000 to $10,000.
"Any student, any high school student thinks that they are not going to graduate; they are not going to make it, or anything, just know that you can really do it. I did it. If I did it, you can do it," said Jacob Rivera, who received a $10,000 scholarship.
The majority of the scholarships are given to students who are the first in their families to attend college.
"And I'm going to major in Sociology and this scholarship is going to give me the opportunity to be able to realize my dream at John Carroll University," said Miguel Sanchez, who won a $5000 scholarship.
FOX 8's very own Peggy Sinkovich is also a very proud mother as her daughter, Jacqueline, received a scholarship.
"I'm amazingly excited. It was actually recomended to me by the Hispanic council at Tri-C that I apply and I'm gonna use it when I transfer to Cleveland State to get my clinical psychology degree. (So your mother must be proud?) Yeah, she's proud. She's beaming with joy; she couldn't be here with us today because she is working, but she is extremely excited and has been calling me about every 5 minutes," Jacqueline Diaz said.
So far, the Esperanza organization has given out more than 1,200 scholarships in its 30-year history.
*CLICK HERE for more information.