This is an archived article and the information in the article may be outdated. Please look at the time stamp on the story to see when it was last updated.
A big health scare for a Howard Stern Show staffer.
Howard 100 News reporter Jon Leiberman, 39, had a stent put in after emergency room doctors discovered he had an artery that was 100% blocked, according to a post on howardstern.com.
Leiberman talked about the scare on Monday's show.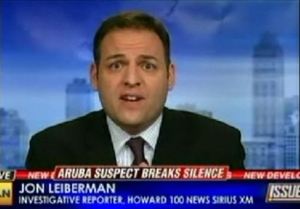 The reporter for Howard 100 News, which covers all things related to the Howard Stern Show on SiriusXM Satellite Radio, said he didn't feel well after going out to eat with his girlfriend more than a week ago.
After two days of not feeling well, his doctor told him to go to the emergency room. Doctors and nurses began treating him for stomach issues, Leiberman said. But after about an hour, a nurse told him he had suffered "some sort of M.I. event."
M.I. stands for Myocardial Infarction, or a heart attack.
Leiberman said he had felt clammy and had pain in his lower abdomen, but did not have chest pain.
Once Leiberman processed what was happening, he said he began screaming "Am I going to die, honey," to his girlfriend.
Leiberman broke down on the show talking about what happened.
"What a horrible experience," Stern said as Leiberman told his story. "39 years old."
"This is why I feel so blessed," Leiberman said. "First of all, in the hospital they were calling me Superman because they said I should have been dead. They said that I had the heart attack Friday night and I didn't get to the hospital until Sunday morning because I didn't have chest pain or anything."
"You had a major heart attack and didn't even know you were having it," Stern said as Leiberman told his story.
"I'm back here in a week because of the amazing doctors, because of the amazing people around me," Leiberman said.
"I feel so strong and so blessed," Leiberman said while crying. "Because I didn't think I was going to be here today."
Leiberman said doctors told him he was strong enough to go back to work and said the incident did no damage to his heart.
Thank you to all of you. I love you all. And thanks to @ImHeatherHansen for EVERYTHING. @sternshow

— Jon Leiberman (@reporterjon) July 21, 2014
Everyone wish @reporterjon well… He's back to work after a heart attack! (Too much @LisaG30D induced stress?) Hear his recap on #Howard 100

— Stern Show (@sternshow) July 21, 2014