This is an archived article and the information in the article may be outdated. Please look at the time stamp on the story to see when it was last updated.
(CNN)– Pop star Justin Bieber's blood-alcohol content was below 0.08% in two breath tests that authorities gave him relating to his arrest on suspicion of driving under the influence in Florida on Thursday, a source close to the investigation said.
The source did not give the exact level. The 0.08% mark is generally the legal limit for drivers in Florida, though 0.02% is the limit for drivers under the legal drinking age of 21. Police said Bieber admitted to drinking, using marijuana and taking prescription pills.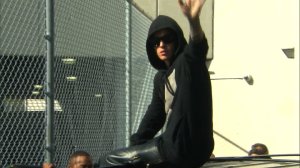 Bieber reportedly posted a picture on Instagram of himself waving to fans after being released from jail. It's next to a picture of Michael Jackson giving the peace sign after his arrest on child molestation charges. *(Watch the video above for more.)
Officers suspended in Justin Bieber escort probe
Three Florida police officers have been suspended in connection with allegations that officers escorted pop star Justin Bieber's caravan in the Miami area without authorization this week, Opa-Locka's city manager said Friday.
The city has been investigating reports that Opa-Locka officers escorted Bieber from the city's airport to Miami strip clubs Monday — the day Bieber arrived in South Florida and three days before the singer would be arrested in Miami Beach on suspicion of drunken driving.
Opa-Locka Deputy City Manager David Chiverton said the three officers would be suspended with pay, pending an investigation.
Chiverton said he didn't know how the escort arrangement was initiated.
Read more on Justin Bieber, HERE.