This is an archived article and the information in the article may be outdated. Please look at the time stamp on the story to see when it was last updated.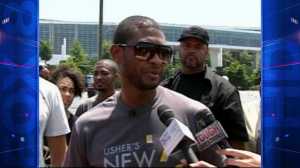 CLEVELAND, Ohio (AP) — Country group Rascal Flatts and eight-time Grammy winner Usher will perform the national anthem before the NBA Finals games in Cleveland.
Rascal Flatts will have the honors before Game 3 on Tuesday night. Gary LeVox and Jay DeMarcus, members of the trio that has sold nearly 23 million albums and had 15 No. 1 songs, are from Ohio. Joe Don Rooney is the third member.
The NBA says Monday that Usher, who became a Cavaliers part-owner in 2005, will follow in Game 4 on Thursday.
Usher has sold more than 65 million albums, with songs such as "Yeah!" among his hits.
The Cavaliers evened the NBA Finals Series at 1-1 after pulling out a 95-93 overtime victory over the Golden State Warriors on Sunday night.
**For highlights from Game 2, click here**
**Fox 8's PJ Ziegler will be reporting live – with all the inside info – from Oakland when the Cavs are on the road.**
We want to see your best Cavs spirit! Click here to send your Cavs fans photos to our photo gallery.
For all of the Cavs playoff coverage, click  here.
The rest of the NBA Finals schedule is below:
Game 3: Warriors  at Cavaliers on ABC, 9 p.m. on Tuesday, June 9
Game 4: Warriors  at Cavaliers on ABC, 9 p.m. on Thursday, June 11
Game 5: At Warriors on ABC, 8 p.m. on Sunday, June 14
Game 6: Warriors  at Cavaliers on ABC, 9 p.m. on Tuesday, June 16 (if necessary)
Game 7: At Warriors on ABC, 9 p.m. on Friday, June 19 (if necessary)