This is an archived article and the information in the article may be outdated. Please look at the time stamp on the story to see when it was last updated.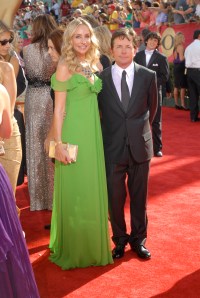 By Breeanna Hare, CNN
(CNN) — Art will soon imitate life for Michael J. Fox, as the actor's set to star in a new 22-episode comedy series on NBC that'll have a personal spin.
The as-yet-untitled show will see Fox portray a husband and father of three dealing with Parkinson's disease in addition to family and career challenges inspired by the actor's life, NBC said in a statement.
President of NBC Entertainment, Jennifer Salke, said in the statement that the actor "had us at hello," adding that Fox's pitch for a show that was "funny, heartwarming and personal was the icing on the cake."
This new comedy not only marks Fox's return to being a regular on series television, but also a homecoming of sorts for the 51-year-old – he also starred in NBC's classic '80s sitcom "Family Ties" as Alex P. Keaton.
"To bring Michael J. Fox back to NBC is a supreme honor and we are thrilled that one of the great comedic television stars is coming home again," said NBC's Chairman of Entertainment Robert Greenblatt. "I have no doubt that the character he will create — and the vivid family characters surrounding him — will be both instantly recognizable and hilarious."
Additional casting will be announced at a later date, but NBC has confirmed that "Easy A" and "Friends with Benefits" director Will Gluck is on board as an executive producer and co-creator, along with Sam Laybourne ("Arrested Development" and "Cougar Town"). Gluck will also direct the pilot for the series, which is expected to bow in the fall of 2013.
Fox said in the statement from NBC that he's "extremely pleased to be back at NBC with a great creative team and a great show … all the folks at the network have given me a warm welcome home, and I'm excited to get to work."