This is an archived article and the information in the article may be outdated. Please look at the time stamp on the story to see when it was last updated.
NEW YORK — When actress Uma Thurman appeared on the red carpet at the premiere for her new TV miniseries on Monday, social media went crazy.
The 44-year-old actress looked different than fans were used to seeing her.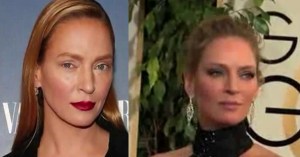 According to the Daily Mail, she had a "suspiciously smooth forehead and puffy face along with an extremely tight smile."
While some believe the actress may have had plastic surgery, others suspects her makeup is the reason for the drastic change in her appearance. Some say she is simply aging.
Thurman's new look drew comparisons to actress Renee Zellweger's new look at an awards show last October.
Uma Thurman's to do list.

✓ Kill Bill.
✓ Kill my face

— Lety Arr ☂ (@letylectric) February 10, 2015
https://twitter.com/ThorsBoyfriend/status/565272432874094594
https://twitter.com/durrom/status/565427571199074307
.@smh oh for God's sake there's nothing wrong with Uma Thurman's face. It's called getting older. Why are we fed this breathless rubbish?

— Juanita Phillips (@Juanita_Phillip) February 11, 2015
https://twitter.com/MsMosman/status/565425982937772032