This is an archived article and the information in the article may be outdated. Please look at the time stamp on the story to see when it was last updated.
**EDITOR'S NOTE: Elyria police were originally looking for Saint-Velle Pruitt; however, after Pruitt turned himself in and was adamant he was not involved in any way, he made police aware the actual suspect had used his name in the past. 
Police then said the suspect was not Pruitt; it was Patrick Gall.**
Elyria Police are still looking for the third suspect in a murder-for-hire plot after it was determined the actual suspect had used another man's name.
Police were originally looking for Saint-Velle Pruitt, 18, for aggravated murder in the death of Willie Fisher, 47.
Pruitt turned himself in to police Monday after learning that he was wanted. Police say that Pruitt was adamant that he was not involved in the murder in any way. He also told police that Patrick Gall, 18, has used his name often during law enforcement encounters. He shares similar physical attributes as Pruitt
ELYRIA, Ohio — Elyria police are looking for an "armed and dangerous suspect" in what they call a "very calculated, violent, and senseless attack" on a handyman.
Police tell FOX 8 News the victim, Willie M. Fisher, 47, of Lakewood, was killed execution-style. He was found shot multiple times behind a building on East Ave. — the Convenient Food Mart– in Elyria on Friday at just after 6 p.m.
Detectives have learned Fisher was employed as a handyman and hired to do some yard work around the business.
Police were able to locate crucial evidence which they say led to the following suspects: Bruce Arnoff, 56, of Solon; John P. Sullivan, 29, of East Cleveland; and Saint-Velle Pruitt, 18, of East Cleveland.
Friday night at around 8 p.m., an officer with the Brooklyn Police Department stopped a vehicle on I-480 for a speed violation. The driver, John P. Sullivan, was operating a vehicle with a suspended license. He also had an active warrant out of Maple Heights; Sullivan was taken into custody.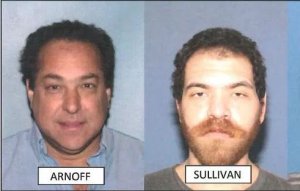 Saint-Velle Pruitt was a passenger in the car. During a search of the vehicle, the officer found a handgun with a loaded magazine and additional ammunition in the glove box.
Sullivan, a convicted felon, was charged with having weapons under disability.
Through the course of their investigation, police determined that Bruce Arnoff employed the victim — Willie Fisher– as a handyman. Police say Arnoff was upset with Fisher so he contracted with Sullivan and Pruitt to cause serious physical harm to Fisher, which led to Fisher's death.
Detectives have arrested and charged Arnoff with murder for his alleged role in Fisher's death.  He is being held without bond in the Lorain County Jail.
Arrest warrants have been issued for both Sullivan and Pruitt for aggravated murder.  Sullivan is currently being held at the Brooklyn Police Department jail. He has been served with his copy of his aggravated murder charge; he will be picked up by Elyria police upon his release from jail in Brooklyn.
Pruitt is currently at-large. Police say he should be considered armed and dangerous. If you come across him or know his whereabouts, please call police right away.
Stay with FOX 8 News and FOX8.com for the very latest.