This is an archived article and the information in the article may be outdated. Please look at the time stamp on the story to see when it was last updated.
STRASBURG, Ohio- An elderly couple is missing after their home in Strasburg was ransacked.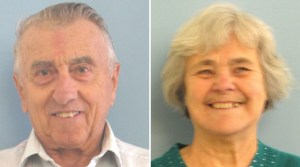 The Tuscarawas County Sheriff's Office said Doyle, 88, and Lillian Chumney, 79, were last heard from at about 11 p.m. Tuesday. The couple was supposed to pick up their son to take him to the airport on Wednesday, but never showed.
Strasburg Police Chief Robert Kutcher said the Chumneys' daughter went to the house at about 11:30 a.m. to find the door open and the place ransacked.
The couple's car, a 1986 cream Pontiac, was also missing. Its license plate is EXF-9647.
Kutcher said it is unclear what happened to the couple, but nothing is being ruled out.
The Ohio Bureau of Criminal Investigation was also called to the Chumneys' home.
Doyle and Lillian Chumney were last heard from on Tuesday. Their house is Strasburg was ransacked. (Photo: Dave Nethers/Fox 8 News)

Police, sheriff's deputies and Ohio BCI investigate a missing Strasburg couple. (Photo: Dave Nethers/Fox 8 News)

The Ohio BCI is investigating the disappearance of an elderly couple in Strasburg. (Photo: Dave Nethers/Fox 8 News)

Doyle and Lillian Chumney (Photo courtesy Ohio Attorney General's Office)