This is an archived article and the information in the article may be outdated. Please look at the time stamp on the story to see when it was last updated.
CLEVELAND – Drum roll, please.
A Cleveland man is extremely thankful to two city officers: Friedrich Kaufmann and James Crivel, who found his stolen customized Sonor drum set.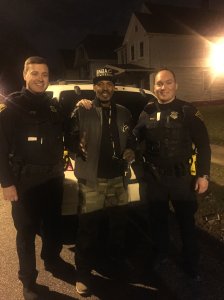 "We couldn't believe it when we got the call Thursday night," Andradia Scovil said. "These drums meant so much to my dad."
Andrade Scovil said his drums were taken along with his car when he stopped for gas on West 150th Street on March 12th.
"They got in my car and took off. It was so quick," Scovil said. "I chased after, them but it didn't work."
He called police and filed a report. He and his daughter also notified FOX 8.
"We wanted to get the word out so if anyone saw the drums, they would contact us and it worked," Andradia said. "The officers said they saw the car, they looked through the windows and saw the drums. The one officer said he remembered seeing the drums on a FOX 8 story. He looked up the report and called us."
The Scovils met the officers near East 55th and Broadway where the car and drums were found Thursday night. The drums were not damaged.
"These officers were just so kind and we can't thank them enough," Andradia said .
Scovil, who has been a U.S. Postal Carrier for more than 30 years in the West Park area, is in the band Intrique.
He said he spent the several days searching the city looking for his white Kia and his drums. He added the car is damaged and he can't drive it at this time.
"But I got my drums back," Scovil said. "Life is good. Thank you God."