This is an archived article and the information in the article may be outdated. Please look at the time stamp on the story to see when it was last updated.
CHESTERLAND, Ohio- An investigation into drugs being smuggled in the Geauga County Jail lead to a chase on Tuesday.
After a possible drug overdose at the jail, deputies found an inmate's girlfriend was responsible for getting heroin and fentanyl to prisoners. Idonna Laskowski, 31, of Chesterland, was buying the drugs and sewing them into her clothes, the Geauga County Sheriff's Office said.
Deputies searched Laskowski's home on Opalocka Drive, where they found heroin and other drug-related items. They also discovered the source of the drugs: 18-year-old Jessie L. Green, of Cleveland.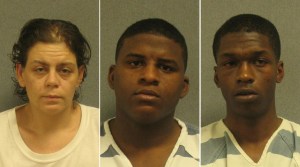 Detectives set up a controlled drug purchase from Green at the McDonald's in Chesterland at about 4:30 p.m. on Tuesday. Green arrived with 18-year-old Antonio M. Washington and a Cleveland 17-year-old. Deputies said Green sold them heroin and that's when they tried to make an arrest.
The three suspects fled, hitting an unmarked police car and throwing money and drug instruments from their sedan, the sheriff's office said. Deputies chased them on Mayfield Road, where the suspects hit a curb that disabled the car.
The three males took off on foot in a wooded area, but deputies and officers from Chesterland, Gates Mills and Mayfield Heights set up a perimeter. Green, Washington and the 17-year-old were arrested.
Laskowski was charged with conveyance in a detention facility. Green was charged with heroin trafficking while Washington was charged with complicity to traffic drugs.