This is an archived article and the information in the article may be outdated. Please look at the time stamp on the story to see when it was last updated.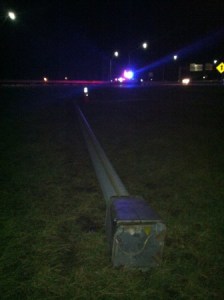 PAINESVILLE, Ohio — Heavy winds are believed to have brought down a power pole that caused a portion of State Route 2 in Painesville to be closed for a couple of hours early Thursday.
It happened just after 2 a.m. in the eastbound lanes of SR 2 at Richmond Road.
According to the Ohio State Highway Patrol, a motorist hit the pole. The driver pulled to the side of the road and put their flashers on. A trooper spotted the vehicle on the side of the road, and approached to help. He didn't see the pole and ended up hitting it with his cruiser.
The cruiser ended up with three flat tires. Damage to the other vehicle is unknown. Neither driver was hurt.
The power company was on the scene to remove the pole from the road. The road reopened just before 4:30 a.m.
Did strong winds cause damage in your neighborhood? Submit your pictures, HERE.