This is an archived article and the information in the article may be outdated. Please look at the time stamp on the story to see when it was last updated.
BROOK PARK, Ohio — A Parma Heights woman shuttered as she talked to Fox 8 News about an accident she narrowly avoided on I-71.
"It would have either gone through the windshield or the hood of the car, and I don't even want to think… all day I've been thinking of the 'woulda couldas,' what would have happened if it did," said Janice Burton, describing a light pole that snapped and fell directly in front of her vehicle.
"Luckily my reaction time was good.  All I could think of was pump, pump, pump.  My husband always taught me, don't slam on the breaks, you pump 'em," Burton said.  "And I guess I finally listened."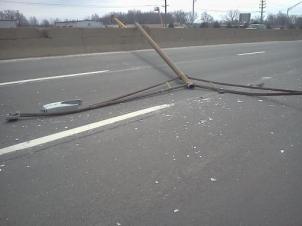 Burton and her friend, Linda ,were headed south on I-71 near Engle Road around noon on Tuesday when the light pole snapped and sprawled across the freeway.
They said the pole was just inches away from their vehicle when they swerved to the right and came to a screeching halt.
"It's a miracle nobody else's car was next to us (or) behind us," Burton said.
No one was hurt, but the road was closed for about an hour so crews could clean up the debris.
At the time of this report there was no indication what caused the pole to fall.