This is an archived article and the information in the article may be outdated. Please look at the time stamp on the story to see when it was last updated.
CLEVELAND– Downtown Cleveland workers have been wondering about the people with a car painted with marijuana leaves frequently parked around East 4th Street and Euclid Avenue, so the FOX 8 I-Team investigated.
We approached with a reporter wearing a hidden mic. A woman told us she had, "Edibles. Check us out." When asked, "What's that?" another woman said, "Marijuana cookies."
She added, "We take donations and we're giving them away… You get one for a $10 donation."
Downtown workers said they've heard the same pitch.
One of the women in the car went on to say, "Sometimes we have popcorn, Cheez-Its, gummies, cake pops."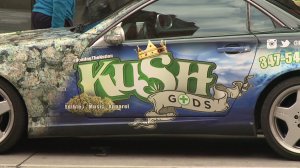 On the car, reads the name Kush Gods. When we approached with a camera rolling, the woman didn't want  any part of talking to us. So she called the top man. He identified himself as Nycholas KushGod, refusing to tell us his given last name.
Online, you can find Nycholas KushGod rapping about pot. His organization wants to become the "first mobile weed dispensary."
So what about that offer? Nycholas KushGod, "No, don't know what she discussed with you, but you can't get anything from this car right now."
He added his group simply is taking donations and pushing for the legalization of pot.
"Gonna be a long time before things get started. So we came early to get our brand here early, to market here early, " he said.
The I-Team checked. The Cleveland Police Chief's office said it's illegal to sell or possess any amount of marijuana in any form, even in a cookie. Taking a donation can be considered selling.
After we went there, Cleveland police stopped by the marijuana car. Police questioned the people, but no one got cited or arrested, and the car moved on to somewhere else.
The group is based in the Washington, D.C. area and Nycholas KushGod admitted he's still on probation from a marijuana charge there.