This is an archived article and the information in the article may be outdated. Please look at the time stamp on the story to see when it was last updated.
CLEVELAND– For the first time in nearly 40 years, there will be full moon on Christmas Day.
Cleveland State University research astronomer Jay Reynolds told FOX 8 News the moon will technically be full at 6:11 a.m. EST.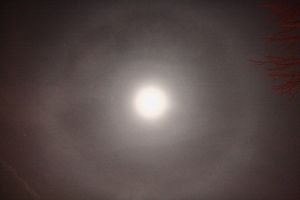 The moon rises at 5:45 p.m. and sets at 8:20 a.m., and it will appear very bright at about midnight on Christmas Eve.
We haven't seen a full moon on Christmas since 1977 and it won't happened again until 2034.
Reynolds also shared a photo of the nearly full moon Tuesday night. It is surrounded by ice crystals in a 20-degree circle, Reynolds said.