This is an archived article and the information in the article may be outdated. Please look at the time stamp on the story to see when it was last updated.
BRUNSWICK, Ohio-- Brunswick High School students and local law enforcement officers locked arms on Wednesday, hoping to create a dramatic image, one intended to ignite a positive dialogue on social media.
The project was the idea of Brunswick freshman Isaiah Catania who originally intended for it to be goofy, but eventually realized it needed to be more serious.
"With everything going on and everybody going crazy with all the shootings and stuff with officers we are just saying 'don't believe in it, like don't believe this is the only thing going on in the world," said Catania.
The effort had the complete support of high school Resource Officer Derek Zelenka.
"We have been buddies all year, became real close and we are talking about a lot of things in social media right now, a lot of the things trending in the news with police officers, with people of color. We decided to do something a little more serious in taking a series of pictures that are designed to shock people. They are designed to have a second look and say, 'wow, that's different," said Zelenka.
The students, wearing white T-shirts with the message: 'Don't believe the Hype' on the front literally locked arms with police officers from Brunswick, Brunswick Hills, The Medina County Sheriff's Office and the Ohio Highway Patrol to create an image that says they are willing to stand with their officers.
"He (Zelenka) is a great great officer. He is the best police officer I have ever met in my whole life, so he wants people to know that there's a lot more like him out there and there's a lot more like us out here," said Catania.
"We are not perfect. I don't think any agency thinks they are perfect, absolutely, in any career field. But it does feel good that students and teenagers would come to us and say, 'hey we got your back.'  A lot of us, just like anyone, we are family people and a lot of us do want to do what we can to help our communities and help people," said Zelenka.
The teenagers created two separate images.
One of them is of the students standing around the center of Blue Devil's stadium locking arms with the officers.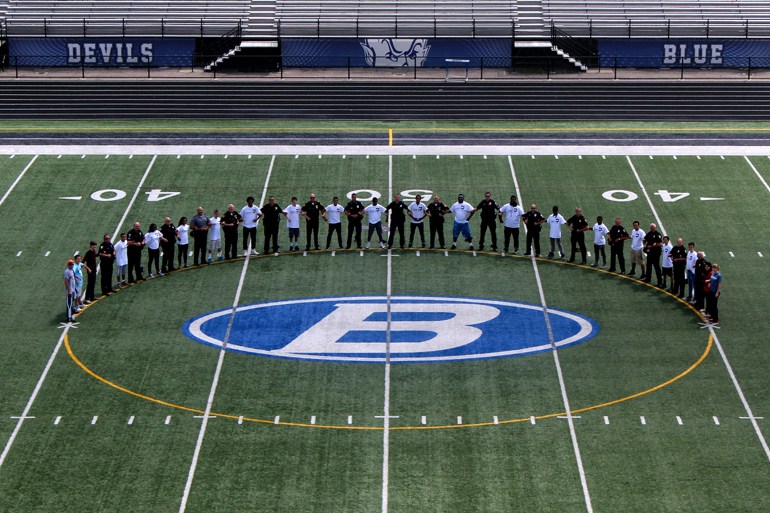 Another is of them and the officers gathered near patrol cars displaying another message, #ETP, a hashtag message for social media which stands for 'End The Pain.'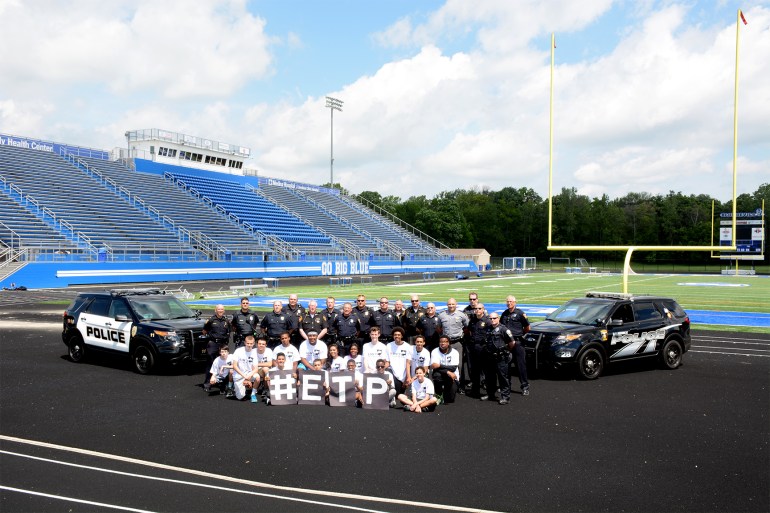 The teenagers and the officers all realize there are some very serious social issues that need to be addressed in a civil way.
But the students, most of them African American,  hoped to create an image that shows most officers are not out to get them.
"It's important because for like a nice period of time it's been going on that all cops are bad and they just want to go out and hurt all African Americans, which is not true; all cops are not like that. I promise you," said sophomore Adonovan Morman.
"I think the message is that youth and law enforcement can achieve greatness together.  I know there's room for improvement within all agencies. These guys are saying, 'we trust you;we hope you can do it' and it feels good to have them want to do it," said Medina County Sheriff Tom Miller.
"It's great to come from something like (the demonstrations) in Cleveland to come here on a Wednesday after a holiday weekend and see this group of kids want to do something positive. It just brings a smile to my face. I can't tell you how proud and excited I am that the community is doing this and Brunswick High School is letting us be here just to be a part of it," said Sgt. Alan Dunbar of the Ohio Highway Patrol.
"Taking a photograph is epic," said Zelenka, adding "It lasts forever so you are putting yourselves out there to come and take a photograph knowing anybody could see that at any time."