This is an archived article and the information in the article may be outdated. Please look at the time stamp on the story to see when it was last updated.
AKRON, Ohio -- Federal Judge Sara Lioi sentenced former Cuyahoga County Commissioner Jimmy Dimora to 28 years in prison for running a criminal enterprise while in office.
Prior to issuing her sentence Lioi called Dimora's reach of corruption, "far and wide."
"He willingly took gifts from those who sought his power and influence," said Lioi.
Lioi also imposed three years of probation following Dimora's prison term.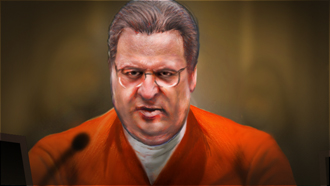 Dimora sat silent for the duration of his trial, on Tuesday he broke that silence prior to hearing his sentence.
"I have no regrets," said Dimora in statement that lasted just over nine minutes.
"As County Commissioner I felt it was my job to help all constituents, regardless of who they were," said Dimora. 
Dimora spoke about his efforts to help residents of Cuyahoga County and recognition that he received from numerous organizations while he was in office.
Dimora then shifted his comments and declared his innocence of the crimes that he was convicted of committing.
"I want to emphatically deny that I had any involvement in that activity," said Dimora.
He claimed that others around him involved in county government during his time in office, including Frank Russo, where responsible for the criminal activity uncovered by the FBI from 2004 to 2007.
Dimora later stated, "I was not the only public official to not realize that this criminal activity was going on."
In talking about the FBI investigation, Dimora said, "I think they made a mountain out of a mole hill."
Dimora spoke at length about his filings with the Ohio Ethics Commission for gifts and services he received.
"There was no cloak of secrecy," said Dimora in speaking about who he was acquainted and did business.
He broke down in tears when speaking of his wife Lori.
"I love her so very much," said Dimora through tears.
Dimora's comments were made following final statements issued by attorney Andrea Whitaker.  She attempted one last time to paint a different picture of the former county commissioner.
As Whitaker delivered her remarks, Dimora cried.
She spoke of Dimora's charity, his love of family and how he gave his life and time to public service.
Whitaker read letters from Dimora's sons, as well as letters from workers and residents in the city of Bedford Heights.
Whitaker cited numerous cases of public officials who were sentenced to under 10 years in prison for crimes the defense deemed comparable. Crimes involving kickbacks, embezzlement and bribery. 
Assistant U.S. Attorney Antoinette Bacon delivered the final statements for the government on Tuesday afternoon.
Aside from Dimora's criminal activities, for which he was convicted,  Bacon called into question Dimora's actions towards women, his family and charities during the time Federal Authorities were monitoring his activities.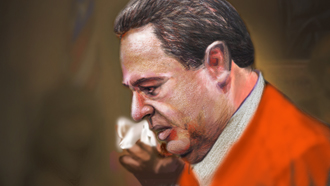 Bacon cited several quotes from Dimora recorded by FBI wiretaps while making her statements. When talking about a charitable fundraiser, Bacon quoted Dimora as saying, "[Expletive] them".
"A significant sentence is required in this case to deter others," said Bacon.
She later added, "This is a landmark case and the government would ask for a landmark sentence."
Dimora was found guilty on 37 of 38 corruption related charges earlier this year.
He was found guilty of charges related to conspiracy, conspiracy to commit mail fraud, extortion, bribery, falsification of records and tax returns while in public office.
Prior to leaving the courtroom Dimora turned to his family and said, "See you guys... Don't know when," as he shrugged his shoulders.
Dimora had one last comment before being escorted out of the courtroom. It was to federal prosecutors.
"I hope you're happy," said Dimora.