This is an archived article and the information in the article may be outdated. Please look at the time stamp on the story to see when it was last updated.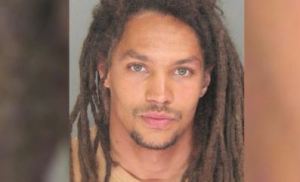 CALIFORNIA- Some women aren't worried about the crime; they just want his time.
An inmate's mug shot has gone viral all because of the suspect's looks.
Sean Kory, 29, is accused of attacking a man during Halloween festivities in Santa Cruz.
Someone was dressed as a Fox News Channel reporter when Kory reportedly screamed, "I hate Fox News" before attacking the person with an aluminum tennis racket.
Some women tweeted they'd be waiting for Kory when he gets out of jail.
#SeanKory, When you get out of jail… I'll be waiting boo.

— MorgenJ. (@RosesandEcstasy) November 3, 2014
#jeremymeeks has competition #SeanKory for all those ladies having #feloncrushfridays this guy is… http://t.co/HLAUhAtOWb

— miss moi (@moinomnom) November 2, 2014
The 'original' hot inmate is Jeremy Meeks, whose mug shot went viral in June.