This is an archived article and the information in the article may be outdated. Please look at the time stamp on the story to see when it was last updated.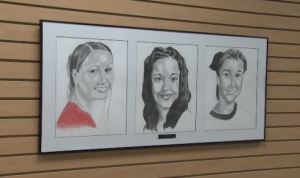 LORAIN, OH — A Lorain Police detective, who doubles as a talented artist, showed a special piece Saturday night with a special guest on-hand.
Detective Steyven Curry's show at the Lorain Art Council featured a piece he calls "Survivors."
The piece is a picture of Amanda Berry, Gina DeJesus and Michelle Knight, the three Cleveland women rescued in May after a decade in captivity inside a Seymour Avenue home.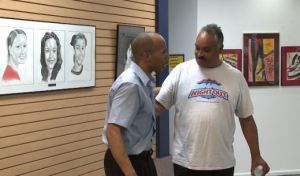 In attendance for the show was Felix DeJesus, Gina's father.
Detective Curry said he started with images of the three women that he thought people would know.
"The images, in general, are images that were actually published, and as a result of being published, it's something that the public would remember. The gleam, the youthfullness, the beauty in their eyes, their smiles. So creating the piece is actually, was quite easy, because they're beautiful women and it reflected their youth prior to the situation," said Curry.
The proceeds from the sales at the art show will be donated to the Cleveland Courage Fund, a charity set up to benefit the three women.
*Read more on the women rescued*