This is an archived article and the information in the article may be outdated. Please look at the time stamp on the story to see when it was last updated.
WILLARD, Ohio- Huron County Sheriff's deputies seized 99 balloons filled with heroin during an arrest this week.
Two detectives were investigating Curtis Michael Hale, of Willard, on suspected drug trafficking. On Wednesday, they tracked down Hale, but he fled.
The Huron County Sheriff's Office said during a foot chase, Hale ditched 99 balloons containing suspected heroin with a street value of $2,500. Once arrested, deputies searched his home and found heroin paraphernalia and two safes, containing $8,000 in cash. The heroin balloons were recovered thanks to police K-9 Noro.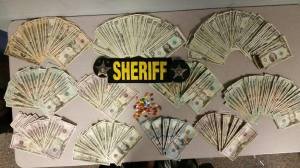 Hale, who was already wanted for abusing heroin, was charged with trafficking and tampering with evidence.
The sheriff's office called this a major bust and said a significant player in drug trafficking is now off the streets.