This is an archived article and the information in the article may be outdated. Please look at the time stamp on the story to see when it was last updated.
WILMINGTON, N.C. — The death toll from Hurricane Florence and its remnants has risen to 17 as officials say a 3-month-old died in North Carolina when a tree landed on a mobile home.
Gaston County manager Earl Mathers said in an email to commissioners the tree fell on a mobile home Sunday in Dallas, about 240 miles west of where Hurricane Florence made landfall Friday in Wrightsville Beach.
County spokesman James McConnell confirmed to The Associated Press that officials believe the tree fell because of the rain and wind from the storm's remnants.
A dam overflowed and parks have become submerged in water as unrelenting rain brought by Tropical Depression Florence came down on Fayetteville, North Carolina, and the surrounding area.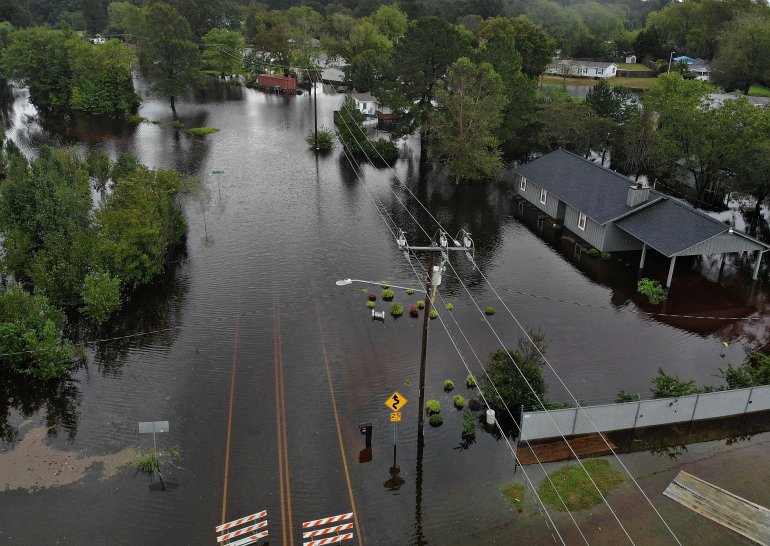 Water on the Cape Fear River, which passes through Fayetteville, continued to rise Sunday, and according to the National Weather Service had reached more than 44 feet by 6 p.m. The river continues its slow climb to a predicted crest at 62 feet (18.9 meters) Tuesday, prompting a mandatory evacuation for areas within 1 mile of the river.
Just south of Fayetteville, water spilled over the top of the recently constructed Hope Mills Dam, which blocks Rockfish Creek, a tributary of the Cape Fear River.
Fayetteville resident Charles Jockers says the slow rise may lull people into complacency. He says Despite the evacuation order, in-town traffic has been increasing over the last few days.
**Read more on Florence, here**