This is an archived article and the information in the article may be outdated. Please look at the time stamp on the story to see when it was last updated.
The 'Kissing Bug,' which can carry a parasite that causes the potentially-deadly Chagas disease, is causing growing concern with some cases reported in the southern U.S.
According to the Centers for Disease Control and Prevention, the bug has been reported in Ohio, as well.
The Ohio Department of Health tells FOX 8 that Ohio has no human or animal cases of the disease.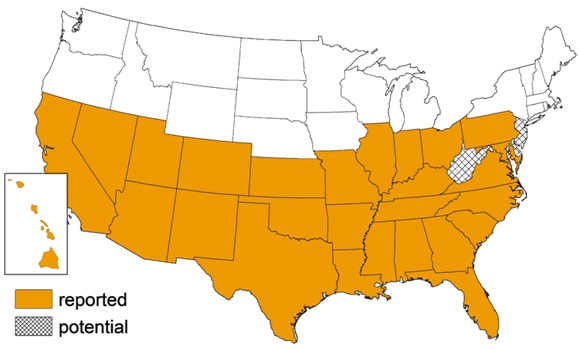 According to the CDC, the triatomine bug, also called the 'Kissing Bug' because it commonly bites people in the face and lips, can live indoors, in cracks and holes of substandard housing, or in a variety of outdoor settings including:
Beneath porches
Between rocky structures
Under cement
In rock, wood, brush piles, or beneath bark
In rodent nests or animal burrows
In outdoor dog houses or kennels
In chicken coops or houses
But, the bugs rarely infest indoor areas of houses. When they are found inside, the CDC said they are likely to be in one of the following locations:
Near pet resting areas
In areas of rodent infestation
In and around beds and bedrooms, especially under or near mattresses or night stands
According to the World Health Organization, less than half of people bitten by the bug will see a skin lesion or swelling in an eyelid. People may suffer from "fever, headache, enlarged lymph glands, pallor, muscle pain, difficulty in breathing, swelling and abdominal or chest pain."
The WHO said "during the chronic phase, the parasites are hidden mainly in the heart and digestive muscles." If you think you might be infected, contact your health care provider.
*CLICK HERE to read more from the World Health Organization*
According to the CDC, you can contact a licensed pest control operator if you're considering using insecticides to keep the bugs away. The CDC also offers the following tips to keep the bugs away from your home:
Sealing cracks and gaps around windows, walls, roofs, and doors
Removing wood, brush, and rock piles near your house
Using screens on doors and windows and repairing any holes or tears
If possible, making sure yard lights are not close to your house (lights can attract the bugs)
Sealing holes and cracks leading to the attic, crawl spaces below the house, and to the outside
Having pets sleep indoors, especially at night
Keeping your house and any outdoor pet resting areas clean, in addition to periodically checking both areas for the presence of bugs
*CLICK HERE to read more from the Centers for Disease Control and Prevention*