This is an archived article and the information in the article may be outdated. Please look at the time stamp on the story to see when it was last updated.
WEST ALLIS, WI — High-wire daredevil Nik Wallenda completed his longest tightrope walk ever during an appearance at the Wisconsin State Fair Tuesday night.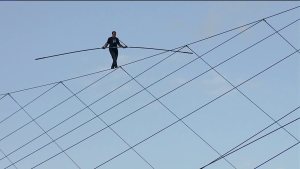 He walked 1,576 feet at more than 10 stories above the Milwaukee Mile Speedway on the fairgrounds Tuesday night.
The 36-year-old Wallenda holds nine Guinness World Records for his stunts. He walked across Niagara Falls in 2012. Wallenda carried a 45-pound bar for stability and wore soft shoes made by his mother, Delilah, a member of the famous Flying Wallendas. She watched her son's high-wire act, as did his wife and three children.