This is an archived article and the information in the article may be outdated. Please look at the time stamp on the story to see when it was last updated.
Brave baby.
That's what a father was hoping to accomplish when he built an Iron Man costume for his sick son.
Eric Hart's son, Collier, has been in the hospital since his premature birth in July.
Hart told TODAY when Halloween came around, he came up with an idea. "I came up with Iron Man because he's been hooked up to all those machines and wires, and that's similar to what Iron Man went through."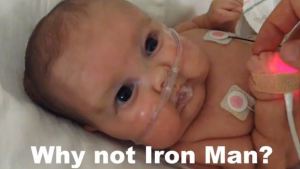 Hart said the nurses said it would be okay to dress up his son, so he set out building the costume. Hart is a professional prop maker.
Little Collier wore the mask for just a minute- long enough to snap a photo for family and take some video.
Hart told TODAY people all over the world are reacting to the touching video.
*You can watch it above*