This is an archived article and the information in the article may be outdated. Please look at the time stamp on the story to see when it was last updated.
BRIMFIELD, Ohio – Future crime-fighter Recon is on the job in Brimfield. Well, he will be, as soon as he's house-broken.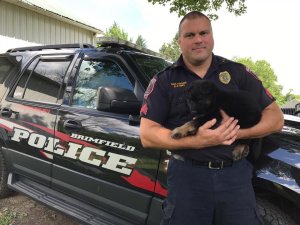 Recon is a K9 puppy who just joined the ranks of the Brimfield Police Department. He's teamed up with his handler, Sgt. Knarr. And even though he' still a puppy, his training has already begun courtesy of Sgt. Knarr and Havoc, the department's other K9!
As you can see by the video, part of that training includes getting familiar with the layout of the police department!
[protected-iframe id="95c620ba6fd7faa3c29b0cd835c4329e-28572381-80973872″ info="https://www.facebook.com/plugins/video.php?href=https%3A%2F%2Fwww.facebook.com%2FBrimfieldPolice%2Fvideos%2F1754587814570254%2F&show_text=0&width=222″ width="222″ height="400″ frameborder="0″ style="border:none;overflow:hidden" scrolling="no"]
Recon comes from the same blood lines as number of the department's other dogs, so it seems that police work is truly in his blood.