This is an archived article and the information in the article may be outdated. Please look at the time stamp on the story to see when it was last updated.
AKRON, Ohio– Akron police are looking for the person who broke into an office building and stole the cremated remains of a decorated military combat veteran.
The burglary happened last Tuesday afternoon on the third floor of the Citi Center building on South High Street in downtown Akron.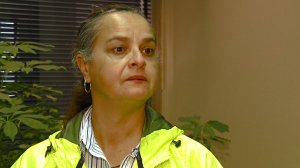 Kimberly Reeder locked the office before going to lunch but somehow the person got inside and stole her credit cards and other items including her recently deceased father's ashes.
"I had just picked up his ashes the day before," said Kimberly, "because I was going to make some jewelry for my mom."
The ashes were in a red velvet bag with her dad's name inside.
Max Reeder, 84, passed away on August 30, but the family was planning a special memorial service for the weekend of September 26.
Reeder's Marine Corps Insignia ring was also stolen.
Kimberly was given the ring by her mother because she had also served in the Corps.
"It was a special bond we had…and now it's gone," said Kimberly.
Police said the suspect was captured on surveillance at nearby gas stations that day using Kimberly's stolen credit cards. They hope someone can identify him and return the ashes.
She said her father was a Marine Corps decorated hero and one of the few who survived the Chosin Reservoir in the Korean war.
He was awarded a Silver Star, Bronze Star and Purple Hearts.
"I forgive what he did. I wish him a better life, but I just would like to have my dad's ashes," Kimberly said, referring to the suspect.