This is an archived article and the information in the article may be outdated. Please look at the time stamp on the story to see when it was last updated.
The family of Kayla Allen, the lone survivor of a deadly shooting at the Cracker Barrel Restaurant on Tiedeman Road, has provided a glimpse of hope and inspiration on her benefit fund Facebook page.
An image posted on Monday evening shows Kayla being baptized in her hospital bed.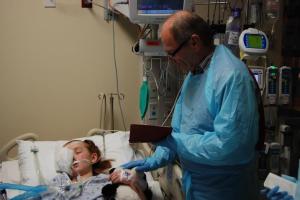 Allen's family members posted the following:
"Today was a big day for Kayla. She was baptized by Pastor Dave! Pastor Dave was Katie's pastor who performed the memorial service for her and Kerri.
Michelle just found out this past weekend that Kayla was never baptized and it was something Katie always want to do. Pastor Dave just happened to be available today so with a couple of phone calls, we had a very nice service with a small group of family and friends to witness this special event.
Kayla's breathing has improved! Thank you to all who prayed so hard. If she continues to improve through the night, the doctors want to take her off the ventilator tomorrow.
She slept pretty much the whole time I was there today. The doctors have her on a medication that knocks her out. The neurologist told us that he continues to see small improvements each day! She is such a fighter!"
On April 25, 2012, Kayla sipped back into critical condition just 36 hours after being upgraded from serious to fair condition.
According to officials with MetroHealth Medical Center, Kayla has remained in critical condition since.
Kaya's father, Kevin Allen, 51, of Strongsville, opened fire on his wife Katherina (Kate), and daughters, Kerri and Kayla, inside the restaurant on April 12, 2012.
Kate and Kerri died in the shooting. Police shot and killed Allen after he refused to drop his weapon.
Police say the mother and her children went out to eat to celebrate Kerri's birthday.
Kevin Allen had two previous run-ins with the law. He was arrested in 1995 for domestic violence and then for burglary 13 years later.