This is an archived article and the information in the article may be outdated. Please look at the time stamp on the story to see when it was last updated.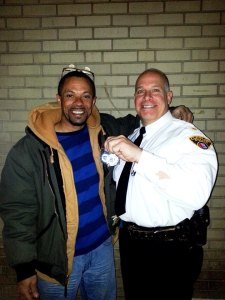 CLEVELAND, Ohio -- A couple chased a hit-skip suspect and forced him to stop his car, before finding out he was reportedly involved in a bank robbery that happened just minutes before, according to Cleveland police.
Police said Jennifer Hernandez and Ruben Ramirez witnessed a car accident near East 65th Street and Broadway Tuesday at around 11:30 a.m.
They said the car that caused the accident fled the scene. The couple followed the suspect until he was forced to stop behind a bus.
"And she pulled right by him and I jumped out of the car, and I told him - I was banging on the window, I was like 'roll your window down. I just want to talk to you," Ramirez said.
Ramirez said he reached in the window and opened the door as the man tried to drive off.
"I just grabbed the door knob … and the steering wheel and I jumped inside with him and stuff," Ramirez said.
Ramirez said the driver dragged him about a half a block.
"I'm telling him 'dude stop, dude stop' you know, and he kept pressing the accelerator and I'm trying to press the brake at the same time. And all that occurred to me, was I elbowed him, and then he let go of the gas. And as I have my foot on the brake the car slowed down. Then I hit him again and put the car in brake and park and I grabbed the key, twist it, out it in my pocket and I walk out of the car," Ramirez said.
Once out of the car, Ramirez looked back inside the car and saw what he missed before.
"Now I see money there with red ink all over it so obviously he must have robbed something, a bank or something," Ramirez said.
Police said the man was the suspect in a bank robbery that happened just minutes earlier at Charter One Bank on Pearl Road.
Police identified the suspect as Darrell Arbogast, 50, of Cleveland.
Ramirez says he wrestled Arbogast to the ground.
An off-duty Cleveland police detective ran to help. Arbogast was arrested and later charged, police said.
"I always wanted to do something to make my mom proud," Ramirez said.
The suspect is due in court Thursday.
The couple was given commendation coins for their efforts in the ordeal.