This is an archived article and the information in the article may be outdated. Please look at the time stamp on the story to see when it was last updated.
[protected-iframe id="442d488f3ce48b71fef225623afc9ca6-28572381-39862656″ info="http://v9.anv.bz/scripts/anv_mcp_9.js" ]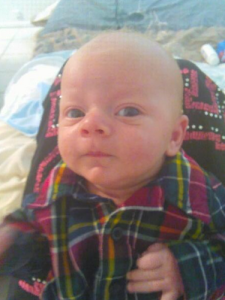 SARASOTA, Fla. — Detectives in Florida say they're trying to figure out the whereabouts of a 9-week-old baby as his parents are being held in a jail in South Carolina awaiting extradition on child neglect charges.
Officials say Chance Walsh has been missing since Sept. 9. Authorities say they became involved when Chance's grandmother called, concerned about the baby's well-being.
A multistate investigation followed.
According to the arrest documents, the parents gave conflicting accounts of what happened to Chance.
The mother gave her step-mother one explanation for the baby's absence, saying she gave the baby to a stranger because she didn't want to hurt him.
WFTS reports that the parents at one point asked the grandparents for money, saying they were involved in a car wreck. They told the grandparents the baby was OK. But police said they found no child in the car after the crash.
The Sarasota County Sheriff's Office charged 36-year-old Joseph Walsh and 32-year-old Kristen Bury with child neglect. They were booked into jail Tuesday.
WFTS reports that during a search of the couple's home, small amounts of blood were found on pillows, a comforter, a mattress and on the wall and door of the bathroom.
WFTS also reports that a family friend said last year Bury lost a son two weeks after he was born. Police say the baby died of an acute kidney infection. The death was not considered suspicious.