This is an archived article and the information in the article may be outdated. Please look at the time stamp on the story to see when it was last updated.
CLEVELAND — Despite receiving a jail sentence, Cleveland City Councilman Zack Reed said he will continue to campaign and is confident he will win the election next week.
He was sentenced Thursday to 180 days in jail, but most were suspended or deferred.
He will begin serving a 10-day jail sentence on Sept. 25.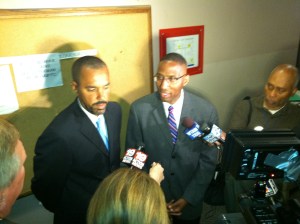 Reed will also have to wear an alcohol monitoring bracelet for two months and pay a $1,500 fine.
His car will be fitted with an ignition interlock and will display a yellow license plate.
Another hearing will be held in two months to make sure Reed is attending treatment for his alcohol addiction.
Reed was arrested in March on his third OVI since 2005.
When he made his statement in court, he told the judge he plans to stay sober forever.  He also thanked the Cleveland Clinic where he is receiving treatment.
Outside of the courtroom, Reed told reporters things happen for a reason.
"So this was something that was placed before me and I have to continue to walk the walk and talk the talk and do the right thing and the judge has given me the opportunity to do the right thing," Reed said.
He mentioned he had no expectations going into the sentencing.
"Whatever God laid down for me I was going to take," Reed said.
Last month, a jury found him guilty despite testimony from a corrections officer and a bartender who served him that night that he didn't seem to be impaired.
Hours after the verdict, Reed sat down at FOX 8 and admitted he has a problem but stressed that it's up to the voters to decide whether he's fit to remain on council.
"By God's grace, I've not hurt myself, and not hurt anyone else, and the position and the mistakes I made by putting myself behind a car while drinking could have placed me in that position.  So by only the grace of God.  Grateful for God, my family, my friends, and grateful for the people of Ward 2," Reed said during the interview.
In the past, Cleveland City Council President Martin Sweeney called for Reed's resignation but there was no way he could force Reed to step down.
As a body, council has made no comment on the case.
Reed has represented Ward 2 for the past nine years.