This is an archived article and the information in the article may be outdated. Please look at the time stamp on the story to see when it was last updated.
(STACKER)- As has been true throughout America's COVID-19 history, every state—and every county therein—has its own COVID-19 story, driven by local policies and behaviors. The United States as of July 8 had reached 606,616 COVID-19-related deaths and more than 33.8 million COVID-19 cases, according to Johns Hopkins University. Amid the grim numbers come two bright spots: As of Feb. 2, more Americans had been vaccinated for COVID-19 than had been infected; and since then, rolling averages for case counts and deaths have been on the decline.
Stacker compiled a list of the counties with highest COVID-19 vaccination rates in Ohio using data from the U.S. Department of Health & Human Services. Counties are ranked by the highest vaccination rate as of July 8, 2021. In Ohio, 45.3% of the total population has been fully vaccinated, compared to 48.2% nationwide. Keep reading to see whether your county ranks among the highest COVID-19 vaccination rates in your state.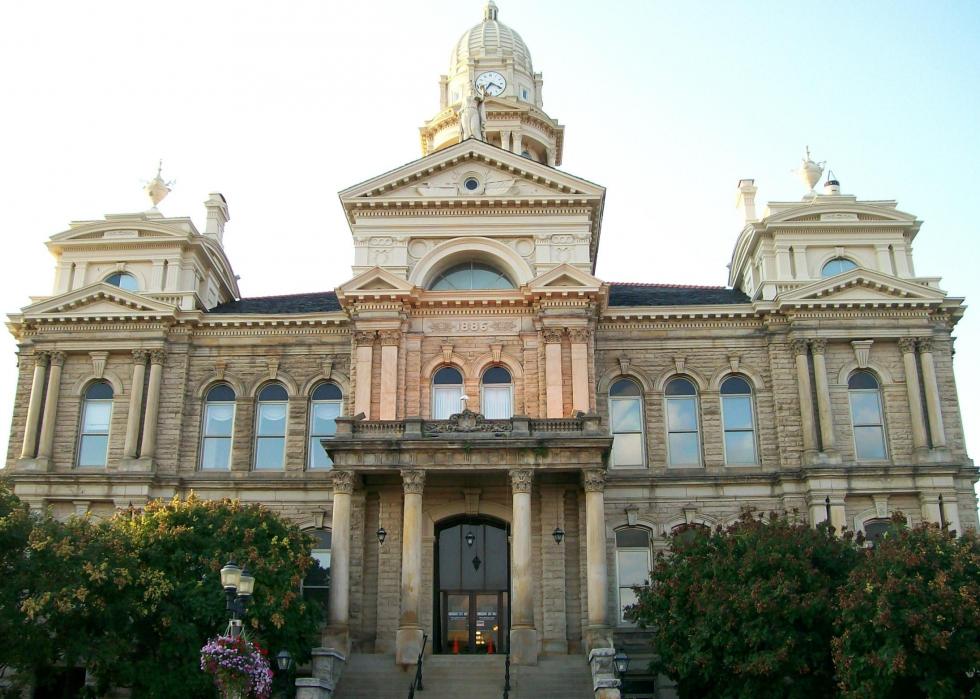 1 / 50Bwsmith84 // Wikimedia Commons
#50. Belmont County
– Population that is fully vaccinated: 35.4% (23,728 fully vaccinated)
— 21.9% lower vaccination rate than Ohio
– Population over 65 that is fully vaccinated: 69.5% (9,972 fully vaccinated)
— 13.3% lower vaccination rate than Ohio
– Cumulative deaths per 100k: 264 (177 total deaths)
— 51.7% more deaths per 100k residents than Ohio
– Cumulative cases per 100k: 9,223 (6,180 total cases)
— 3.1% less cases per 100k residents than Ohio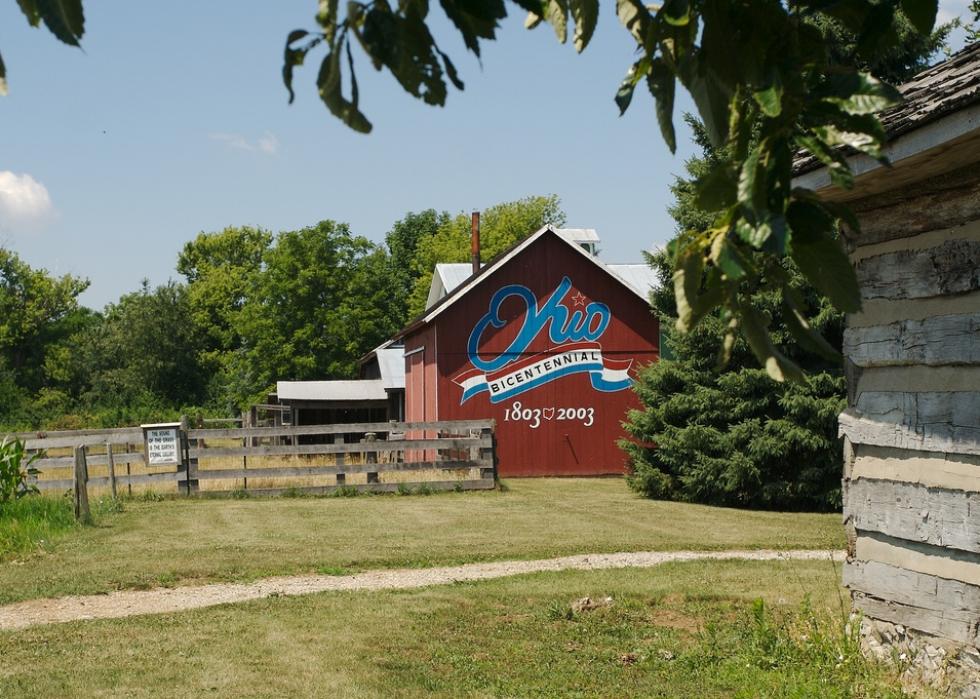 2 / 50Kevin Marsh // Wikimedia Commons
#49. Huron County
– Population that is fully vaccinated: 35.7% (20,796 fully vaccinated)
— 21.2% lower vaccination rate than Ohio
– Population over 65 that is fully vaccinated: 76.2% (7,832 fully vaccinated)
— 5.0% lower vaccination rate than Ohio
– Cumulative deaths per 100k: 209 (122 total deaths)
— 20.1% more deaths per 100k residents than Ohio
– Cumulative cases per 100k: 9,572 (5,577 total cases)
— 0.5% more cases per 100k residents than Ohio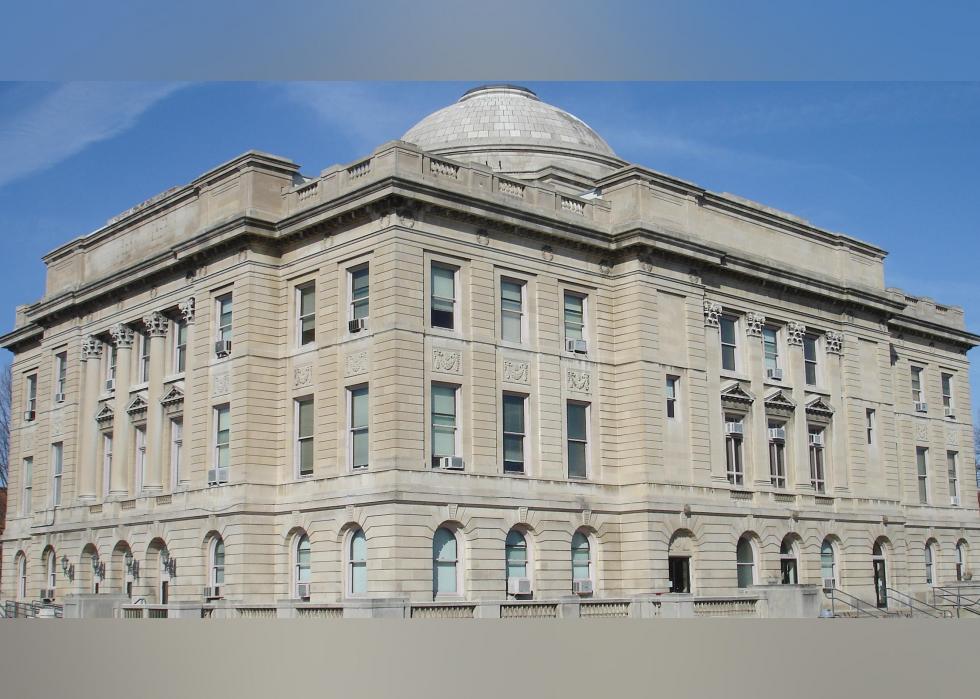 3 / 50Bwsmith84 // Wikimedia Commons
#48. Clinton County
– Population that is fully vaccinated: 36.1% (15,143 fully vaccinated)
— 20.3% lower vaccination rate than Ohio
– Population over 65 that is fully vaccinated: 75.7% (5,575 fully vaccinated)
— 5.6% lower vaccination rate than Ohio
– Cumulative deaths per 100k: 157 (66 total deaths)
— 9.8% less deaths per 100k residents than Ohio
– Cumulative cases per 100k: 9,119 (3,827 total cases)
— 4.2% less cases per 100k residents than Ohio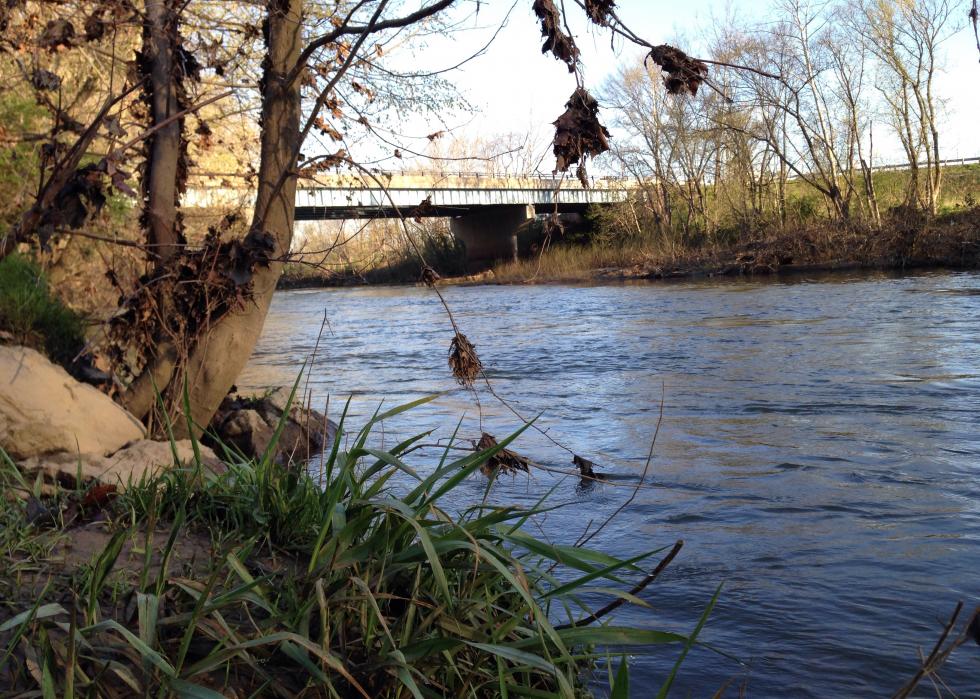 4 / 50dankeck // Wikimedia Commons
#47. Hocking County
– Population that is fully vaccinated: 36.2% (10,221 fully vaccinated)
— 20.1% lower vaccination rate than Ohio
– Population over 65 that is fully vaccinated: 71.0% (3,907 fully vaccinated)
— 11.5% lower vaccination rate than Ohio
– Cumulative deaths per 100k: 223 (63 total deaths)
— 28.2% more deaths per 100k residents than Ohio
– Cumulative cases per 100k: 7,809 (2,207 total cases)
— 18.0% less cases per 100k residents than Ohio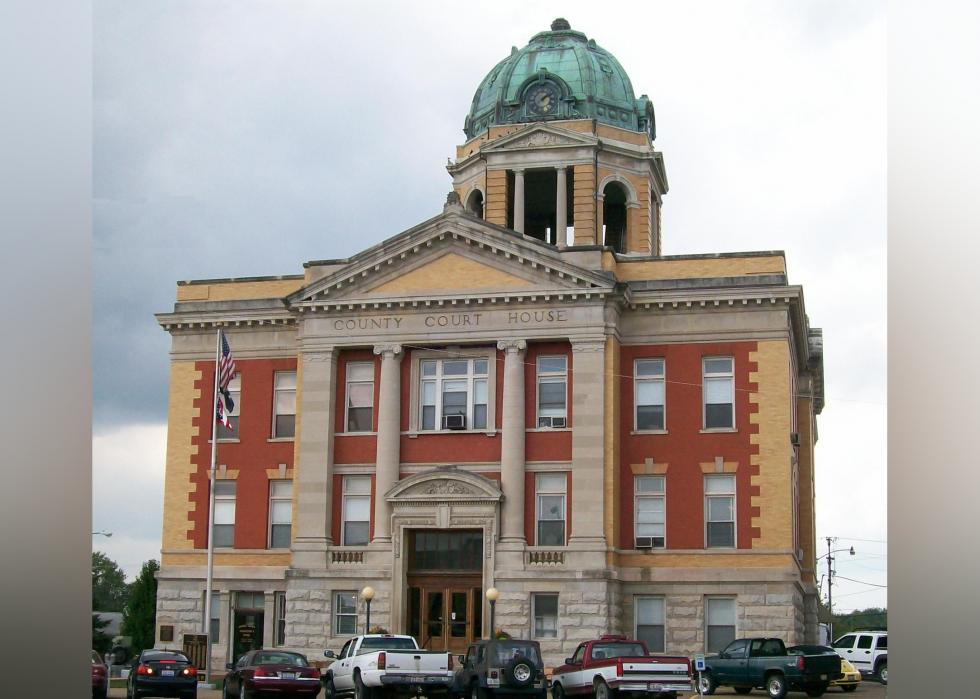 5 / 50Bwsmith84// Wikimedia Commons
#46. Monroe County
– Population that is fully vaccinated: 36.5% (4,987 fully vaccinated)
— 19.4% lower vaccination rate than Ohio
– Population over 65 that is fully vaccinated: 71.5% (2,354 fully vaccinated)
— 10.8% lower vaccination rate than Ohio
– Cumulative deaths per 100k: 330 (45 total deaths)
— 89.7% more deaths per 100k residents than Ohio
– Cumulative cases per 100k: 10,012 (1,367 total cases)
— 5.1% more cases per 100k residents than Ohio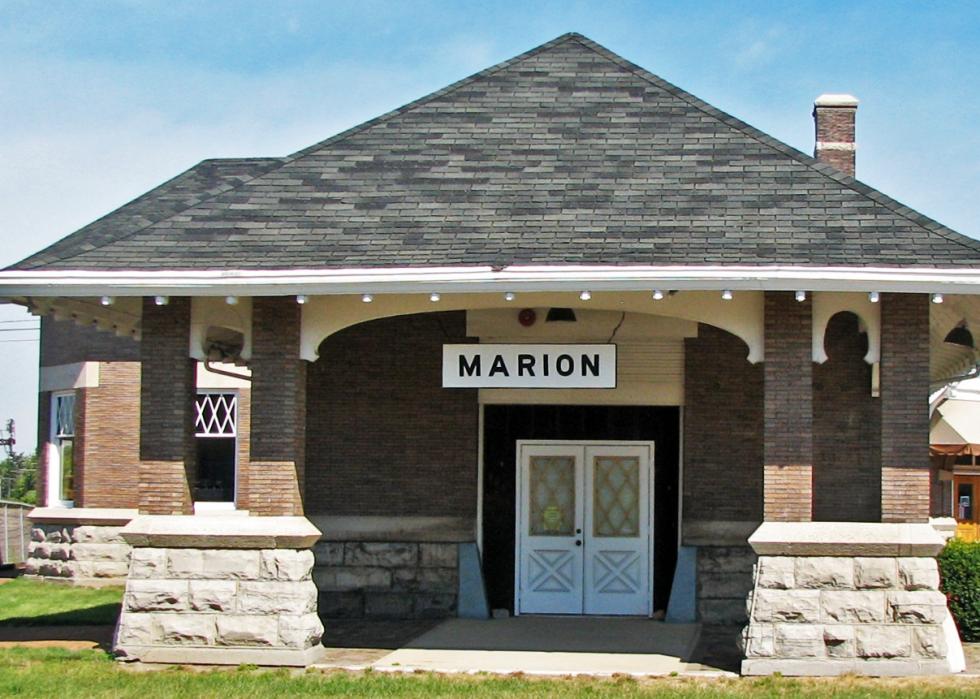 6 / 50James St. John // Wikimedia Commons
#45. Marion County
– Population that is fully vaccinated: 36.7% (23,862 fully vaccinated)
— 19.0% lower vaccination rate than Ohio
– Population over 65 that is fully vaccinated: 76.0% (9,011 fully vaccinated)
— 5.2% lower vaccination rate than Ohio
– Cumulative deaths per 100k: 215 (140 total deaths)
— 23.6% more deaths per 100k residents than Ohio
– Cumulative cases per 100k: 13,299 (8,657 total cases)
— 39.7% more cases per 100k residents than Ohio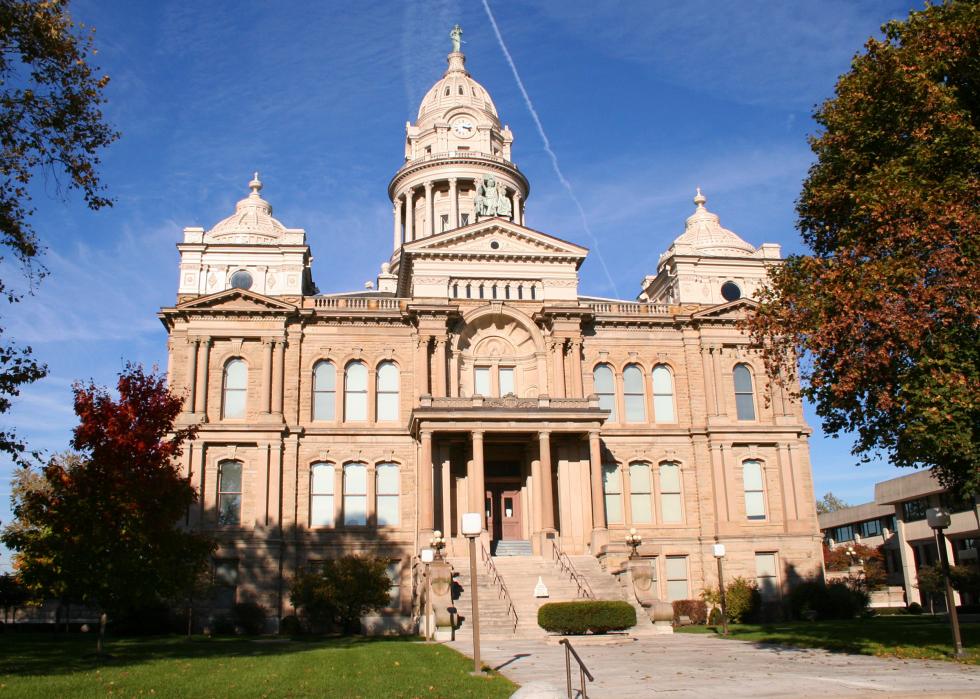 7 / 50Derek Jensen // Wikimedia Commons
#44. Miami County
– Population that is fully vaccinated: 37.1% (39,697 fully vaccinated)
— 18.1% lower vaccination rate than Ohio
– Population over 65 that is fully vaccinated: 74.0% (14,987 fully vaccinated)
— 7.7% lower vaccination rate than Ohio
– Cumulative deaths per 100k: 211 (226 total deaths)
— 21.3% more deaths per 100k residents than Ohio
– Cumulative cases per 100k: 10,171 (10,882 total cases)
— 6.8% more cases per 100k residents than Ohio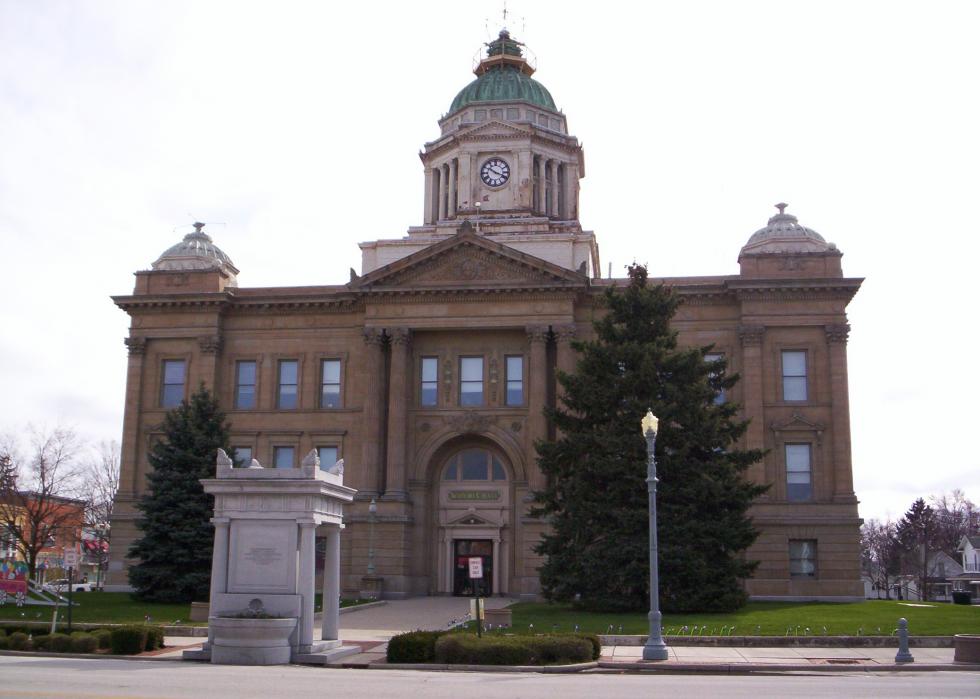 8 / 50User:OHWiki // Wikimedia Commons
#43. Wyandot County
– Population that is fully vaccinated: 37.1% (8,080 fully vaccinated)
— 18.1% lower vaccination rate than Ohio
– Population over 65 that is fully vaccinated: 74.5% (3,229 fully vaccinated)
— 7.1% lower vaccination rate than Ohio
– Cumulative deaths per 100k: 262 (57 total deaths)
— 50.6% more deaths per 100k residents than Ohio
– Cumulative cases per 100k: 10,794 (2,350 total cases)
— 13.4% more cases per 100k residents than Ohiohttps://54598df4f1241eb615586efcb5059ac7.safeframe.googlesyndication.com/safeframe/1-0-38/html/container.html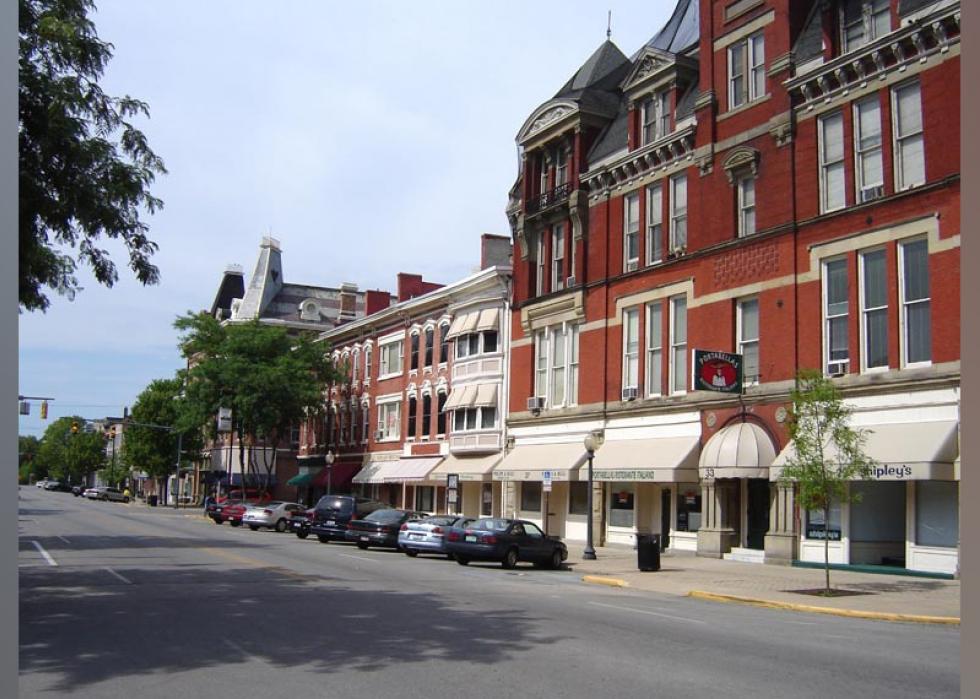 9 / 50Mike Sharp // Wikimedia Commons
#42. Ross County
– Population that is fully vaccinated: 37.8% (29,007 fully vaccinated)
— 16.6% lower vaccination rate than Ohio
– Population over 65 that is fully vaccinated: 74.7% (9,819 fully vaccinated)
— 6.9% lower vaccination rate than Ohio
– Cumulative deaths per 100k: 214 (164 total deaths)
— 23.0% more deaths per 100k residents than Ohio
– Cumulative cases per 100k: 9,086 (6,966 total cases)
— 4.6% less cases per 100k residents than Ohio
10 / 50Ndutro // Wikimedia Commons
#41. Seneca County
– Population that is fully vaccinated: 37.9% (20,903 fully vaccinated)
— 16.3% lower vaccination rate than Ohio
– Population over 65 that is fully vaccinated: 80.6% (8,274 fully vaccinated)
— 0.5% higher vaccination rate than Ohio
– Cumulative deaths per 100k: 232 (128 total deaths)
— 33.3% more deaths per 100k residents than Ohio
– Cumulative cases per 100k: 9,703 (5,354 total cases)
— 1.9% more cases per 100k residents than Ohio
11 / 50Leslie K. Dellovade // Wikimedia Commons
#40. Muskingum County
– Population that is fully vaccinated: 38.0% (32,786 fully vaccinated)
— 16.1% lower vaccination rate than Ohio
– Population over 65 that is fully vaccinated: 79.2% (12,435 fully vaccinated)
— 1.2% lower vaccination rate than Ohio
– Cumulative deaths per 100k: 159 (137 total deaths)
— 8.6% less deaths per 100k residents than Ohio
– Cumulative cases per 100k: 10,423 (8,986 total cases)
— 9.5% more cases per 100k residents than Ohio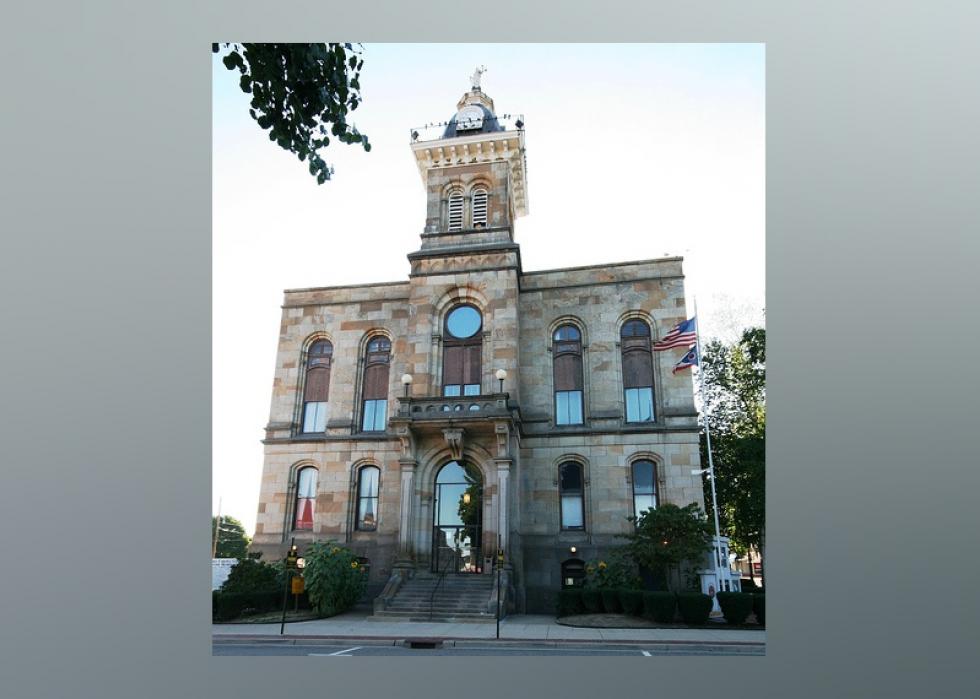 12 / 50636Buster // Wikimedia Commons
#39. Columbiana County
– Population that is fully vaccinated: 38.0% (38,681 fully vaccinated)
— 16.1% lower vaccination rate than Ohio
– Population over 65 that is fully vaccinated: 73.5% (15,862 fully vaccinated)
— 8.4% lower vaccination rate than Ohio
– Cumulative deaths per 100k: 232 (236 total deaths)
— 33.3% more deaths per 100k residents than Ohio
– Cumulative cases per 100k: 8,890 (9,057 total cases)
— 6.6% less cases per 100k residents than Ohio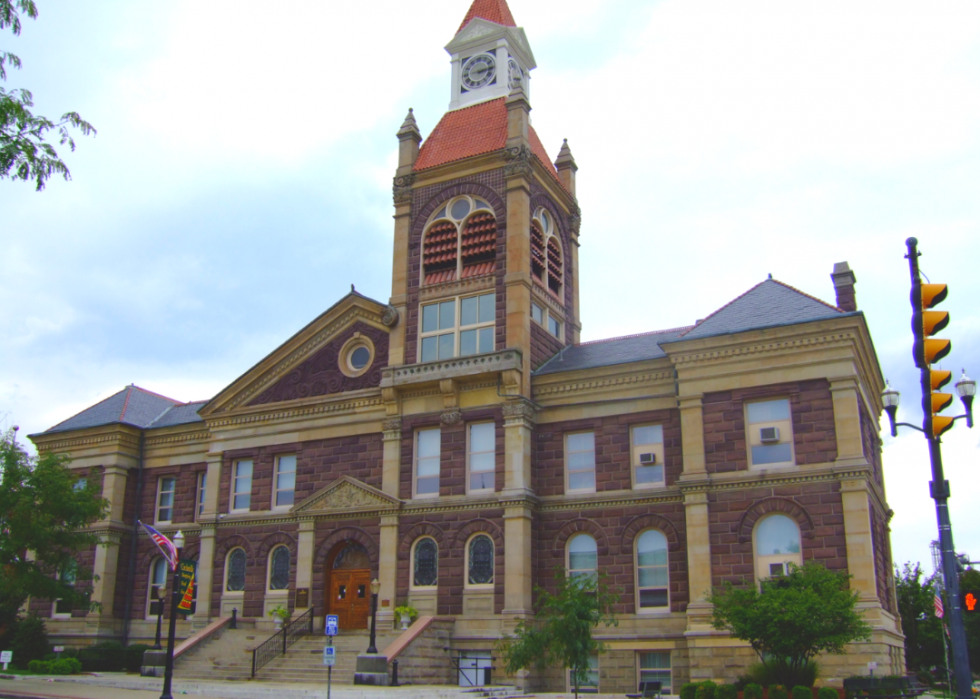 13 / 50Analogue Kid // Wikimedia Commons
#38. Pickaway County
– Population that is fully vaccinated: 38.2% (22,326 fully vaccinated)
— 15.7% lower vaccination rate than Ohio
– Population over 65 that is fully vaccinated: 77.8% (7,266 fully vaccinated)
— 3.0% lower vaccination rate than Ohio
– Cumulative deaths per 100k: 209 (122 total deaths)
— 20.1% more deaths per 100k residents than Ohio
– Cumulative cases per 100k: 14,857 (8,685 total cases)
— 56.0% more cases per 100k residents than Ohio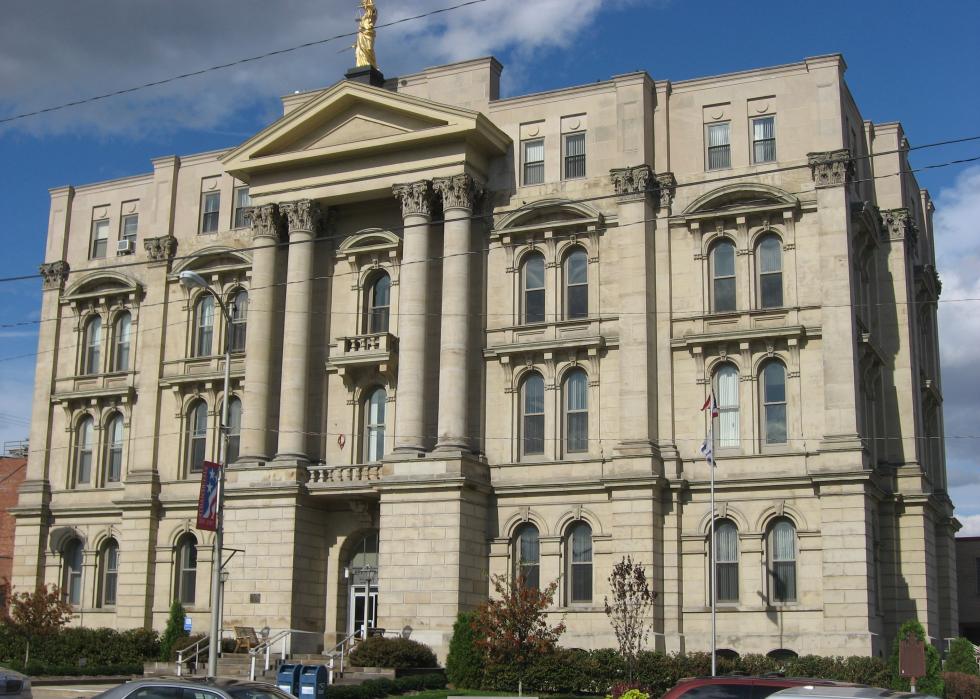 14 / 50Nyttend // Wikimedia Commons
#37. Jefferson County
– Population that is fully vaccinated: 38.6% (25,202 fully vaccinated)
— 14.8% lower vaccination rate than Ohio
– Population over 65 that is fully vaccinated: 73.6% (10,617 fully vaccinated)
— 8.2% lower vaccination rate than Ohio
– Cumulative deaths per 100k: 245 (160 total deaths)
— 40.8% more deaths per 100k residents than Ohio
– Cumulative cases per 100k: 8,715 (5,693 total cases)
— 8.5% less cases per 100k residents than Ohio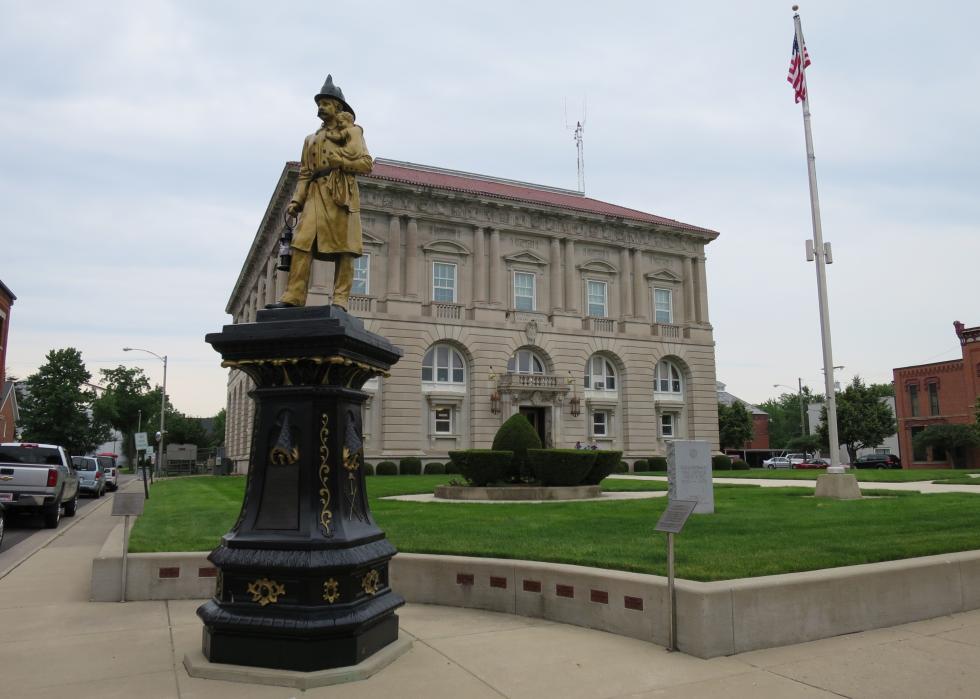 15 / 50Art Anderson // Wikimedia Commons
#36. Putnam County
– Population that is fully vaccinated: 38.7% (13,091 fully vaccinated)
— 14.6% lower vaccination rate than Ohio
– Population over 65 that is fully vaccinated: 81.6% (4,972 fully vaccinated)
— 1.7% higher vaccination rate than Ohio
– Cumulative deaths per 100k: 307 (104 total deaths)
— 76.4% more deaths per 100k residents than Ohio
– Cumulative cases per 100k: 12,808 (4,337 total cases)
— 34.5% more cases per 100k residents than Ohio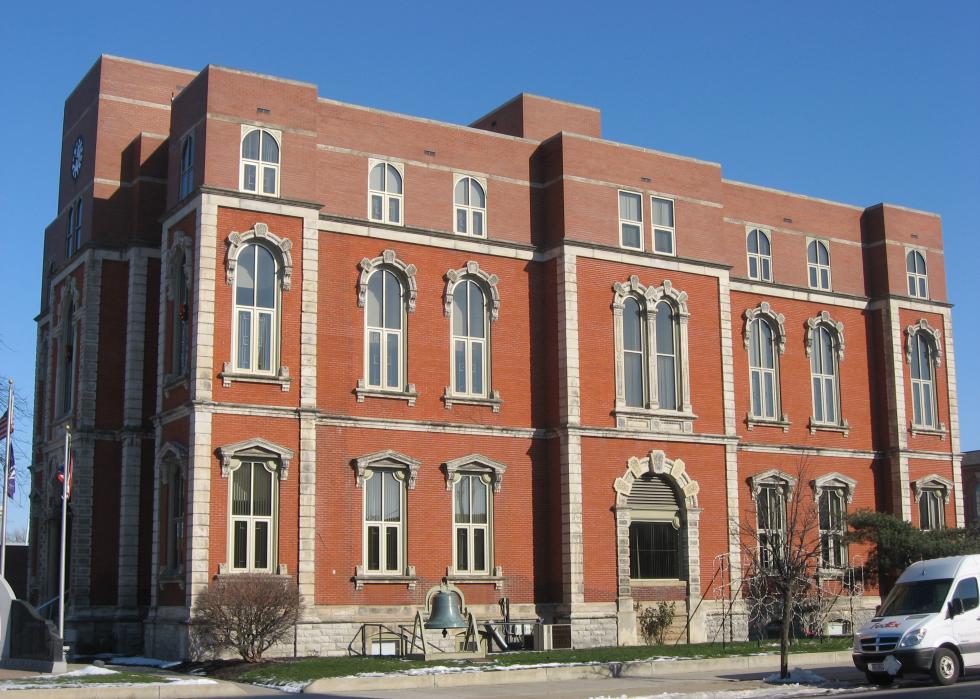 16 / 50Nyttend // Wikimedia Commons
#35. Defiance County
– Population that is fully vaccinated: 38.9% (14,812 fully vaccinated)
— 14.1% lower vaccination rate than Ohio
– Population over 65 that is fully vaccinated: 78.2% (5,727 fully vaccinated)
— 2.5% lower vaccination rate than Ohio
– Cumulative deaths per 100k: 260 (99 total deaths)
— 49.4% more deaths per 100k residents than Ohio
– Cumulative cases per 100k: 11,361 (4,327 total cases)
— 19.3% more cases per 100k residents than Ohio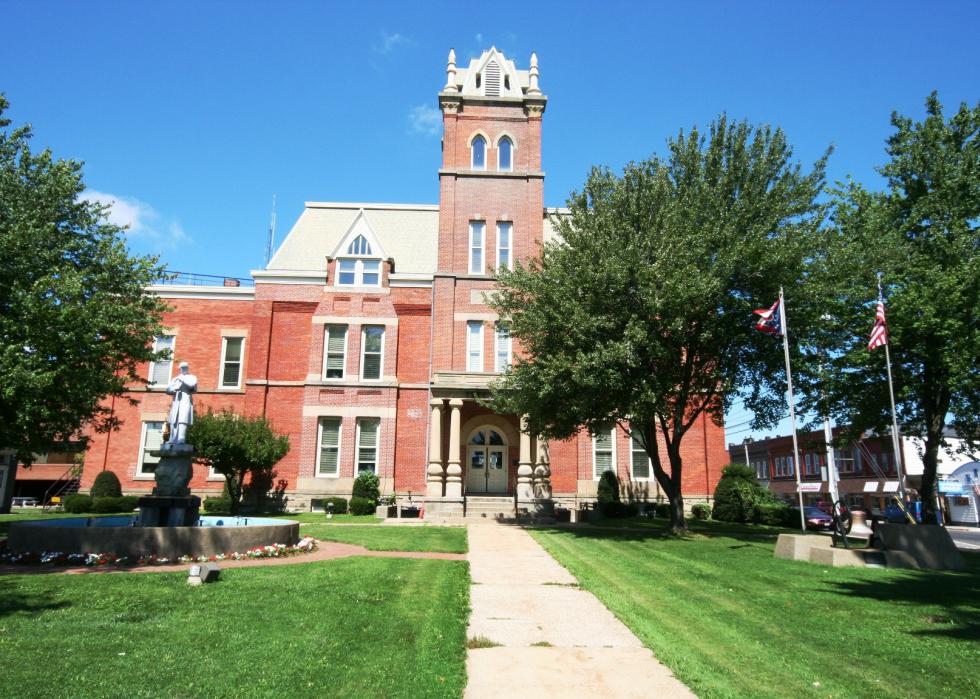 17 / 50OZinOH // Wikimedia Commons
#34. Ashtabula County
– Population that is fully vaccinated: 39.2% (38,119 fully vaccinated)
— 13.5% lower vaccination rate than Ohio
– Population over 65 that is fully vaccinated: 74.5% (14,214 fully vaccinated)
— 7.1% lower vaccination rate than Ohio
– Cumulative deaths per 100k: 184 (179 total deaths)
— 5.7% more deaths per 100k residents than Ohio
– Cumulative cases per 100k: 7,425 (7,220 total cases)
— 22.0% less cases per 100k residents than Ohio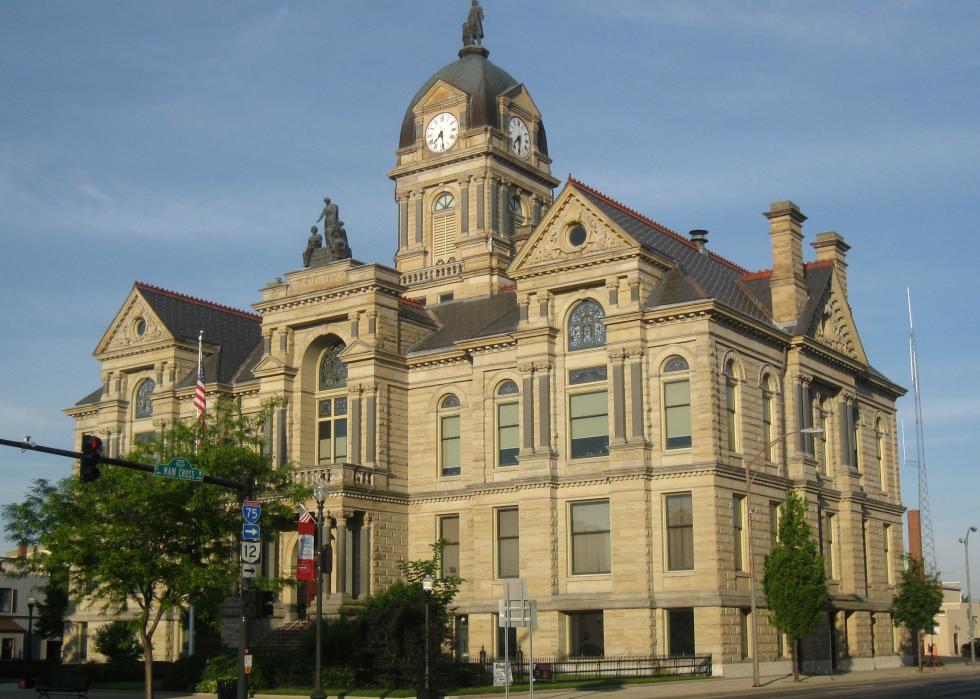 18 / 50Ruhrfisch // Wikimedia Commons
#33. Hancock County
– Population that is fully vaccinated: 39.2% (29,672 fully vaccinated)
— 13.5% lower vaccination rate than Ohio
– Population over 65 that is fully vaccinated: 75.2% (10,072 fully vaccinated)
— 6.2% lower vaccination rate than Ohio
– Cumulative deaths per 100k: 177 (134 total deaths)
— 1.7% more deaths per 100k residents than Ohio
– Cumulative cases per 100k: 9,253 (7,012 total cases)
— 2.8% less cases per 100k residents than Ohio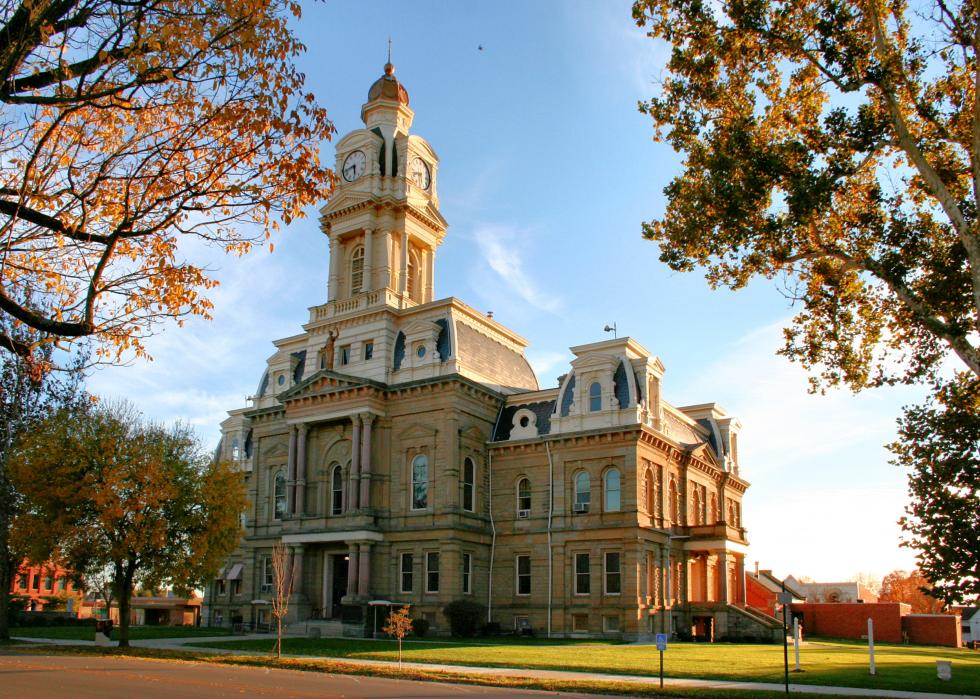 19 / 50Derek Jensen // Wikimedia Commons
#32. Madison County
– Population that is fully vaccinated: 39.8% (17,791 fully vaccinated)
— 12.1% lower vaccination rate than Ohio
– Population over 65 that is fully vaccinated: 75.7% (5,375 fully vaccinated)
— 5.6% lower vaccination rate than Ohio
– Cumulative deaths per 100k: 148 (66 total deaths)
— 14.9% less deaths per 100k residents than Ohio
– Cumulative cases per 100k: 9,953 (4,452 total cases)
— 4.5% more cases per 100k residents than Ohio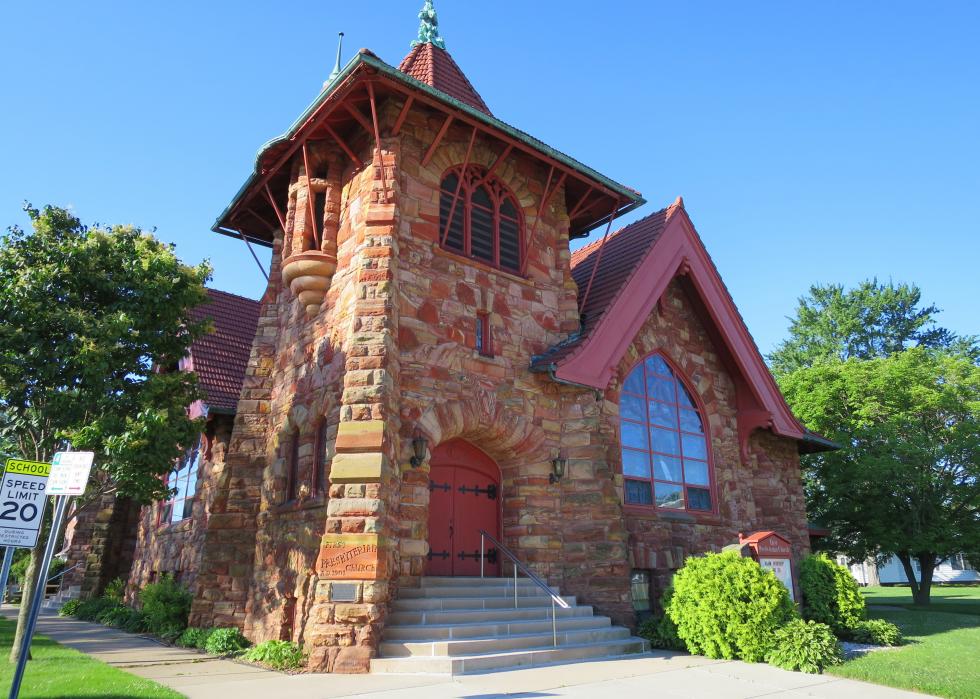 20 / 50Art Anderson // Wikimedia Commons
#31. Henry County
– Population that is fully vaccinated: 40.0% (10,789 fully vaccinated)
— 11.7% lower vaccination rate than Ohio
– Population over 65 that is fully vaccinated: 82.5% (4,265 fully vaccinated)
— 2.9% higher vaccination rate than Ohio
– Cumulative deaths per 100k: 248 (67 total deaths)
— 42.5% more deaths per 100k residents than Ohio
– Cumulative cases per 100k: 10,179 (2,749 total cases)
— 6.9% more cases per 100k residents than Ohio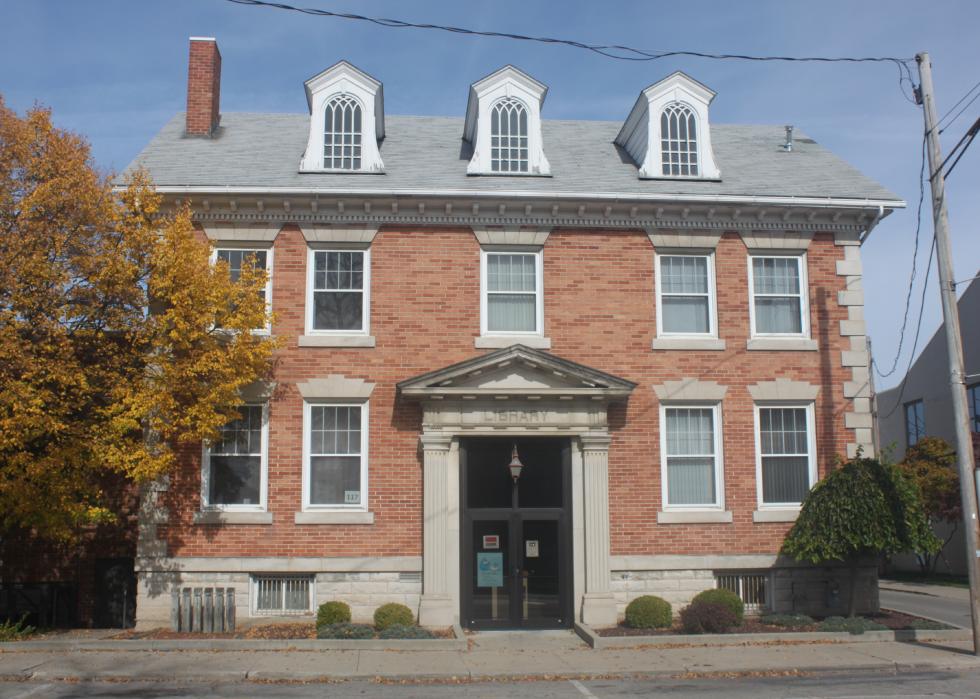 21 / 50Darren56brown // Wikimedia Commons
#30. Fulton County
– Population that is fully vaccinated: 40.0% (16,853 fully vaccinated)
— 11.7% lower vaccination rate than Ohio
– Population over 65 that is fully vaccinated: 77.8% (6,039 fully vaccinated)
— 3.0% lower vaccination rate than Ohio
– Cumulative deaths per 100k: 178 (75 total deaths)
— 2.3% more deaths per 100k residents than Ohio
– Cumulative cases per 100k: 10,279 (4,330 total cases)
— 8.0% more cases per 100k residents than Ohio
22 / 50David Wilson // Wikimedia Commons
#29. Athens County
– Population that is fully vaccinated: 40.2% (26,235 fully vaccinated)
— 11.3% lower vaccination rate than Ohio
– Population over 65 that is fully vaccinated: 77.1% (6,873 fully vaccinated)
— 3.9% lower vaccination rate than Ohio
– Cumulative deaths per 100k: 92 (60 total deaths)
— 47.1% less deaths per 100k residents than Ohio
– Cumulative cases per 100k: 8,038 (5,251 total cases)
— 15.6% less cases per 100k residents than Ohio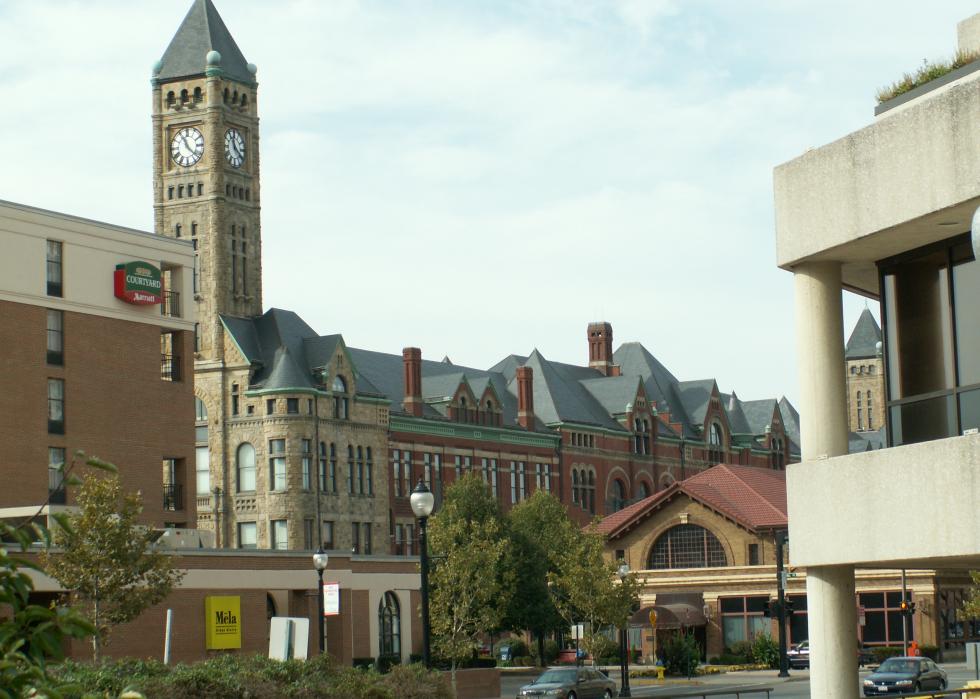 23 / 50Cindy Funk // Wikicommons
#28. Clark County
– Population that is fully vaccinated: 41.2% (55,242 fully vaccinated)
— 9.1% lower vaccination rate than Ohio
– Population over 65 that is fully vaccinated: 79.2% (20,946 fully vaccinated)
— 1.2% lower vaccination rate than Ohio
– Cumulative deaths per 100k: 228 (306 total deaths)
— 31.0% more deaths per 100k residents than Ohio
– Cumulative cases per 100k: 10,642 (14,269 total cases)
— 11.8% more cases per 100k residents than Ohio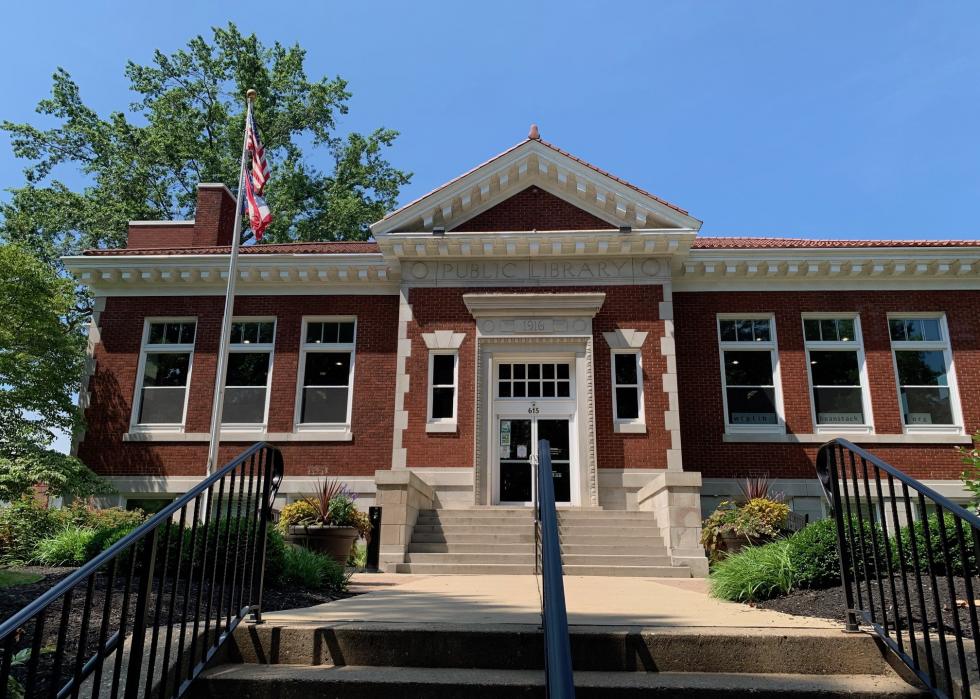 24 / 50Roger O. Young // Wikimedia Commons
#27. Washington County
– Population that is fully vaccinated: 41.8% (25,030 fully vaccinated)
— 7.7% lower vaccination rate than Ohio
– Population over 65 that is fully vaccinated: 76.0% (9,837 fully vaccinated)
— 5.2% lower vaccination rate than Ohio
– Cumulative deaths per 100k: 184 (110 total deaths)
— 5.7% more deaths per 100k residents than Ohio
– Cumulative cases per 100k: 8,898 (5,331 total cases)
— 6.6% less cases per 100k residents than Ohio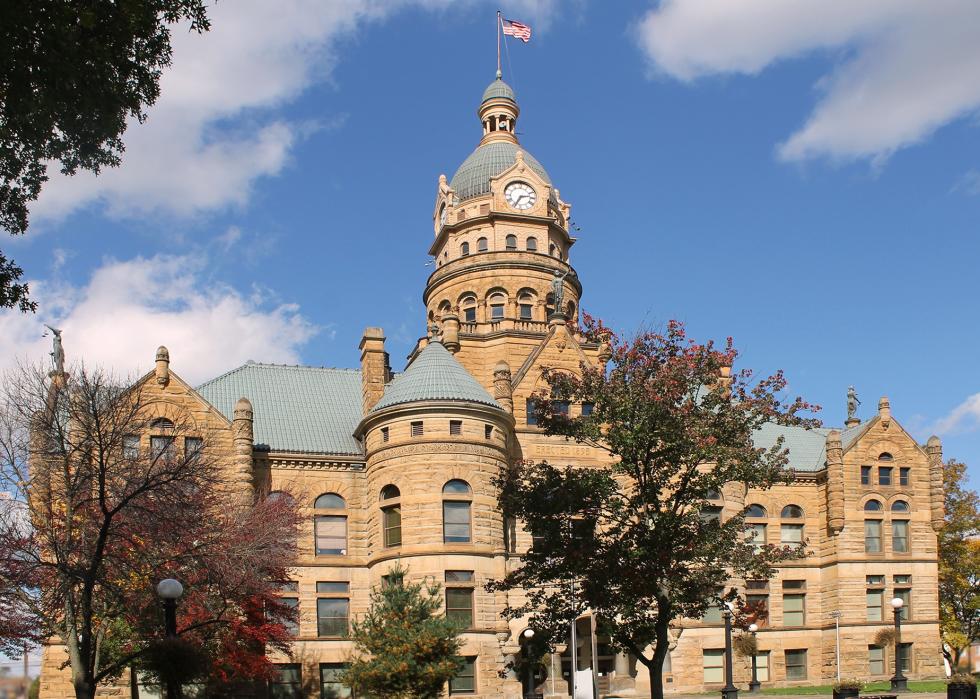 25 / 50Jack W. Pearce // Wikimedia Commons
#26. Trumbull County
– Population that is fully vaccinated: 42.0% (83,101 fully vaccinated)
— 7.3% lower vaccination rate than Ohio
– Population over 65 that is fully vaccinated: 73.2% (31,975 fully vaccinated)
— 8.7% lower vaccination rate than Ohio
– Cumulative deaths per 100k: 245 (486 total deaths)
— 40.8% more deaths per 100k residents than Ohio
– Cumulative cases per 100k: 8,392 (16,613 total cases)
— 11.9% less cases per 100k residents than Ohio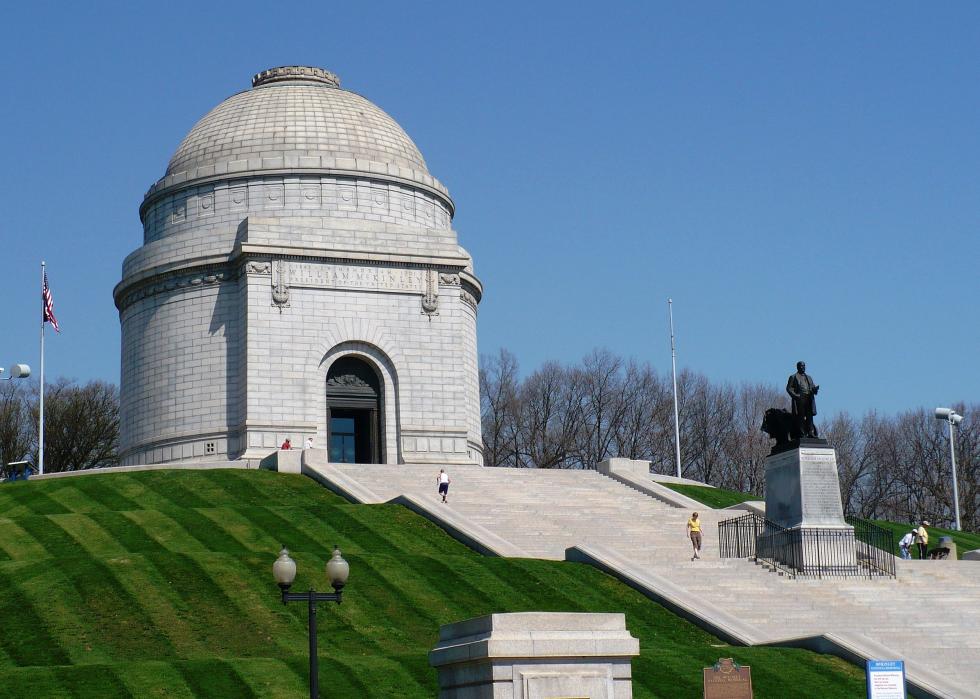 26 / 50Alycat // Wikimedia Commons
#25. Stark County
– Population that is fully vaccinated: 42.1% (156,022 fully vaccinated)
— 7.1% lower vaccination rate than Ohio
– Population over 65 that is fully vaccinated: 77.1% (56,981 fully vaccinated)
— 3.9% lower vaccination rate than Ohio
– Cumulative deaths per 100k: 253 (936 total deaths)
— 45.4% more deaths per 100k residents than Ohio
– Cumulative cases per 100k: 9,035 (33,484 total cases)
— 5.1% less cases per 100k residents than Ohio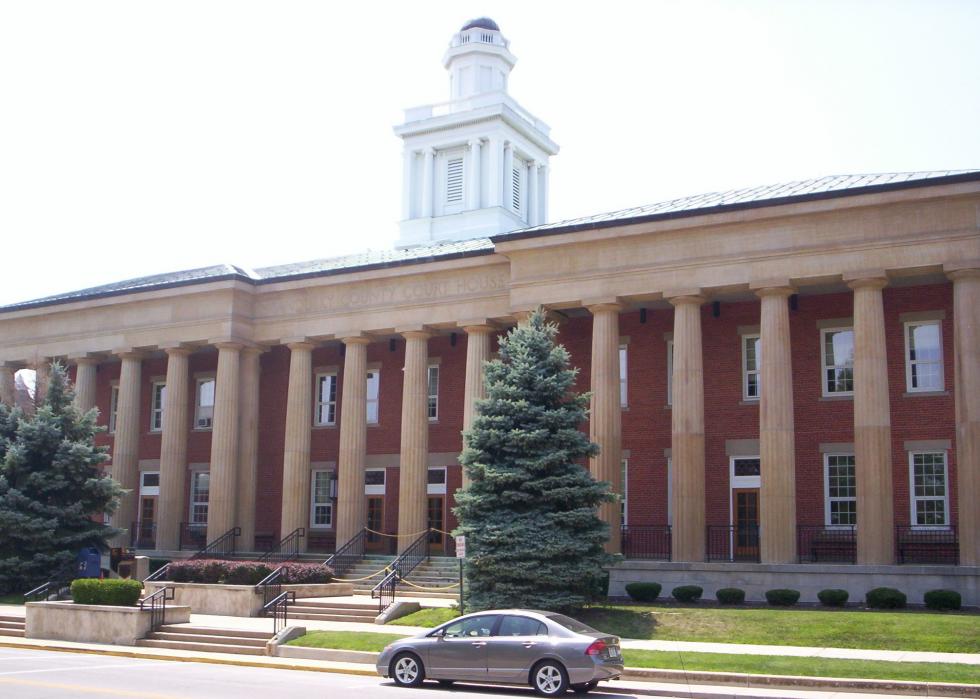 27 / 50User:OHWiki // Wikimedia Commons
#24. Sandusky County
– Population that is fully vaccinated: 42.1% (24,628 fully vaccinated)
— 7.1% lower vaccination rate than Ohio
– Population over 65 that is fully vaccinated: 83.3% (9,419 fully vaccinated)
— 3.9% higher vaccination rate than Ohio
– Cumulative deaths per 100k: 220 (129 total deaths)
— 26.4% more deaths per 100k residents than Ohio
– Cumulative cases per 100k: 9,320 (5,454 total cases)
— 2.1% less cases per 100k residents than Ohio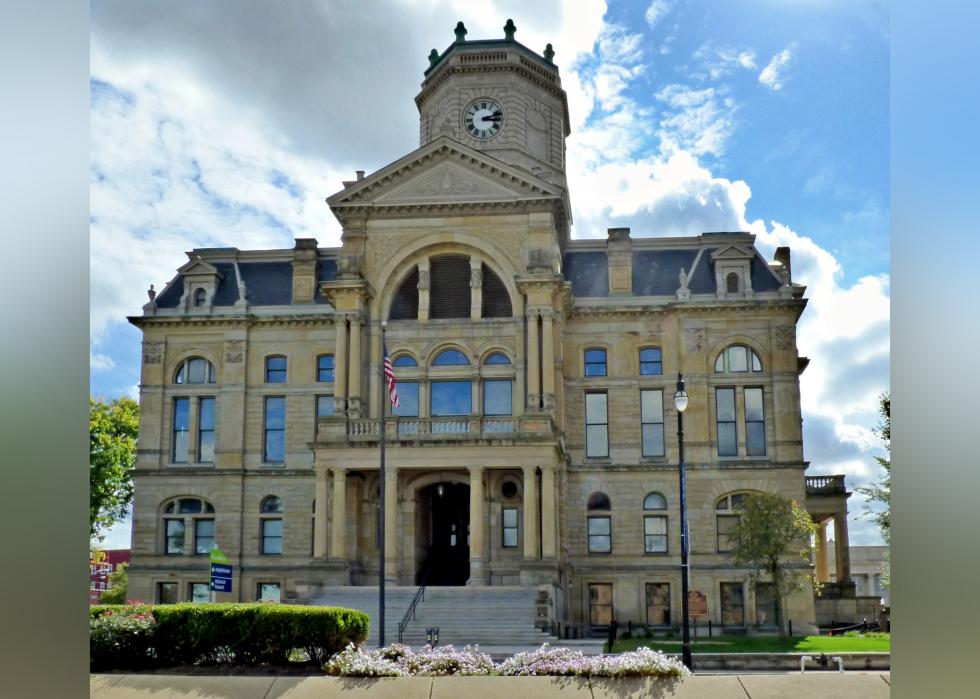 28 / 50Greg Hume // Wikimedia Commons
#23. Butler County
– Population that is fully vaccinated: 42.7% (163,746 fully vaccinated)
— 5.7% lower vaccination rate than Ohio
– Population over 65 that is fully vaccinated: 78.6% (45,541 fully vaccinated)
— 2.0% lower vaccination rate than Ohio
– Cumulative deaths per 100k: 159 (611 total deaths)
— 8.6% less deaths per 100k residents than Ohio
– Cumulative cases per 100k: 10,322 (39,547 total cases)
— 8.4% more cases per 100k residents than Ohio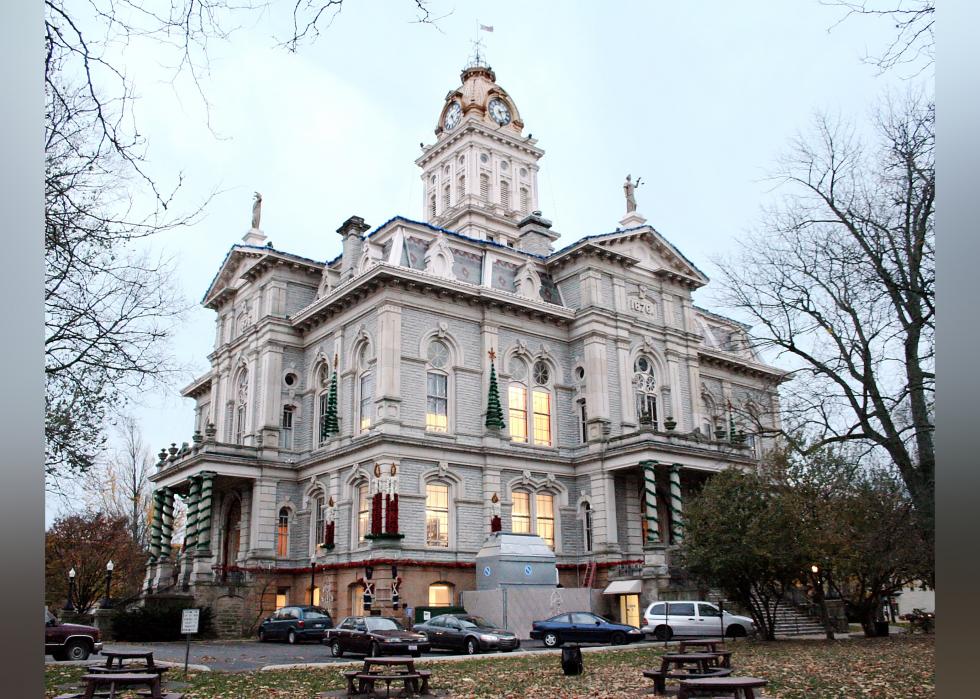 29 / 50Derek Jensen // Wikimedia Commons
#22. Licking County
– Population that is fully vaccinated: 43.0% (75,967 fully vaccinated)
— 5.1% lower vaccination rate than Ohio
– Population over 65 that is fully vaccinated: 80.3% (23,791 fully vaccinated)
— 0.1% higher vaccination rate than Ohio
– Cumulative deaths per 100k: 127 (225 total deaths)
— 27.0% less deaths per 100k residents than Ohio
– Cumulative cases per 100k: 9,447 (16,708 total cases)
— 0.8% less cases per 100k residents than Ohio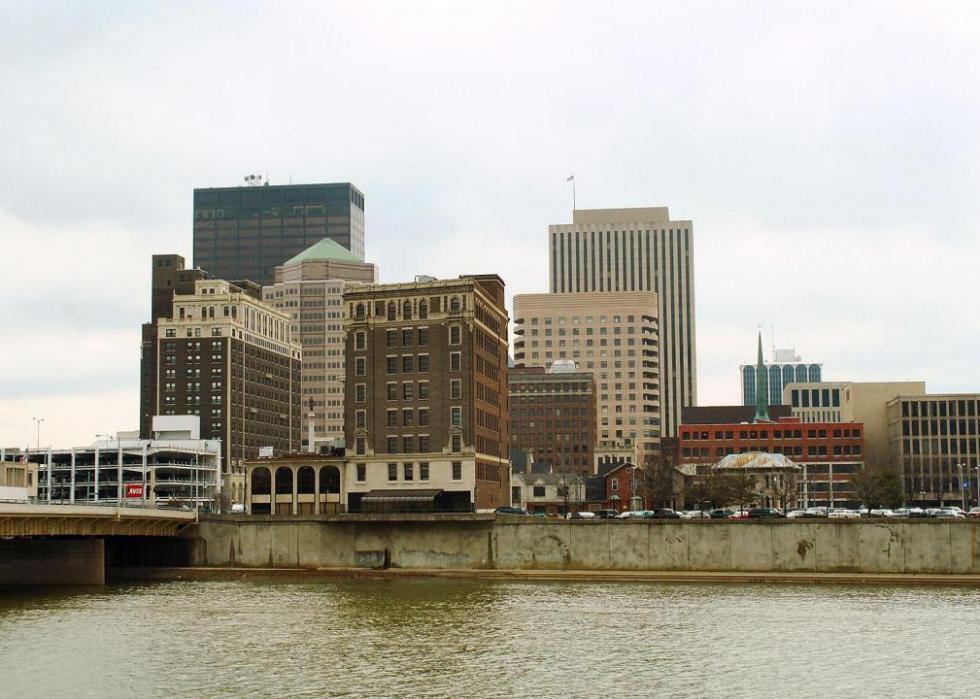 30 / 50Tysto // Wikimedia Commons
#21. Montgomery County
– Population that is fully vaccinated: 43.5% (231,305 fully vaccinated)
— 4.0% lower vaccination rate than Ohio
– Population over 65 that is fully vaccinated: 76.5% (74,532 fully vaccinated)
— 4.6% lower vaccination rate than Ohio
– Cumulative deaths per 100k: 199 (1,056 total deaths)
— 14.4% more deaths per 100k residents than Ohio
– Cumulative cases per 100k: 9,914 (52,713 total cases)
— 4.1% more cases per 100k residents than Ohio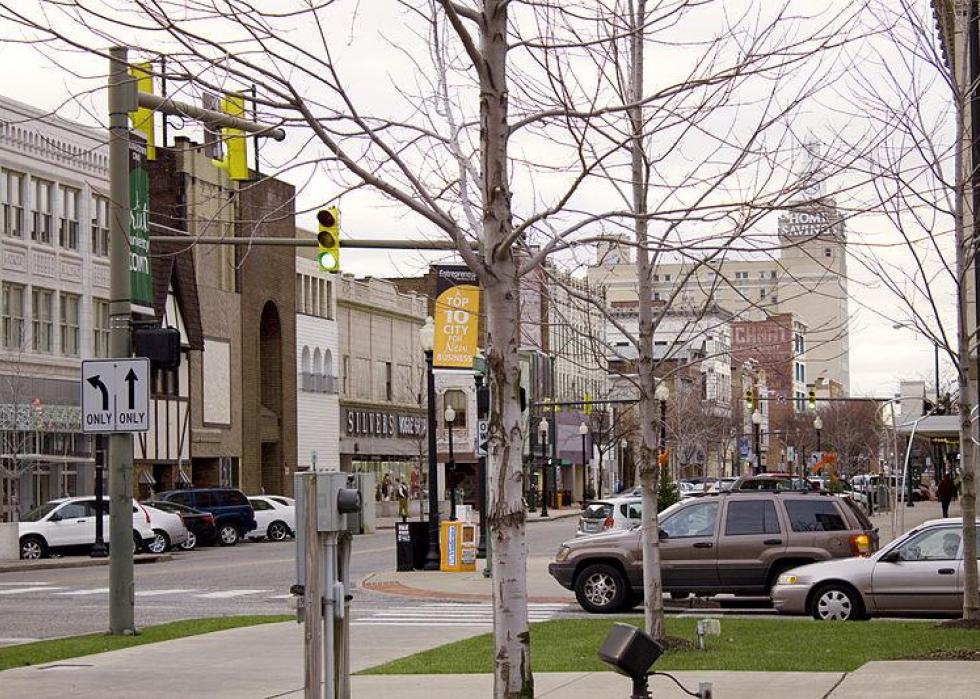 31 / 50Jack Pearce // Wikimedia Commons
#20. Mahoning County
– Population that is fully vaccinated: 43.6% (99,800 fully vaccinated)
— 3.8% lower vaccination rate than Ohio
– Population over 65 that is fully vaccinated: 77.2% (37,838 fully vaccinated)
— 3.7% lower vaccination rate than Ohio
– Cumulative deaths per 100k: 267 (611 total deaths)
— 53.4% more deaths per 100k residents than Ohio
– Cumulative cases per 100k: 9,816 (22,447 total cases)
— 3.1% more cases per 100k residents than Ohio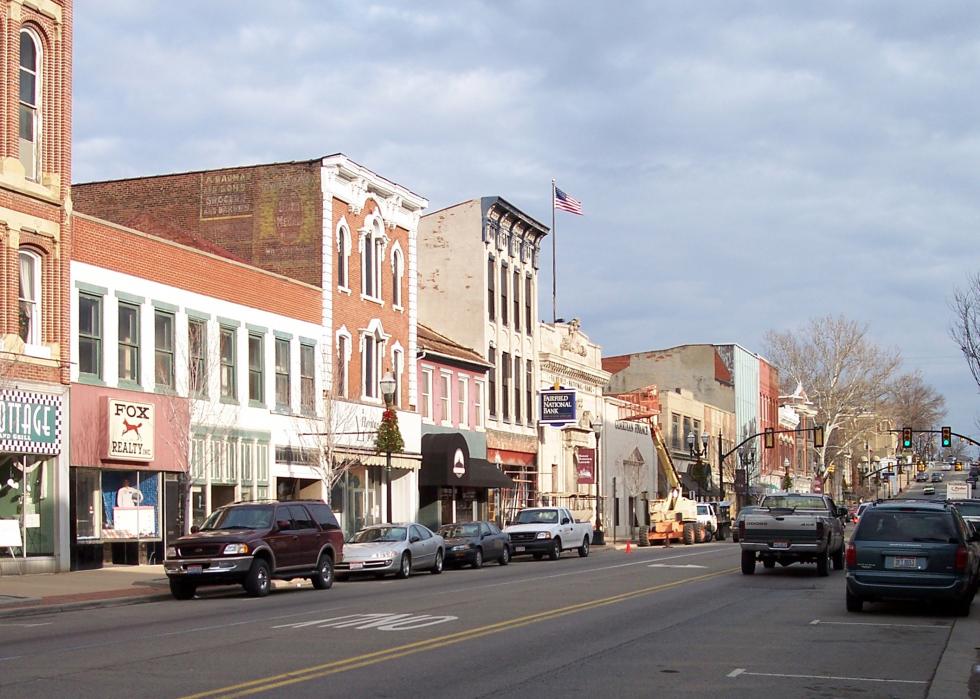 32 / 50Tim Kiser // Wikimedia Commons
#19. Fairfield County
– Population that is fully vaccinated: 43.9% (69,196 fully vaccinated)
— 3.1% lower vaccination rate than Ohio
– Population over 65 that is fully vaccinated: 80.9% (20,499 fully vaccinated)
— 0.9% higher vaccination rate than Ohio
– Cumulative deaths per 100k: 131 (206 total deaths)
— 24.7% less deaths per 100k residents than Ohio
– Cumulative cases per 100k: 10,544 (16,614 total cases)
— 10.7% more cases per 100k residents than Ohio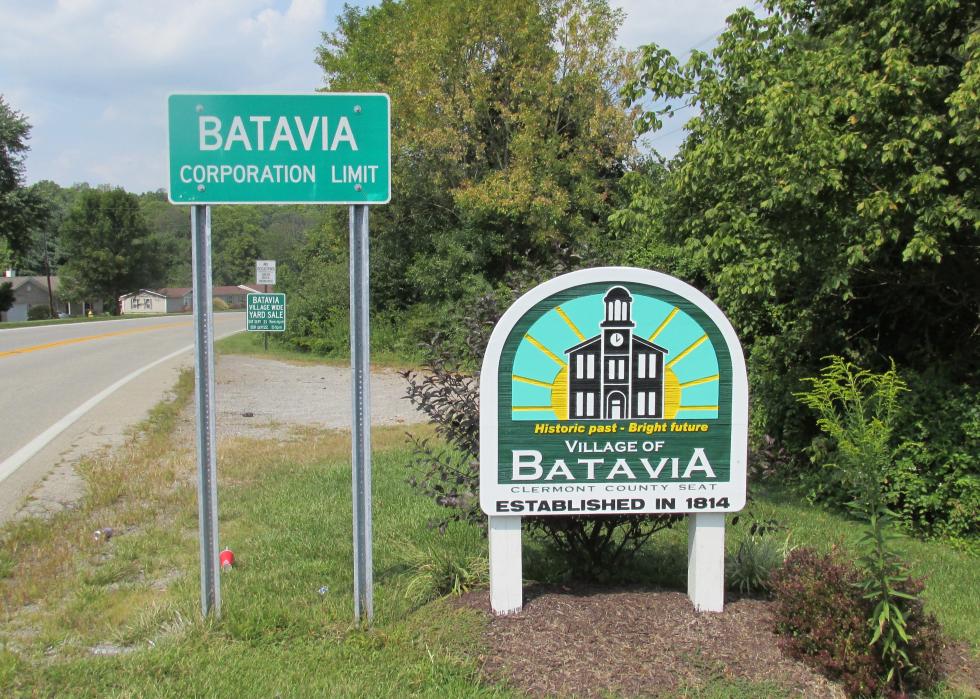 33 / 50Aesopposea // Wikimedia Commons
#18. Clermont County
– Population that is fully vaccinated: 44.3% (91,378 fully vaccinated)
— 2.2% lower vaccination rate than Ohio
– Population over 65 that is fully vaccinated: 80.0% (27,928 fully vaccinated)
— 0.2% lower vaccination rate than Ohio
– Cumulative deaths per 100k: 124 (257 total deaths)
— 28.7% less deaths per 100k residents than Ohio
– Cumulative cases per 100k: 9,786 (20,202 total cases)
— 2.8% more cases per 100k residents than Ohio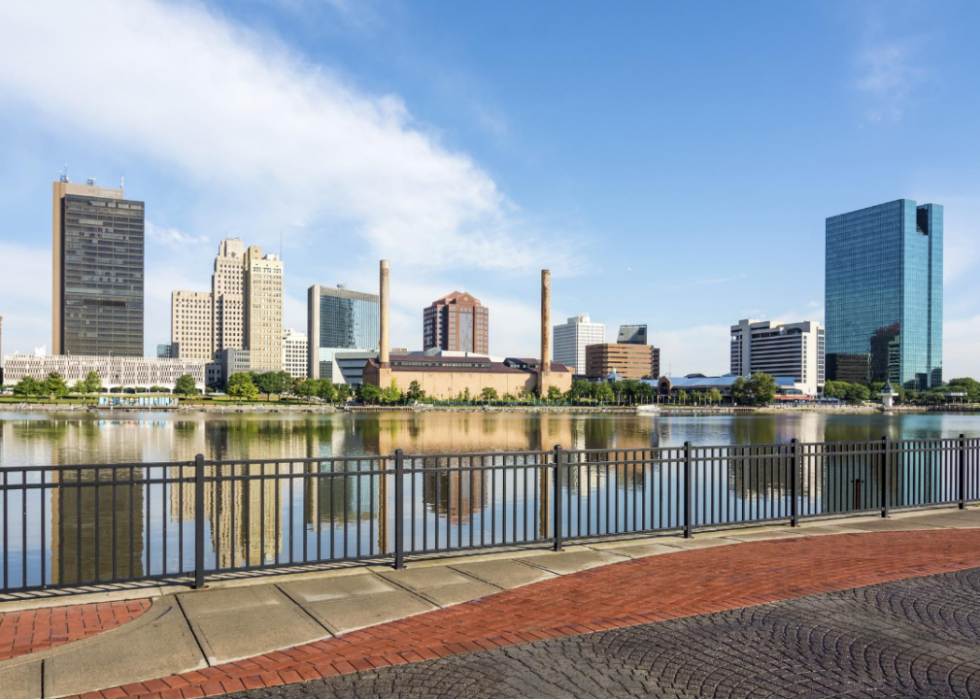 34 / 50Michael Shake // Shutterstock
#17. Lucas County
– Population that is fully vaccinated: 44.3% (189,905 fully vaccinated)
— 2.2% lower vaccination rate than Ohio
– Population over 65 that is fully vaccinated: 80.5% (57,611 fully vaccinated)
— 0.4% higher vaccination rate than Ohio
– Cumulative deaths per 100k: 194 (829 total deaths)
— 11.5% more deaths per 100k residents than Ohio
– Cumulative cases per 100k: 10,148 (43,467 total cases)
— 6.6% more cases per 100k residents than Ohio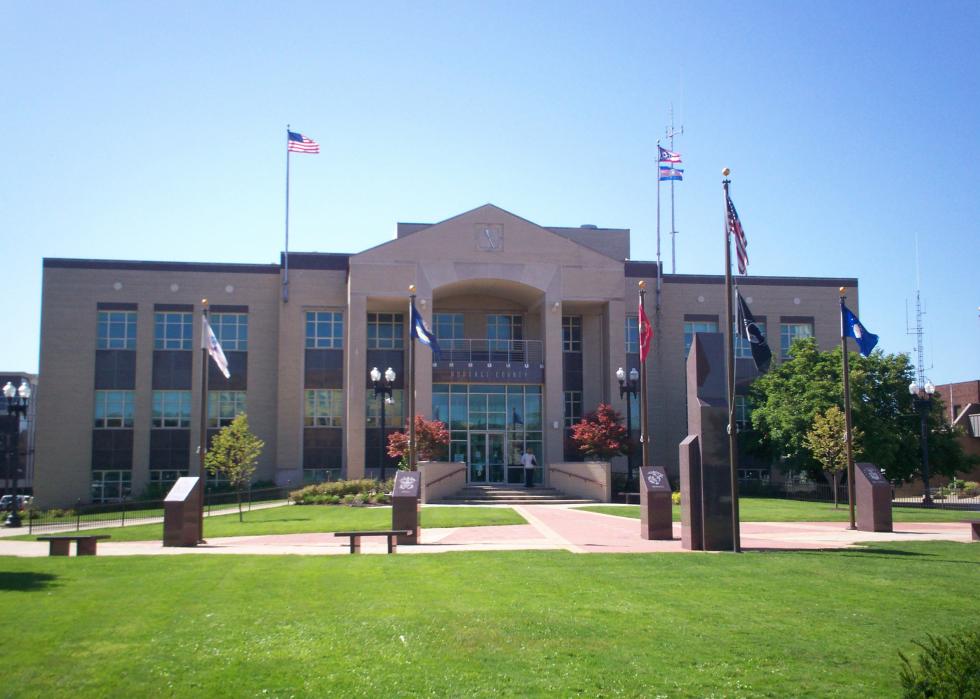 35 / 50JonRidinger // Wikimedia Commons
#16. Portage County
– Population that is fully vaccinated: 44.6% (72,407 fully vaccinated)
— 1.5% lower vaccination rate than Ohio
– Population over 65 that is fully vaccinated: 81.1% (22,437 fully vaccinated)
— 1.1% higher vaccination rate than Ohio
– Cumulative deaths per 100k: 133 (216 total deaths)
— 23.6% less deaths per 100k residents than Ohio
– Cumulative cases per 100k: 8,172 (13,277 total cases)
— 14.2% less cases per 100k residents than Ohio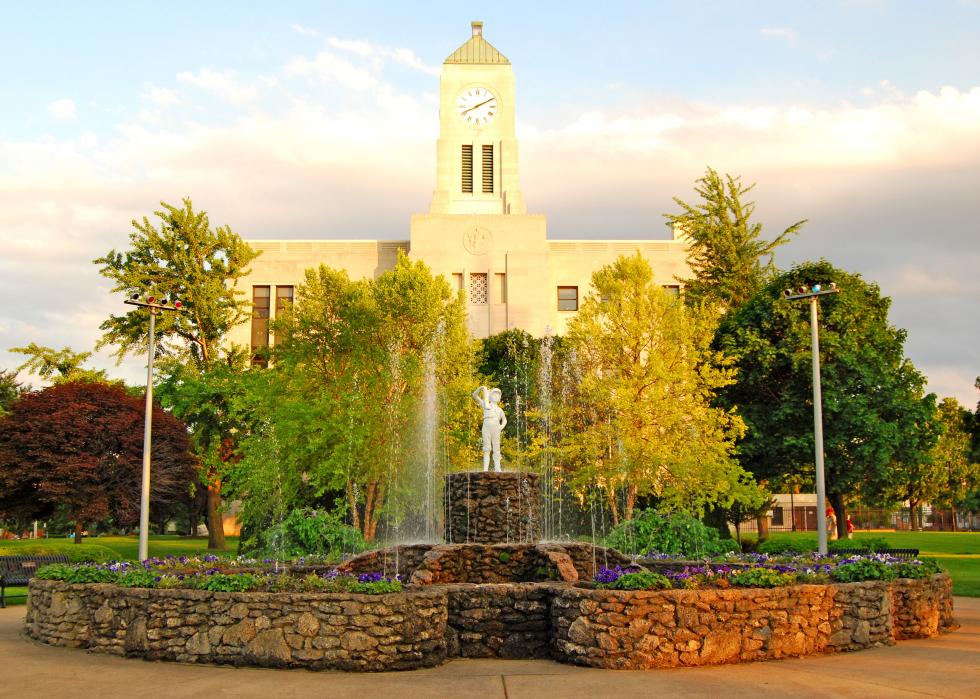 36 / 50Rona Proudfoot // Wikimedia Commons
#15. Erie County
– Population that is fully vaccinated: 47.0% (34,931 fully vaccinated)
— 3.8% higher vaccination rate than Ohio
– Population over 65 that is fully vaccinated: 81.9% (13,722 fully vaccinated)
— 2.1% higher vaccination rate than Ohio
– Cumulative deaths per 100k: 224 (166 total deaths)
— 28.7% more deaths per 100k residents than Ohio
– Cumulative cases per 100k: 10,866 (8,070 total cases)
— 14.1% more cases per 100k residents than Ohiohttps://54598df4f1241eb615586efcb5059ac7.safeframe.googlesyndication.com/safeframe/1-0-38/html/container.html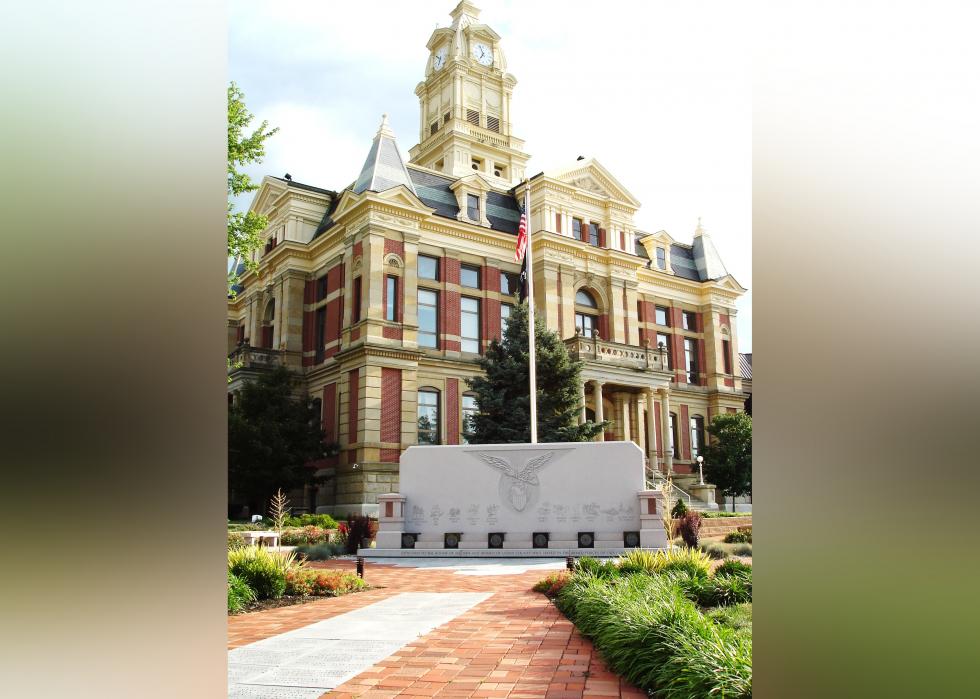 37 / 50Wiki Historian N OH // Wikimedia Commons
#14. Union County
– Population that is fully vaccinated: 47.7% (28,125 fully vaccinated)
— 5.3% higher vaccination rate than Ohio
– Population over 65 that is fully vaccinated: 87.6% (6,554 fully vaccinated)
— 9.2% higher vaccination rate than Ohio
– Cumulative deaths per 100k: 83 (49 total deaths)
— 52.3% less deaths per 100k residents than Ohio
– Cumulative cases per 100k: 9,938 (5,862 total cases)
— 4.4% more cases per 100k residents than Ohio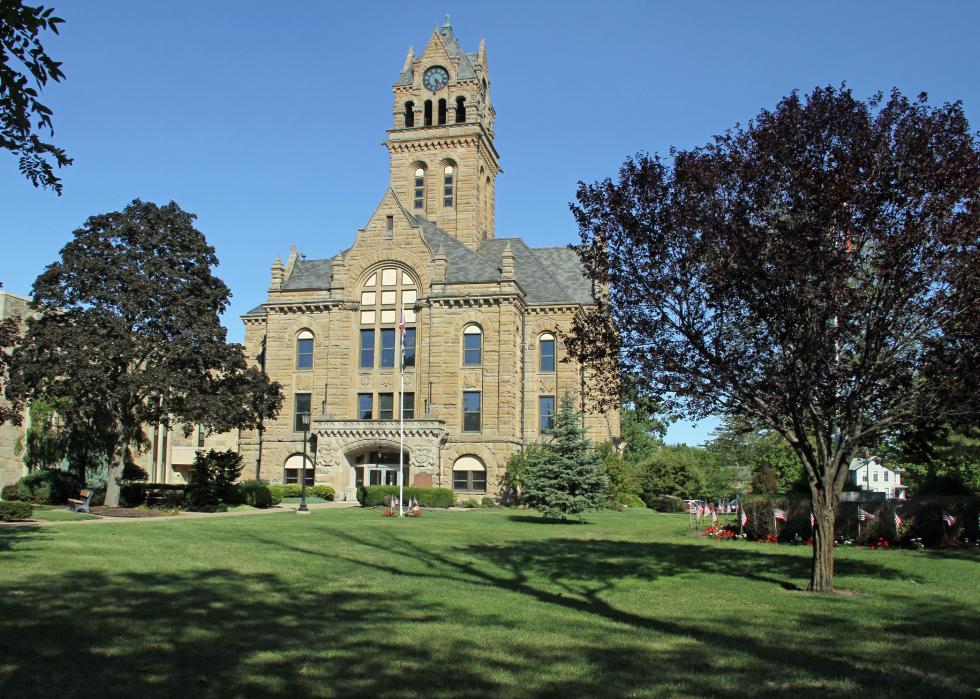 38 / 50LeeG7144 // Wikimedia Commons
#13. Ottawa County
– Population that is fully vaccinated: 48.1% (19,509 fully vaccinated)
— 6.2% higher vaccination rate than Ohio
– Population over 65 that is fully vaccinated: 75.6% (7,968 fully vaccinated)
— 5.7% lower vaccination rate than Ohio
– Cumulative deaths per 100k: 200 (81 total deaths)
— 14.9% more deaths per 100k residents than Ohio
– Cumulative cases per 100k: 9,226 (3,739 total cases)
— 3.1% less cases per 100k residents than Ohio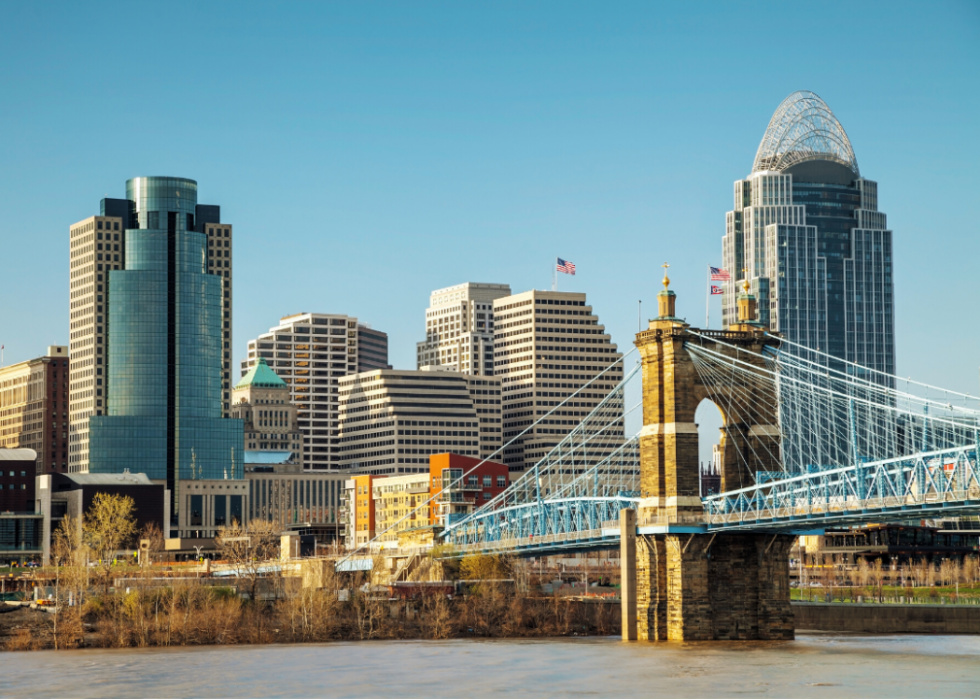 39 / 50Canva
#12. Hamilton County
– Population that is fully vaccinated: 48.4% (395,876 fully vaccinated)
— 6.8% higher vaccination rate than Ohio
– Population over 65 that is fully vaccinated: 83.2% (107,053 fully vaccinated)
— 3.7% higher vaccination rate than Ohio
– Cumulative deaths per 100k: 153 (1,254 total deaths)
— 12.1% less deaths per 100k residents than Ohio
– Cumulative cases per 100k: 9,982 (81,604 total cases)
— 4.8% more cases per 100k residents than Ohio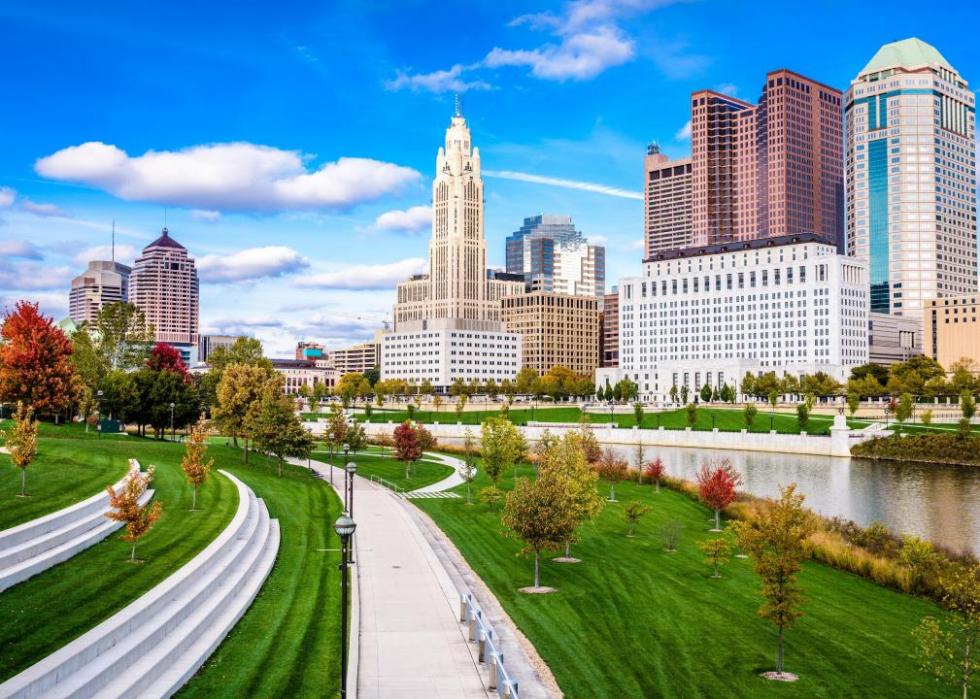 40 / 50Sean Pavone // Shutterstock
#11. Franklin County
– Population that is fully vaccinated: 48.8% (642,957 fully vaccinated)
— 7.7% higher vaccination rate than Ohio
– Population over 65 that is fully vaccinated: 83.4% (135,980 fully vaccinated)
— 4.0% higher vaccination rate than Ohio
– Cumulative deaths per 100k: 113 (1,487 total deaths)
— 35.1% less deaths per 100k residents than Ohio
– Cumulative cases per 100k: 9,821 (129,322 total cases)
— 3.1% more cases per 100k residents than Ohio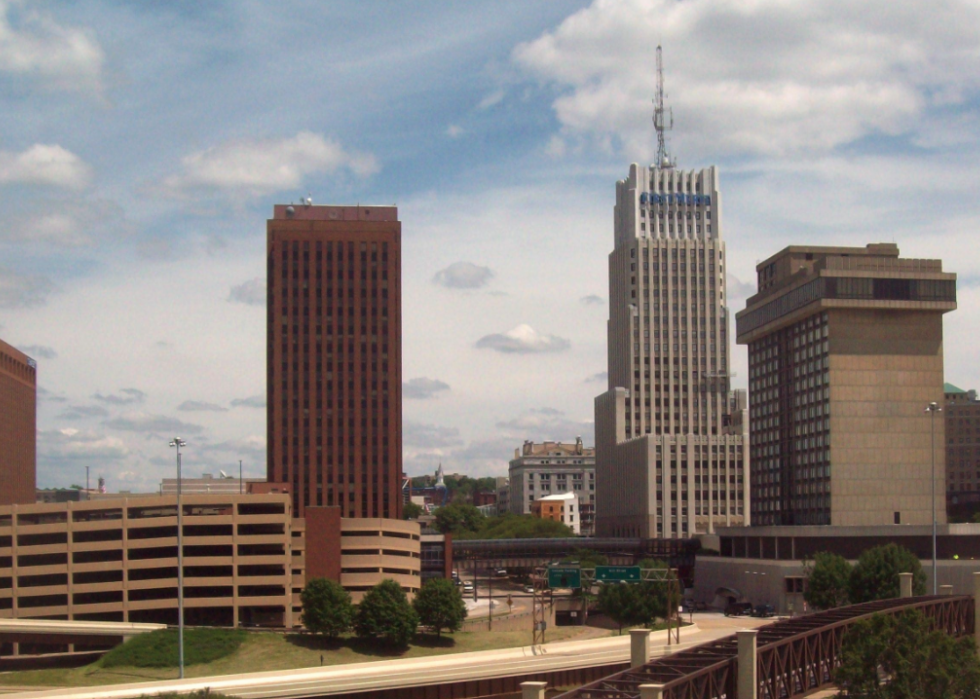 41 / 50Sleepydre // Wikicommons
#10. Summit County
– Population that is fully vaccinated: 49.0% (264,955 fully vaccinated)
— 8.2% higher vaccination rate than Ohio
– Population over 65 that is fully vaccinated: 78.9% (78,937 fully vaccinated)
— 1.6% lower vaccination rate than Ohio
– Cumulative deaths per 100k: 187 (1,011 total deaths)
— 7.5% more deaths per 100k residents than Ohio
– Cumulative cases per 100k: 8,976 (48,559 total cases)
— 5.7% less cases per 100k residents than Ohio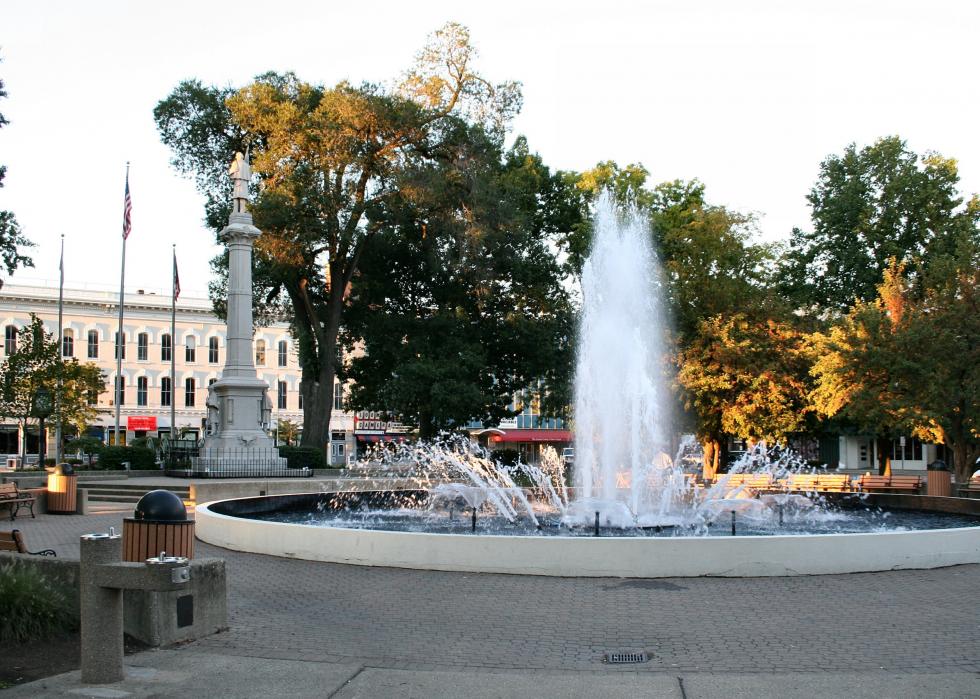 42 / 50Derek Jensen (Tysto) // Wikimedia Commons
#9. Lorain County
– Population that is fully vaccinated: 49.1% (152,252 fully vaccinated)
— 8.4% higher vaccination rate than Ohio
– Population over 65 that is fully vaccinated: 83.6% (48,641 fully vaccinated)
— 4.2% higher vaccination rate than Ohio
– Cumulative deaths per 100k: 164 (507 total deaths)
— 5.7% less deaths per 100k residents than Ohio
– Cumulative cases per 100k: 8,311 (25,751 total cases)
— 12.7% less cases per 100k residents than Ohio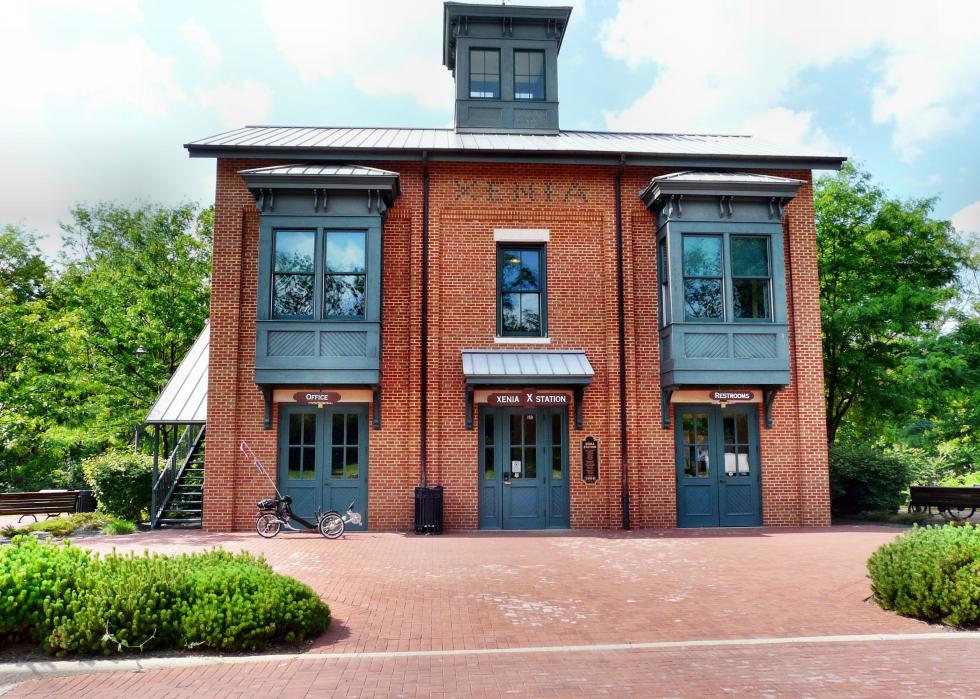 43 / 50Ken Ratcliff // Wikimedia Commons
#8. Greene County
– Population that is fully vaccinated: 49.8% (84,153 fully vaccinated)
— 9.9% higher vaccination rate than Ohio
– Population over 65 that is fully vaccinated: 84.0% (24,892 fully vaccinated)
— 4.7% higher vaccination rate than Ohio
– Cumulative deaths per 100k: 148 (250 total deaths)
— 14.9% less deaths per 100k residents than Ohio
– Cumulative cases per 100k: 9,075 (15,331 total cases)
— 4.7% less cases per 100k residents than Ohio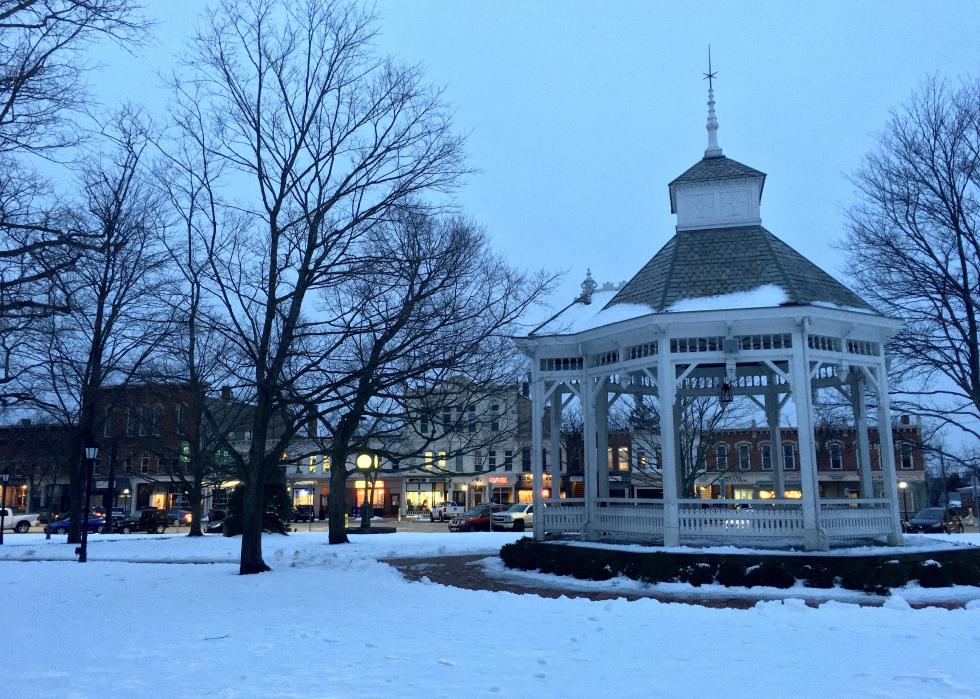 44 / 50Andre Carrotflower // Wikimedia Commons
#7. Geauga County
– Population that is fully vaccinated: 49.9% (46,685 fully vaccinated)
— 10.2% higher vaccination rate than Ohio
– Population over 65 that is fully vaccinated: 81.9% (16,227 fully vaccinated)
— 2.1% higher vaccination rate than Ohio
– Cumulative deaths per 100k: 163 (153 total deaths)
— 6.3% less deaths per 100k residents than Ohio
– Cumulative cases per 100k: 7,343 (6,877 total cases)
— 22.9% less cases per 100k residents than Ohio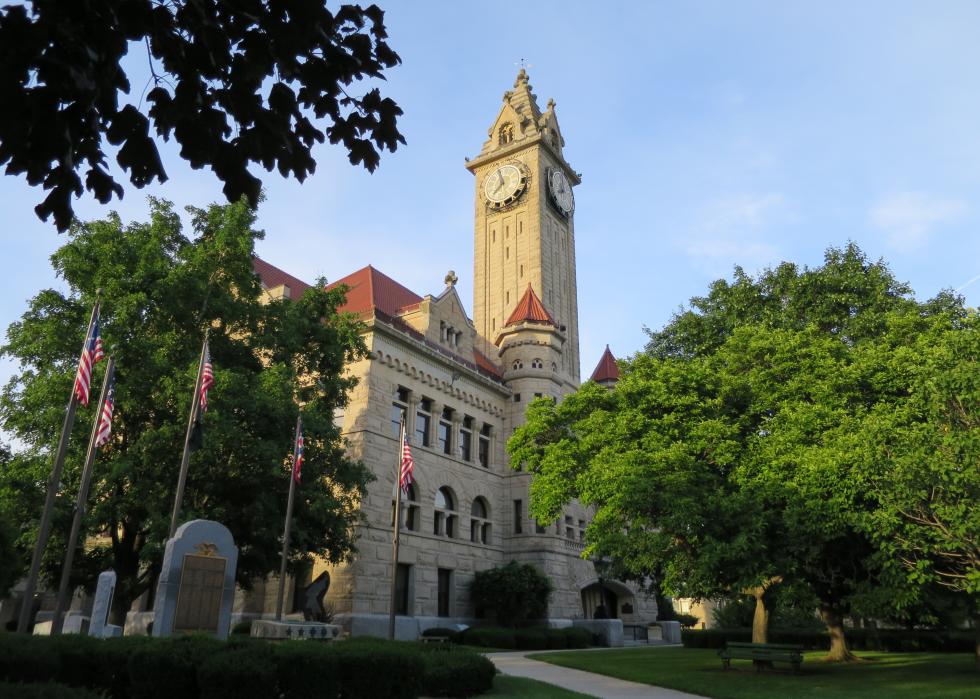 45 / 50Art Anderson // Wikimedia Commons
#6. Wood County
– Population that is fully vaccinated: 50.3% (65,773 fully vaccinated)
— 11.0% higher vaccination rate than Ohio
– Population over 65 that is fully vaccinated: 87.9% (18,050 fully vaccinated)
— 9.6% higher vaccination rate than Ohio
– Cumulative deaths per 100k: 153 (200 total deaths)
— 12.1% less deaths per 100k residents than Ohio
– Cumulative cases per 100k: 10,170 (13,304 total cases)
— 6.8% more cases per 100k residents than Ohio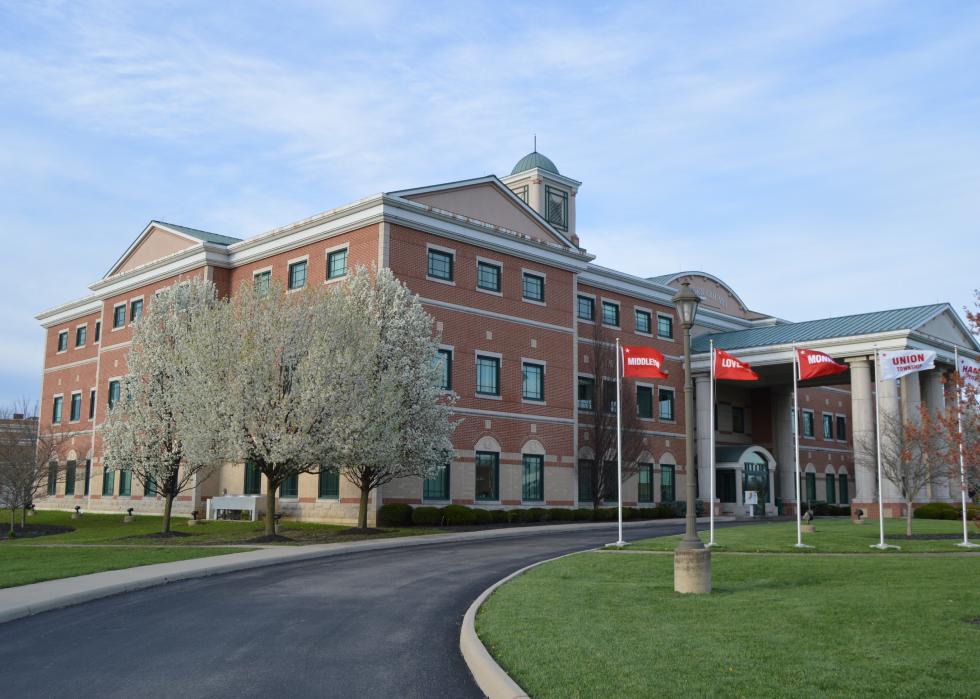 46 / 50Nyttend // Wikimedia Commons
#5. Warren County
– Population that is fully vaccinated: 50.4% (118,204 fully vaccinated)
— 11.3% higher vaccination rate than Ohio
– Population over 65 that is fully vaccinated: 84.2% (29,424 fully vaccinated)
— 5.0% higher vaccination rate than Ohio
– Cumulative deaths per 100k: 131 (307 total deaths)
— 24.7% less deaths per 100k residents than Ohio
– Cumulative cases per 100k: 10,517 (24,672 total cases)
— 10.4% more cases per 100k residents than Ohio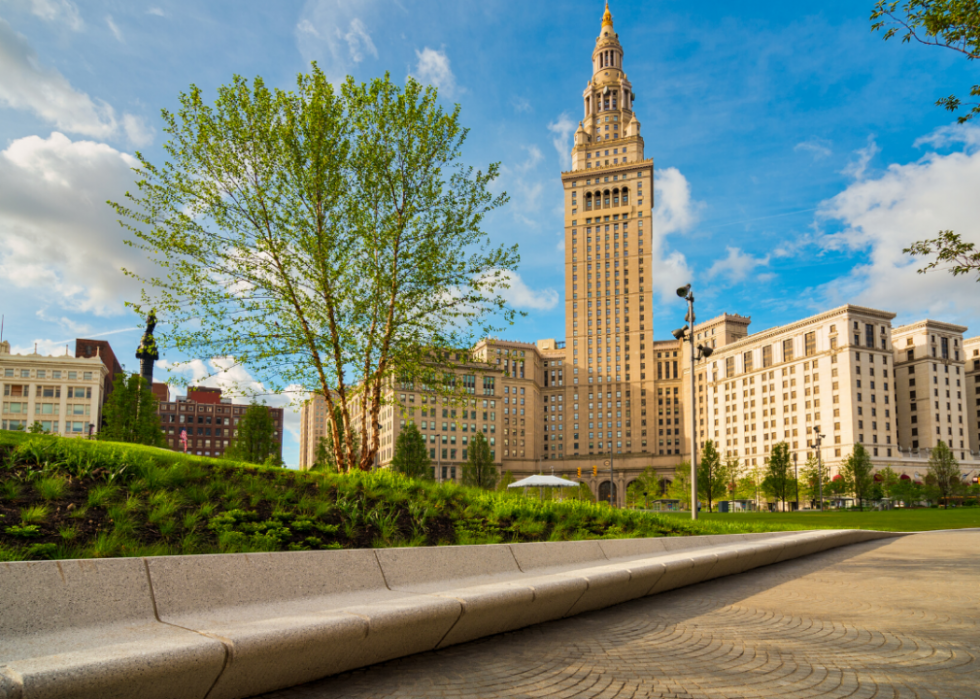 47 / 50Canva
#4. Cuyahoga County
– Population that is fully vaccinated: 50.5% (623,152 fully vaccinated)
— 11.5% higher vaccination rate than Ohio
– Population over 65 that is fully vaccinated: 80.2% (184,711 fully vaccinated)
— 0.0% lower vaccination rate than Ohio
– Cumulative deaths per 100k: 181 (2,240 total deaths)
— 4.0% more deaths per 100k residents than Ohio
– Cumulative cases per 100k: 9,407 (116,189 total cases)
— 1.2% less cases per 100k residents than Ohio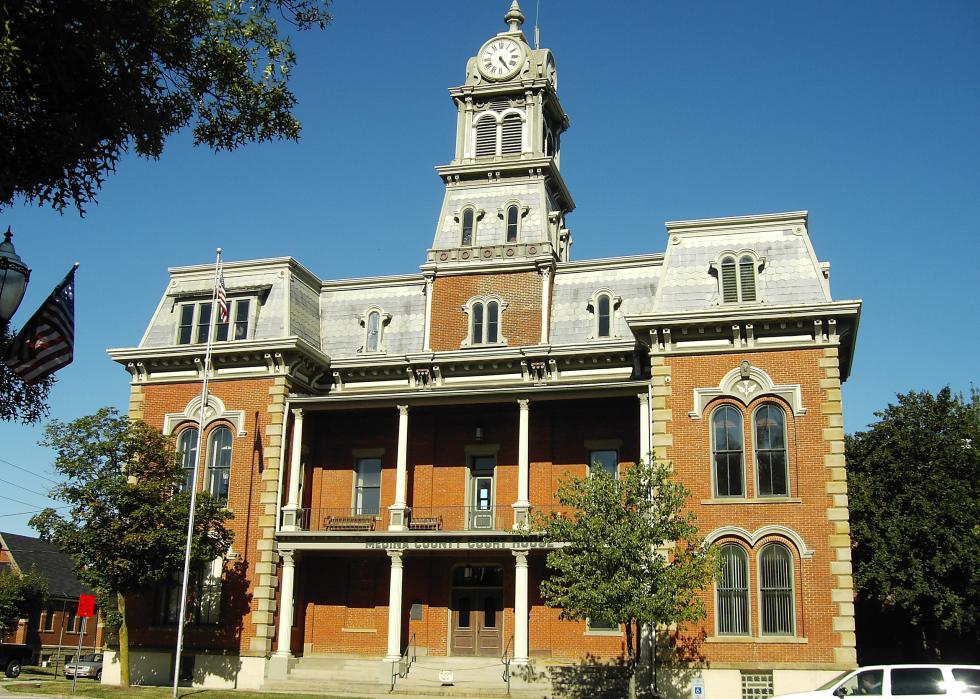 48 / 50Brenda // Wikimedia Commons
#3. Medina County
– Population that is fully vaccinated: 50.6% (91,037 fully vaccinated)
— 11.7% higher vaccination rate than Ohio
– Population over 65 that is fully vaccinated: 84.9% (28,165 fully vaccinated)
— 5.9% higher vaccination rate than Ohio
– Cumulative deaths per 100k: 153 (275 total deaths)
— 12.1% less deaths per 100k residents than Ohio
– Cumulative cases per 100k: 8,718 (15,670 total cases)
— 8.4% less cases per 100k residents than Ohio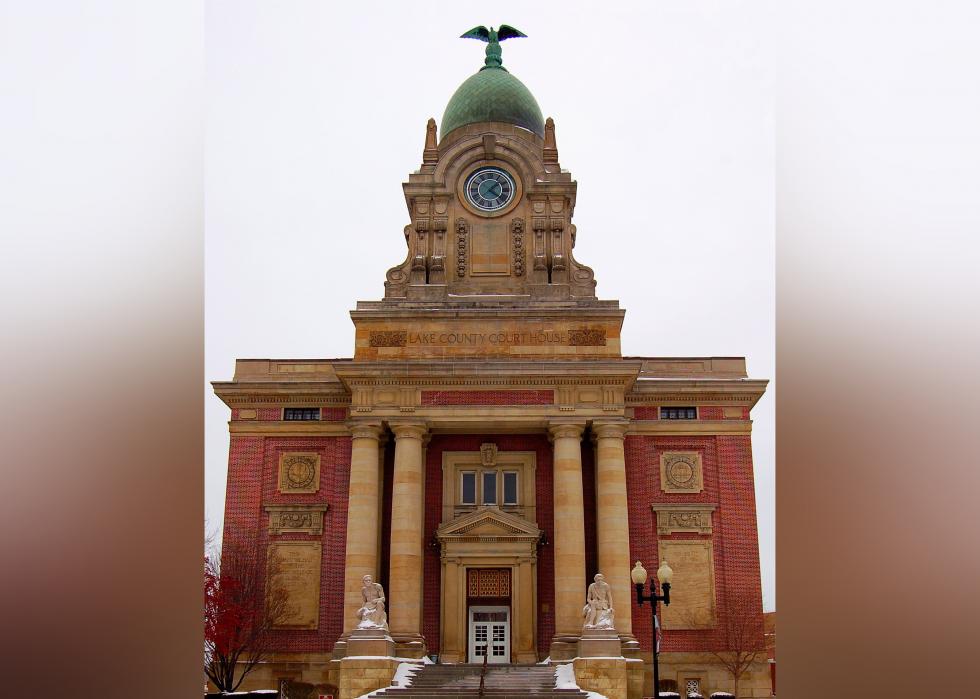 49 / 50Pdepalma // Wikimedia Commons
#2. Lake County
– Population that is fully vaccinated: 52.0% (119,650 fully vaccinated)
— 14.8% higher vaccination rate than Ohio
– Population over 65 that is fully vaccinated: 83.2% (39,415 fully vaccinated)
— 3.7% higher vaccination rate than Ohio
– Cumulative deaths per 100k: 170 (391 total deaths)
— 2.3% less deaths per 100k residents than Ohio
– Cumulative cases per 100k: 9,241 (21,267 total cases)
— 3.0% less cases per 100k residents than Ohio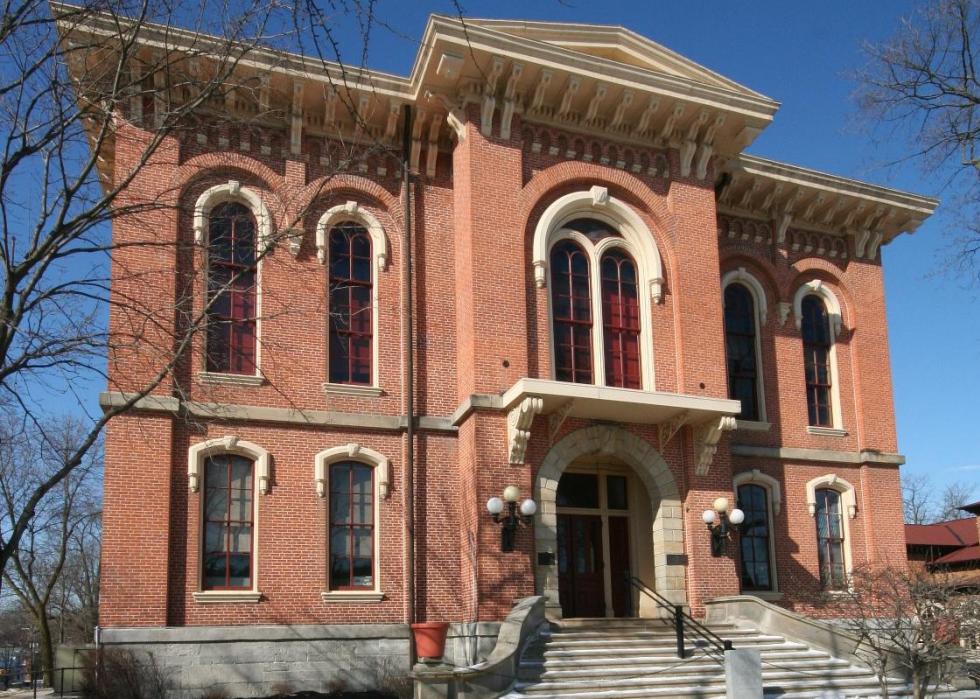 50 / 50Bwsmith84 // Wikimedia Commons
#1. Delaware County
– Population that is fully vaccinated: 59.4% (124,318 fully vaccinated)
— 31.1% higher vaccination rate than Ohio
– Population over 65 that is fully vaccinated: 90.2% (26,677 fully vaccinated)
— 12.5% higher vaccination rate than Ohio
– Cumulative deaths per 100k: 65 (137 total deaths)
— 62.6% less deaths per 100k residents than Ohio
– Cumulative cases per 100k: 9,056 (18,943 total cases)
— 4.9% less cases per 100k residents than Ohio