This is an archived article and the information in the article may be outdated. Please look at the time stamp on the story to see when it was last updated.
CUYAHOGA FALLS, Ohio– Administrators with Cuyahoga Falls Schools are investigating a questionnaire that came to their attention Thursday morning after parents called a local councilman with concerns.
The questionnaire was distributed to students at Roberts Middle School in the district as part of a classroom "Whom To Leave Behind" exercise.
It instructs students to choose between a list of twelve hypothetical people;  students were asked to select eight of them as passengers on a space ship to another planet "because tomorrow the planet Earth is doomed."
The assignment states: "Your task is to select the Eight (8) passengers who will make the trip. On your own, take approximately 5 minutes and rank order of the passengers from one to twelve based on those who you feel are most deserving to make the trip with one being most
deserving and twelve being least deserving…"
The choices on the questionnaire include: an accountant with a substance abuse problem, a militant African-American medical student, a 33 year old female Native American manager who does not speak English, the accountant's pregnant wife, a famous novelist with a physical disability, a 21 year old female Muslim international student, a Hispanic clergyman who is against homosexuality, a female movie star who was recently the victim of a sexual assault, a racist armed police officer who has been accused of using excessive force, a homosexual male professional athlete, an Asian orphaned 12 year old boy, or a 60-year old Jewish university administrator.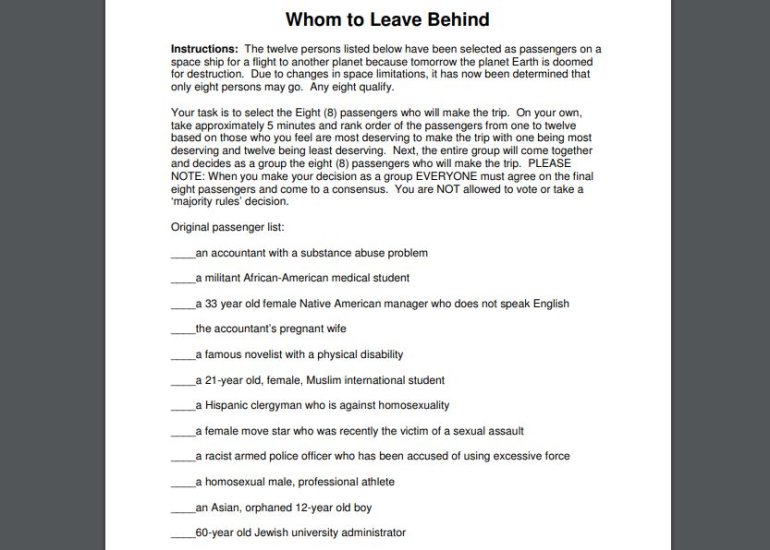 Sixth Ward Councilman Adam Miller told FOX 8 News he started getting calls from concerned parents late Wednesday and once he was made aware of the assignment, he had concerns of his own.
"Some of the language that was used within the assignment I felt that some of the kids might not even understand what it even means," said Miller.
His Facebook post initially said he felt it was an inappropriate project for young kids, posting that he believed it is implanting prejudiced thoughts.
"These discussions on diversity and we live in a very diverse community — they are important and I encourage them to continue these type of discussions but I felt this particular assignment with some of the language used and not consulting with parents prior could lend to a lot of confusion and in my opinion just kind of implant certain stereotypes and judgments within these young kids' minds that they shouldn't be having at this young age," Miller told FOX 8 News.
Miller said since posting his objection on Facebook he was able to have a talk with the teacher who he described as "remorseful."
"He apologized for any concern the parents were upset about. He said he was going to remove the assignment and not use it at any future dates," said Miller.
Among the parents with concerns is Tia Salchak, whose son is in 7th grade at Roberts Middle School and was given the exercise in class.
She found out about it early Thursday on a Cuyahoga Falls Nosy Neighbors Facebook page.
"They shouldn't have to rank these people. Everything in here is very judgmental and all these stereotypes — they are just negative stereotypes and I don't think it's appropriate," said Salchak.
She told FOX 8 she had only a short time to talk with her son about it before he went back to school on Thursday.
"He told me that he didn't feel comfortable putting any answers, like putting any numbers down on it, because he says he felt like he was either being racist or judgmental and I don't raise my kids to judge others," said Salchak.
Cuyahoga Falls Superintentdant Dr. Todd Nichols told FOX 8 News he was also first made aware of it on Thursday morning.
"The matter is under investigation. We are having a conversation at the building level and early next week at the district level about the assignment and where it came from," said Nichols.
FOX 8 did find the exact same questionnaire as a part of exercises published online by two different universities.
The University of Houston included the same questionnaire as a part of their Diversity Activities Resource Guide, and Illinois Wesleyan University also published the exact same questionnaire online.
Miller admits some parents are not upset with the assignment and he said that is ok.
"I told them if they think this is fine for their child that's great but I reiterated to them, as a council member and as someone who is active in the community, I get a lot of calls from many different people and I told them regardless I am going to try to get some answers for the parents who are upset," Miller told FOX 8.