This is an archived article and the information in the article may be outdated. Please look at the time stamp on the story to see when it was last updated.
CLEVELAND — Community members and loved ones gathered Saturday night to fight for justice after 26-year-old Ayana Barkley was nearly killed by a hit-and-run driver.
The group gathered together  for a peaceful rally on Miles Avenue near East 119th Street, where Ayana was run over on September 29. She had just left Poochie's Deli and was crossing the street when the hit-and-run driver struck her.
Her father, Michael Barkley, said Ayana remains in the ICU at University Hospitals in Cleveland. She's on life support and in a medically induced coma. She had her fourth surgery of the week Saturday.
Michael described the incident to the crowd, explaining how the driver left his daughter with numerous broken, and crushed bones, including critical head injuries.
Michael added that Ayana is in very critical condition and had to have part of her leg amputated.
The group held the rally for Ayana, also called Ya Ya, to keep the spotlight on the crime, hoping to generate tips about who struck her. They want the person who ran her over, leaving her possibly for dead, to be found and arrested.
Michael said Ayana's five-year-old daughter misses her mom dearly.
"She's asking for her mother, and we're just trying to ease her pain, and say mommy's coming," Michael said. "She said, 'I want to see my mommy.' She said, 'I know she's hurt. I want to see my mom.'"
Michael said Ayana is a proud mother and a hard worker, having graduated from the University of Toledo. She had dreams of becoming a trauma nurse on a medical helicopter and was supposed to start a new job as a trauma nurse assistant at Lake West Hospital in Willoughby before the incident.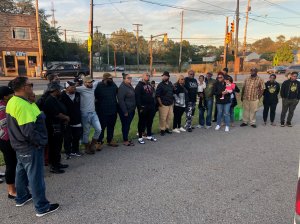 A Go Fund Me has been set up to help with Ayana's medical bills.
Police are searching for an early 2000s, dark-colored Ford Explorer in connection to the case.
Michael hopes police have found or will find the suspect's vehicle soon.
"We can let this individual know, who did this crime, you're not going to hide. You will be found," Michael said.
Crime Stoppers of Cuyahoga County is offering a reward of up to $2,500 for any information leading to the arrest of the driver responsible. Anyone with information is asked to call Crime Stoppers at 216-252-7463 or submit a web tip. You can remain anonymous.