This is an archived article and the information in the article may be outdated. Please look at the time stamp on the story to see when it was last updated.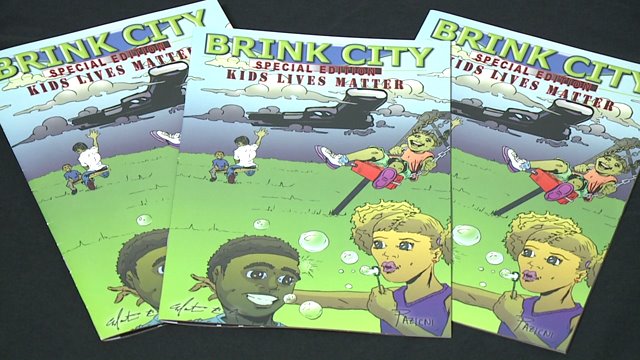 CLEVELAND– Using comic books to get toy guns off of Cleveland's streets, local non-profits have teamed up to send a strong message to kids.
Three-thousand Brink City Special Edition "Kids Lives Matter" comic books were printed this week and will be distributed to kids throughout Cleveland. The book uses colorful illustrations and stories to teach gun safety and promote toy gun buy backs. Several private foundations contributed to the $8,000 cost of production.
"We hope this comic book will make a major impact on the City of Cleveland and beyond," said Rid-All Green Partnership co-founder Randell McShepard. "It's a great way to meet young people where they are, have them comfortable talking about guns, gun violence, the whole notion of giving back toy guns for the good of the community and their own personal good."
The people behind the comic book said it's a tool to begin conversations about the hazards of guns, both real and fake. Many toy guns are nearly identical to legitimate firearms. In November, 12-year-old Tamir Rice was shot by a Cleveland police officer who said he thought Rice's airsoft pistol was a real gun.
The group plans to distribute the comic books throughout the community, including at churches and community centers.
"It's kind of a blueprint for them to have a better understanding of what to do," said comic book creator Damien Forshe, also a co-founder of Rid-All, Inc.
The comic book storyline was inspired by reality. In 2013, Fred Ward, founder of Khnemu Foundation, saw a young child walking on East 105th Street with a toy gun. He offered to exchange the gun for a comic book. Ward, and the child, Timmy, are now characters in the comic book.
"We have to be very aware of the things we involve our children in and the subtle messages we display within their life," Ward said.
Several non-profits teamed up for a toy gun buyback event in December that collected more than 120 toy guns. Another buyback is being planned for June, but an exact date has not yet been set.