This is an archived article and the information in the article may be outdated. Please look at the time stamp on the story to see when it was last updated.
NORTHGLENN, Colorado – A 16-year-old Arizona teen was arrested and charged with creating a hoax after a Colorado teen spotted something odd on her Snapchat.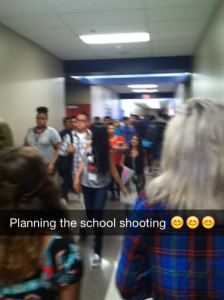 Kaylee, a 16-year-old from Colorado, opened a Snapchat from the Arizona teen and was startled by what she saw, so she took a screenshot and sent it to her mom, according to WUSA.
She didn't know who the person was, but taking a screenshot notified him. She began chatting with him in the app, learning that he went to a high school in Arizona.
"Should I be concerned," she said in a text message to her mother, Jackie.
"Do not pass go, go directly to the office. You need to tell somebody," Jackie said.
She did and that's when her school contacted authorities in Phoenix.
"I didn't know and I didn't want to assume it was a joke because if I would have woken up today and seen that he really did shoot up a school, I know how bad I would have felt If I know I could possibly have stopped it," Kaylee said.
Police arrested the teen, but he claimed that he was only joking. He was still charged with creating a hoax, which is a felony.
"If you see something, you should go and tell somebody because you never know if it's a joke or if it's real and you can end up saving a lot of people's lives," Kaylee said.