This is an archived article and the information in the article may be outdated. Please look at the time stamp on the story to see when it was last updated.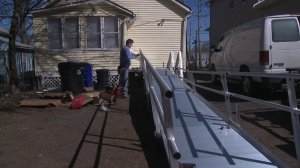 CLEVELAND-- An aluminum ramp will give former Tri-C basketball player, Antonio Mason, the independence he's used to. On October 12, 2014, Mason was on his way to the Horseshoe Casino, when he was rear-ended by a drunk driver at the intersection of Kinsman and Ensign in Cleveland. Mason fractured his vertebrae in two places and was paralyzed from the chest down.
"Being independent- that's what we all want to do. We all want to do everything for ourselves. Instead of having to worry about other people waiting on them to do something, you can just go," Mason said.
To help Mason get back some of his independence, Tri-C partnered with Health Aid of Ohio and Ozanne Construction to build a ramp at Mason's home.
"This ramp is about a $5,000 ramp, which is a hefty price tag to pay, but it's aluminum and will require no maintenance and if Antonio ever moves, he can take it with him, so he'll have access to independence in his own home," said Cortney Skory, Vice President of Health Aid of Ohio.
Since the accident, Mason has only been home a couple of times. He said it's because it's too difficult to get his wheelchair into the house but all that has changed now. "It's definitely a blessing. God does everything for a reason and that ramp will help me get in and out of the house to appointments, and getting out to go to therapy," said Mason.
Eighteen days after the accident, Mason became a father. He said now his son, Mason, Jr.,  is his motivation to one day walk again.  "I want to be able to walk around with him and play with him, take him to the park. Picking him up is hard for me- to pick him up- you know what I mean? Everything is getting better because my spine is healing; my ribs healing, my neck healing. I can't still barely move it. I'm here to try; I just can't give up," he said.
On Wednesday, Mason will be leaving his rehab facility to go home to live with his family.