This is an archived article and the information in the article may be outdated. Please look at the time stamp on the story to see when it was last updated.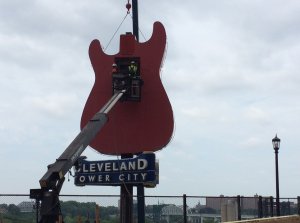 CLEVELAND, Ohio — Cleveland's Hard Rock Cafe is officially closed, and its trademark guitar sign was removed Monday.
Hard Rock International, the parent company of the Cafe, made the decision to close the restaurant at Tower City back in May.
In a statement, they said that they wanted to focus their efforts in Cleveland on the Hard Rock Cafe at Northfield Park as well as the Hard Rock Rocksino in the same location.
The Northfield Park location opened in 2013. It was Hard Rock International's first-ever Rocksino gaming property and has become a very popular concert venue.
Employees of the closing cafe are being given priority consideration for open positions at the Northfield Park cafe and Rocksino gaming property.