This is an archived article and the information in the article may be outdated. Please look at the time stamp on the story to see when it was last updated.
CLEVELAND — Although no one will ever be able to truly comprehend the decade three women endured after they went missing and were held captive inside a Cleveland home, there are two nationally recognized women who understand the life of a prisoner.
On Tuesday, Jaycee Dugard offered words of support to Michelle Knight, Amanda Berry and Gina DeJesus.
"These individuals need the opportunity to heal and connect back into the world. This isn't who they are. It is only what happened to them," said Dugard.  "The human spirit is incredibly resilient. More than ever this reaffirms we should never give up hope."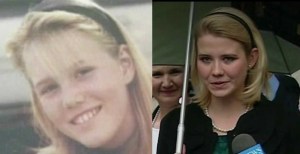 Dugard was abducted as a child and freed in 2009 after 18 years of captivity behind the home of a California couple.
Elizabeth Smart was kidnapped from her family's Salt Lake City Home in 2002, then held hostage for nine months.
"I am just so overjoyed, so happy to hear another happy ending and I think it's just proof that there really are more happy endings out there," Smart said Tuesday on Good Morning America.  "And that it just means we need to have constant vigilance, constantly keep our eyes open and ears open, because miracles do happen and there are happy endings out there waiting to happen."
Ed Smart, Elizabeth's father, also spoke about the women's escape from the Cleveland home.
"It's so important for them to know that what happened to them was not their fault. Usually their captors make them feel some type of guilt, some type of responsibility. Heaven only knows what kind of nightmare they have lived for the past ten years.  But that this was a segment in their life and they have their entire lives in front of them," Ed Smart said.
Knight, Berry and DeJesus went missing in 2002, 2003 and 2004 respectively.
Berry caught the attention of a neighbor on Monday, who helped to break down the door of the Seymour Avenue home so she could escape.
She then called 911 to alert police that the others were alive.
"I think they are going to be trying to find their new place. I'm sure that they wonder how they are going to be accepted by their families and how they are going to move forward and what does this mean to the people that kidnapped them.  But to be free at this point is just, I mean, three miracles. What a wonderful opportunity for them to be reunited with their family," said Ed Smart.
Three men have been taken into custody in connection with the Cleveland case.
*Click here for extended coverage on this story …
(CNN contributed to this report.)