This is an archived article and the information in the article may be outdated. Please look at the time stamp on the story to see when it was last updated.
CLEVELAND– The Cleveland Division of Police is searching for the suspect who shot and killed a man live on Facebook Sunday afternoon.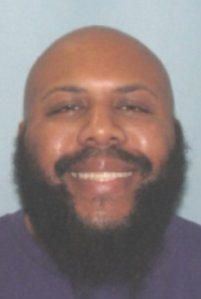 The murder happened on East 93rd in Cleveland. Police said the shooter broadcasted the deadly shooting live on his social media page and claimed to have committed other homicides. Police are still investigating those claims.
Cleveland police identified the suspect as Steve Stephens. He is 6 foot 1, weighs 244 pounds and is bald with a full beard. He is wearing a dark blue, and gray or black striped polo shirt.
He is driving a white Ford Fusion with temporary tags.
The suspect is considered armed and dangerous. If seen, do not approach. Call 911 immediately.
The Cleveland Division of the FBI said it is assisting in the investigation, as well as the Ohio Bureau of Criminal Investigation.