This is an archived article and the information in the article may be outdated. Please look at the time stamp on the story to see when it was last updated.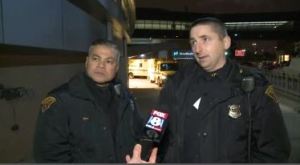 CLEVELAND- The heroic actions of Cleveland police officers helped saved a baby's life.
Cleveland police say Officers Vu Nguyen and Mark Worsencroft were on patrol in the area of Pershing and Broadway Ave. Monday night, when a family flagged them down, saying their 14-month-old daughter wasn't breathing after suffering a seizure.
Police say Officer Worsencroft performed chest compressions and the baby girl began breathing on her own.
The officers then took the infant to a fire station on East 49th St. and Jewett Ave., where firefighters provided further aid by giving the baby oxygen.
The officers told FOX 8 they were just happy they could help. "It feels pretty good (to be able to help.) Every now and again we have good days and today is one of them."
The baby was taken to MetroHealth Medical Center. Police say she is resting comfortably.