This is an archived article and the information in the article may be outdated. Please look at the time stamp on the story to see when it was last updated.
CLEVELAND – Cleveland police now have a good idea of what the vehicle that struck and killed a 14-year-old girl over the Memorial Day weekend in a hit and run accident looks like.
Chelsea A. Hill was hit at Carnegie Avenue and East 40th Street just before 1 a.m. Monday. She was taken to MetroHealth Medical Center, where she was pronounced dead.
Based on video evidence, accident investigators now believe that the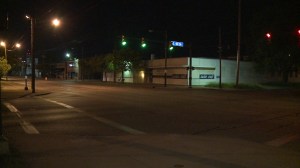 suspect's vehicle is a well-maintained, 2000 or newer, dark-colored, higher end auto. It has noticeable damage to the right front area of the auto, specifically to its headlight and fog lamps. Investigators report that they were able to collect "arts" debris with visible serial numbers, and are working on narrowing down a make and model of the vehicle.
Anyone with information relative to this incident is asked to contact Accident Investigators at 216-623-5290.  Anonymous information can also be provided via Crimestoppers.