This is an archived article and the information in the article may be outdated. Please look at the time stamp on the story to see when it was last updated.
CLEVELAND-- Cleveland police officials discussed the gang impact unit's results this year during a news conference on Tuesday.
Deputy Chief Edward Tomba said the unit took more than 100 guns off the street this year. Police confiscated more than 750 guns city wide.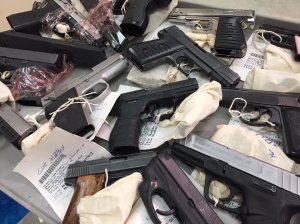 "There's gangs in quite a few neighborhoods throughout the city, but they are loosely associated," Tomba said. "Our main focus is violence. We want to reduce violence."
In 2017, the gang impact unit will add 10 more officers.
Chief Calvin Williams also addressed the importance of the neighborhood impact community engagement unit.
"A lot of these crimes that happen, people know what's going on. They know the perpetrators, they know the players," Williams said. He added the NICE unit needs to establish better relationships so they can get this information before violent crimes happen.