This is an archived article and the information in the article may be outdated. Please look at the time stamp on the story to see when it was last updated.
CLEVELAND- Police arrested a suspect on Wednesday after three people were discovered dead in a house on Cleveland's east side.
On Friday, Cleveland police found the bodies of Nancy Worthean, 58; K'yara Artis, 26; and Melvin Johnson, 76, inside an Ada Avenue house. The three victims suffered apparent gunshot wounds.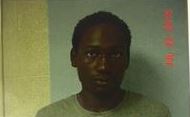 Police arrested Dalevon Artis on an aggravated murder warrant for the triple homicide. Kirtland police said they found him sitting on a curb on Route 306 and Alpenrose Drive just before 3 a.m.
Artis was arraigned on gun charges and will be transferred from Kirtland to the Lake County Jail.
Concerned residents called police when their neighbors hadn't been seen for days. Two days later, officers located an SUV belonging to one of the victims on Lakeshore Boulevard.
Continuing coverage of the Ada Avenue homicides here
*Watch a past report on this story above*