This is an archived article and the information in the article may be outdated. Please look at the time stamp on the story to see when it was last updated.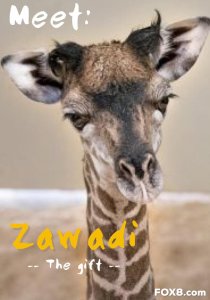 CLEVELAND, Ohio — The Cleveland Metroparks Zoo today has announced the name of their newest little one — a male giraffe calf who was born on Aug. 6.
The name chosen is Zawadi, which means "the gift."
He made his debut at the zoo last month in the Ben Gogolick Giraffe Encounter.
Zoo staff said baby and mom, Jhasmin, will gradually spend more time on exhibit.
The public was invited to help name the new calf. Each vote cast meant a donation to the Future for Wildlife Fund. It protects giraffes by addressing poaching, relocating animals to secure endangered populations and studying diseases.
The possible names were:
Ogbonna (og-bon-a): image of his father
Abidemi (ab-a-Demi): born during father's absence
Ikenna (ick-enna): father's power
Zawadi (za-wad-ee): gift
The names are a tribute to the little giraffe's dad, Travis, who passed away last summer.
Baby giraffe born at zoo (courtesy: Cleveland Metroparks Zoo)

Baby giraffe born at zoo (courtesy: Cleveland Metroparks Zoo)

Baby giraffe born at zoo (courtesy: Cleveland Metroparks Zoo)

Baby giraffe born at zoo (courtesy: Cleveland Metroparks Zoo)

Baby giraffe born at zoo (courtesy: Cleveland Metroparks Zoo)

Baby giraffe at Cleveland Metroparks Zoo-on Aug. 16, 2017

Baby giraffe at Cleveland Metroparks Zoo-on Aug. 16, 2017

(Photo: Jen Steer/FOX 8 News)

(Photo: Jen Steer/FOX 8 News)

(Photo: Jen Steer/FOX 8 News)

(Photo: Jen Steer/FOX 8 News)

(Photo: Jen Steer/FOX 8 News)

(Photo: Jen Steer/FOX 8 News)

(Photo: Jen Steer/FOX 8 News)

(Photo: Jen Steer/FOX 8 News)

(Photo: Jen Steer/FOX 8 News)

(Photo: Jen Steer/FOX 8 News)

(Photo: Jen Steer/FOX 8 News)

(Photo: Jen Steer/FOX 8 News)

(Photo: Jen Steer/FOX 8 News)

(Photo: Jen Steer/FOX 8 News)

(Photo: Jen Steer/FOX 8 News)

(Photo: Jen Steer/FOX 8 News)

(Photo: Jen Steer/FOX 8 News)

(Photo: Jen Steer/FOX 8 News)

(Photo: Jen Steer/FOX 8 News)

(Photo: Jen Steer/FOX 8 News)
More stories on the Cleveland Metroparks Zoo here