This is an archived article and the information in the article may be outdated. Please look at the time stamp on the story to see when it was last updated.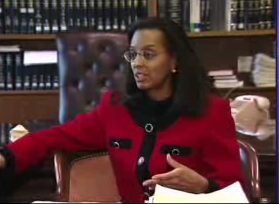 CLEVELAND – A complaint filed against Cleveland Municipal Judge Angela Stokes questions whether she "may be suffering from a mental illness," and asks that a governing board order her to undergo a psychiatric examination.
The document was filed by the Disciplinary Counsel, the office that oversees complaints against lawyers and judges in Ohio.
It lays out, over 44 pages, and in case by case detail, what it said are allegations that prove Judge Stokes has been abusive to court personnel, lawyers, defendants, and the public.
In bluntly worded language, the complaint alleges Judge Stokes' "Behavior has negatively impacted every component of the criminal justice system that she has come in contact with."
The complaint said Judge Stokes, "Persists in blaming others," but that "Most, if not all of the problems in her courtroom are the result of her own actions."
It asked the Board of Commissioners to order a psychiatric evaluation, because the complaint alleges, Judge Stokes "…may be suffering from a mental illness that substantially impairs her ability to perform her duties as a judicial officer."
It is not clear what has come of that request from the Disciplinary Counsel.
FOX 8 reached out to Judge Stokes court for comment, but have not heard back.