This is an archived article and the information in the article may be outdated. Please look at the time stamp on the story to see when it was last updated.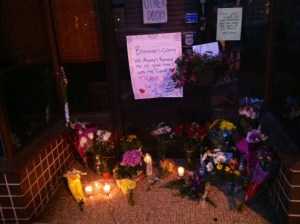 CLEVELAND HEIGHTS, Ohio — The owner of Brennan's Colony, Jim Brennan, has died, following a shooting at the restaurant, MetroHealth Medical Center confirmed to FOX 8 on Monday.
Monday night, people were leaving flowers, candles and special messages for Brennan, 61.
Police are still looking for the two male suspects involved in the hold-up and shooting at the restaurant on Lee Rd., that happened just after 1 p.m.
Investigators say two people came into the restaurant and announced there was a hold-up; they took the owner to the basement and ordered him to open the safe.
Police say a struggle between the suspects and Brennan may have happened right before he was shot.
He was taken to the hospital where he passed away.
Cleveland Heights police are going door-to-door searching for the shooters.
Cleveland Heights Mayor Dennis Wilcox said in a statement, "Jim Brennan was a true leader in our community for many years. His enthusiasm for people, especially for children and families, made such a difference. His Colony Restaurant was the "go to place" after softball games, CYO tournaments and always a welcoming place for a good meal and good conversation. Jim hosted many charity and sports fundraisers including the annual Officer Jason West Scholarship Fund. Our hearts and prayers go out to his family and his many friends. The City Council has authorized the City Manager and the Police Chief to use all available resources to bring those who committed this crime to justice."
John Zagara of Zagara's Marketplace & President of the Cedar Lee Special Improvement District also released a statement on Brennan's death.
Zagara said the merchants of the Cedar Lee District offer their united sympathy.
He said, "Jim was a great friend to many in the neighborhood. He will be missed for more than just his skills as a local and independent businessman. Jim created a "go to" place for great food and drink and, most especially, a place where you could socialize with Jim and his neighbors on a Friday or Saturday night.
This news strikes at our hearts and will bring tears to many eyes across the Heights. We submit our prayers to Jim's family and friends tonight and for the days to come as they reconcile his memory and this tragic occurrence.
While we mourn, we must keep this tragedy in its proper context. In this particular case, we hope the police catch and our courts prosecute the criminal(s). We also hope Clevelanders understand that this is clearly a random act of violence and that the Cedar Lee shopping district remains safe. Simply, walk down the sidewalks of Lee Road on any given night and the street teems with neighbors and suburbanites enjoying our many restaurants, bars and, of course, our beloved Cedar Lee Theater.
The best way to honor Jim Brennan's memory is to reject the views of those who want to use this situation to reinforce negative and incorrect opinions about the Cedar Lee shopping district. Jim's death should not and cannot be minimized, but a random act of violence does not define our neighborhood.
We also need to come together to make sure the other establishments on Lee Road do not suffer – and the best way to do that is to come out tonight and tomorrow night and each night after and fill the streets of Cedar Lee with people.
Some criminal took away a life. Please don't let that person take away our neighborhood."
Stay with FOX 8 News and FOX8.com for new details.