This is an archived article and the information in the article may be outdated. Please look at the time stamp on the story to see when it was last updated.
CLEVELAND– The next time you see a Cleveland firefighter on the streets, you will notice that they will be wearing a new piece of equipment thanks to the city and residents.
Back in 2015, shots were fired at two Cleveland fire stations. The Association of Cleveland Firefighters President Frank Szabo started calling for safety vests.
On Friday, the city added 100 bulletproof vests to the 100 they already had from the Republican National Convention. That's enough ballistic vests now for every firefighter on duty in the city.
"The vests offer a National Institute of Justice rating of 3-A. This offers ballistic and blunt-trauma protection and is the highest level of soft, flexible armor available," said Chief Angelo Calvillo of the Cleveland Division of Fire.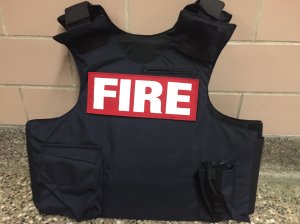 The vests provide the same level of protection as the ones Cleveland police officers currently wear. The ballistic vests provided for the firefighters are clearly labeled "Fire" across the front and back of them.
"It's good; it feels good, no problems. I can move. It's not hot out yet, but it feels good," said Lt. Tyree Thompson of the Cleveland Division of Fire.
The city of Cleveland and its residents paid for the 200 ballistic vests, at a cost of $550 each.
"Very happy, very happy," Lt. Thompson said. "Our unit responds to a lot of gunshots so it's comforting to know we have these now."
The firefighters will not wear the vests while fighting a house fire. The vests will be worn when necessary.
"Is it a house fire? Is it a house fire with a person with a firearm? It just depends on the situation, but all officers, battalion chiefs, and commanders will go ahead and tackle the situation, and identify the situation and go step-by-step as what we need for protection," Calvillo said.
The vests are a welcome sight for first responders who put their life on the line to help others.
"We all love them. Anything that makes us safer, you can't go wrong," Lt. Thompson said.
There are five ballistic vests per fire truck.  Every fire engine, fire truck and rescue squad will carry the ballistic vests with them at all times.