This is an archived article and the information in the article may be outdated. Please look at the time stamp on the story to see when it was last updated.
CLEVELAND – Cleveland firefighters were called to a possible house explosion and fire at a home on the west side Sunday morning.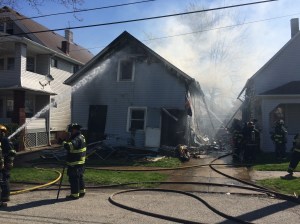 The house, located on West 46th Street, was reported to be on fire from a suspected explosion at around 10:30 a.m.
Fox8's David Nethers spoke with Dennis Veit, the homeowner, who tells him that his wife had been smelling gas for about a week. After checking though, Veit couldn't discover a gas leak.
Sunday morning, his wife had taken their two great-grandchildren, ages 8 and 9, to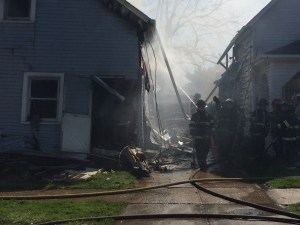 church with her and Veit was outside the house. He thought he caught a quick whiff of gas and then says that he heard a huge explosion. It came from the kitchen of the home.
Veit says he is just thankful that no one was inside the home when this happened.
Crews are still investigating for an official cause. Fox 8 and Fox8.com will have more on this story as it progresses.