This is an archived article and the information in the article may be outdated. Please look at the time stamp on the story to see when it was last updated.
**Warning: Some may find the language used in the video above offensive**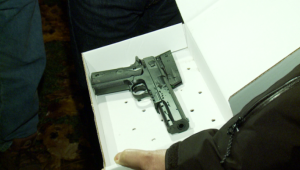 CLEVELAND, Ohio — Police determined that a 12-year-old boy was shot by an officer outside a Cleveland rec center Saturday when he reached into his waistband for an airsoft gun.
According to Cleveland police, witnesses first reported around 3:30 p.m. that a male was in the playground area outside Cudell Recreation Center, waving a gun and pointing it at people.
One 911 caller said the suspect was "probably a juvenile" and that the gun was "probably a fake."
He said the following to a dispatcher, according to a 911 recording released by police:
Caller: I'm sitting in the park…there's a guy in here with a pistol, and it's probably a fake one, but he's pointing it at everybody.
Caller: The guy keeps pulling it in and out…it's probably fake, but he's scaring the [explicit] out of people."
**Listen to the entire 911 call in the video player at the top of this page**
When two officers arrived, they found the boy and ordered him to raise his hands. He did not comply with the officers' orders and reached into his waistband, according to police. Shots were fired, and he was hit in the torso.
The boy was taken to MetroHealth Medical Center for treatment, and was in surgery Saturday evening.
Police say the weapon the boy had was "an airsoft type replica gun resembling a semi-automatic pistol." They said the orange safety indicator had been removed. They did release a photo of that airsoft gun to the media.
Union officials say the officers acted responsibly, and the boy had what appeared to be a gun.
One officer involved was taken to Fairview Hospital for treatment of an injury to his ankle.
The Cuyahoga County Prosecutor's Office was on scene for the investigation.
Both officers involved will be placed on administrative leave as is protocol in officer-involved shooting incidents.
The investigation is continuing.
This is a developing story. Stay with Fox 8 News and Fox8.com for updates.