This is an archived article and the information in the article may be outdated. Please look at the time stamp on the story to see when it was last updated.
CLEVELAND- Two day care workers were caught on video repeatedly hitting two young children.
(WARNING: Video may be considered graphic)
It happened at about 5 p.m. Wednesday at the Cedar Early Learning Center on Cedar Road in Cleveland.
Surveillance video captured a 49-year-old day care worker hit a 2-year-old boy up to 22 times with a plastic backscratcher.  The video shows the worker push the boy to the ground and hit him again.
Then just 10 minutes later, the video shows the same day care worker hit the toddler, drag him and then slam him down on a changing table.
As the day care administrator was showing FOX 8 the surveillance video, we noticed another incident. A second day care worker is seen hitting an 18-month-old girl with a plastic bat.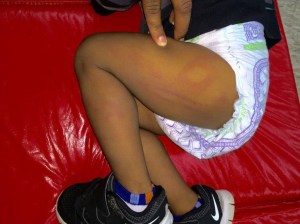 "You hit my son over 30 times for no reason," said Ryane Lamb, the mother of the 2-year-old.
He suffered welts and bruises on his legs. His mother and grandmother took him to the hospital Wednesday night. They also called police and filed a report.
As for the Cedar Early Learning Center, the day care administrator terminated the two employees as soon as she was made aware of the video. She is fully cooperating with police and is devastated she has to alert another parent what happened to their little girl.